A Fan's Transfer Outlook: Attacking Additions Will Help Confirm Liverpool's Top Four Status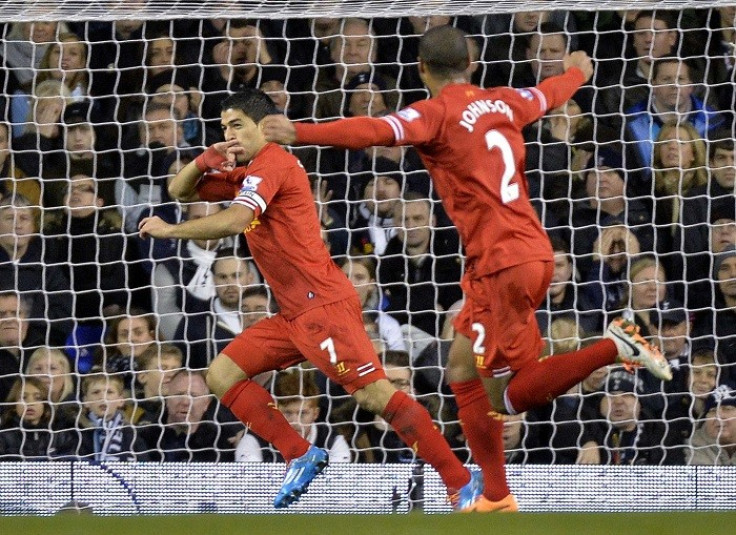 We are now a week into the January transfer window and we are still fervently waiting for the things to kick into action. While we wait for the first big moves from the Premier League, IBTimes UK have spoken to fans and bloggers to determine what is expected of their club at this crucial time of the season.
After such successful business this time last year, what is in store for Liverpool? We have spoken to Kop World, one of the largest independent websites dedicated to all things LFC.
Speaking to a collection of the website's contributors, we get the fans' take on what Brendan Rodgers and co must do to and who they must bring in to ensure Liverpool's efforts to reclaim a Champions League spot are enhanced over the next few weeks.
What areas of the side are in need the most strengthening?
Olivavu: I think we need to bring in one or two more attack minded players to support Suarez and Sturridge and take the burden off of the young shoulders of Coutinho and Sterling. We have plenty of bodies in that area of the pitch, but the quality hasn't been there. Moses, Aspas and Alberto haven't worked out so far and I'm not confident that any of them will either. Moses scored well at Chelsea, but he just doesn't seem to have the desire here after a promising start where he scored against Swansea. Aspas just looks like a fish out of water while Alberto looks too keen not to mess up rather than go for it.
I think we could also do with a central midfielder to add another option and perhaps more goals to the quartet of Gerrard, Lucas, Henderson and Allen - because at least one of those four always seems to be injured!
What players would you like to see brought in to fill those roles?
Olivavu: We've been linked regularly with Mohamed Salah of Basel of late and while I haven't seen loads of him, he did look impressive in Basel's games with Chelsea in the last year or so. He also has an impressive goals record both domestically and internationally. I think he has useful pace and would open up space for Suarez and Sturridge. I don't like the idea of Sterling leaving on loan though, as he's finding some form now - and the back of the net as well.
Rakitic of Sevilla would be a good choice for the centre of midfield. I was disappointed when we missed out on Eriksen to Spurs in the summer as I had been hoping for a few years that we would snap him up. Another Ajax prospect I would like to see signed is Viktor Fischer. He looks good.
How optimistic are you of a successful window?
KK73: I am optimistic in this window, we have done well in January a few times in the past. Last year it was absolutely great with Sturridge and Coutinho. But we have had some good players come in this window like Luis Suarez and Javier Mascherano. All four of these players had potential and delivered.
We have had a very good start to the first half of the season and the activity of a good window could put our prospects in over drive.
Any dead wood? Do the club need to offload anyone who isn't pulling his weight?
Olivavu: Rodgers has done well in this department as well since he took over. He's managed to relieve us of the likes of Carroll, Adam, Cole, Poulsen, Aquilani, Downing, Spearing and Wilson, which is good. But I can't help but feel he's added to the list by signing Borini, Aspas, Alberto and Assaidi since he took over.
How important is the January transfer window to the club's ambitions for this season?
EddieC: I think the board need to give Rodgers their full backing in this window, we have done extremely well to be where we are at this stage of the season but need more signings to keep it up. The past few weeks have shown that whilst we have a strong first XI, it only takes a couple of injuries and our squad looks distinctly average again.
Do you believe the manager will be backed in his hopes (if any) of adding to the squad?
KK73: I do think he will be backed but sensibly. Some fans may feel that the kitchen sink should be thrown at this window as there is a window of opportunity with the quality of rivals challenging for the title now. It does represent a massive opportunity to have a great season. But I think we should carry on doing the things that have got us here. If I was to guess a figure I would say £15-20m could be made available depending on the players available to us.
Are there any other issues away from the transfer window the club need to address in the New Year?
Olivavu: I think the club has finally moved out of the shadow of the Hicks and Gillett era and that can only be a good thing. We don't have any dramas off the field for the first time in a long time and it is no surprise that the harmony elsewhere at the club has come hand in hand with an improvement on the field.
To keep up with the very latest at Kop World, follow their Twitter account by clicking here.
© Copyright IBTimes 2023. All rights reserved.