The FBI has released nearly 20 hours of raw footage of aerial surveillance of the Black Lives Matter protests following the death of Freddie Gray in April last year, in response to a freedom of information request from the ACLU.
The recordings, which date from 29 April to 3 May 2015, are focused on the civil unrest in Baltimore, Maryland and were all reportedly shot from piloted aircraft. However, at least one of the clips indicates that drones had also been deployed to monitor the situation. It is easily the largest collection of spy plane footage released to date.
The recordings have been split into clips of roughly 30 minutes in length, each showing crowds of protesters marching through the streets. The FBI's so-called 'spy planes' also monitored the positioning and activity of the police forces on the ground. While the resolution of the camera is not clear enough to identify individuals, the zoom is impressive.
Previously, the ACLU revealed how the FBI was using infrared cameras and an FLIR Talon multi-sensor camera system on the exterior of its spy planes – giving them the ability to use thermal imaging and a "laser illuminator" for recording at night.
Additionally, according to FBI flight logs from the same period, also obtained by the ACLU, the agency flew 10 surveillance flights over Baltimore that amounted to over 35 flight hours in total. These flights largely took place at night and most were orchestrated in a joint operation between the FBI and the Baltimore Police Department.
However, as noted by Buzzfeed News, the new footage appears to contradict previous claims by FBI officials who said the agency does not routinely use its spy planes to monitor peaceful protests. Asked about the latest batch of videos, officials maintained it was not conducting such surveillance. Instead, a spokesperson said the use of aerial surveillance "was intended to identify areas of potential violence or criminal activity in support of the Baltimore Police Department".
The most comprehensive reporting on the use of spy planes to date has been conducted by the North Star Post, an independent news website that previously exposed at least 100 aircraft used by US law enforcement to spy on citizens. Many, it was found, were registered to shell companies.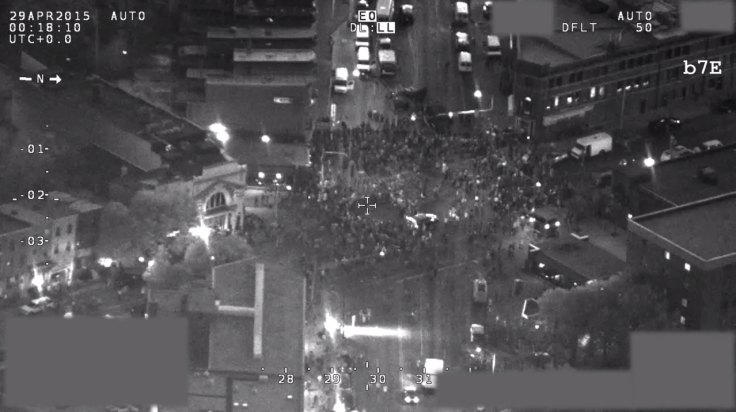 "There are undoubtedly situations where aerial surveillance by law enforcement is appropriate, but there should be protections against mass surveillance of people engaged in first amendment-protected protests and gatherings," wrote the ACLU's Nathan Wessler and Naomi Dwork after the FBI videos were made public.
"At a time when the Movement for Black Lives is urgently mobilising across the country, community members and activists shouldn't have to worry that the government eyes in the sky will be capturing images of everything they do during a protest."