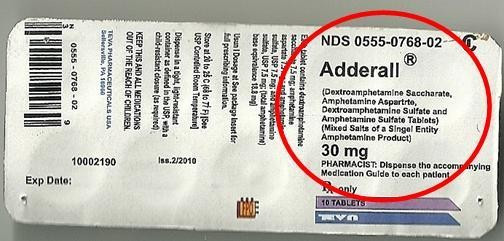 The U.S. Food and Drug Administration (FDA) has issued a warning against the use of fake Adderall tablets for the cure of attention deficit hyperactivity disorders (ADHD) and narcolepsy.
According to the FDA, counterfeit versions of Teva Pharmaceutical Industries' Adderall 30 milligram tablets are currently available on the internet.
Laboratory tests by FDA labs revealed that the counterfeit version of Teva's Adderall 30 mg tablets contained the wrong active ingredients. While Adderall contains four active ingredients namely, dextroamphetamine saccharate, amphetamine aspartate, dextroamphetamine sulfate, and amphetamine sulfate, they are absent in the counterfeit versions. In fact, the fake Adderalls contain tramadol and acetaminophen, which are ingredients in medicines used to treat acute pain.
The Wall Street Journal reported that the fakes are the latest to surface in the U.S. drug supply, after counterfeits of a widely used cancer therapy called Avastin were found earlier this year. Adults and parents of children taking the tablets had to hunt for Adderall and other ADHD drugs because of shortages of the active ingredients. ADHD causes adults and children to have trouble in focusing, controlling their actions or staying still.
In the statement, FDA warns consumers that the counterfeit versions of Adderall should be considered as unsafe, ineffective and potentially harmful. It mentions that the fake drugs are round, white and are devoid of any type of markings, such as letters or numbers.
According to the Reuters, the fake pills often have misspellings on the packages, and are white and unmarked. Teva's real version of the pill is orange or peach-colored, and embossed with "dp" on one side and "30" on the other. The fake Adderall also comes in foil packages, instead of the bottles that Teva uses.
Currently on the FDA's drug shortage list, Adderall is in short supply due to active pharmaceutical ingredient supply issues. Teva continues to release product as it becomes available.
"Consumers should be extra cautious when buying their medicines from online sources," FDA said. "Rogue websites and distributors may especially target medicines in short supply for counterfeiting."