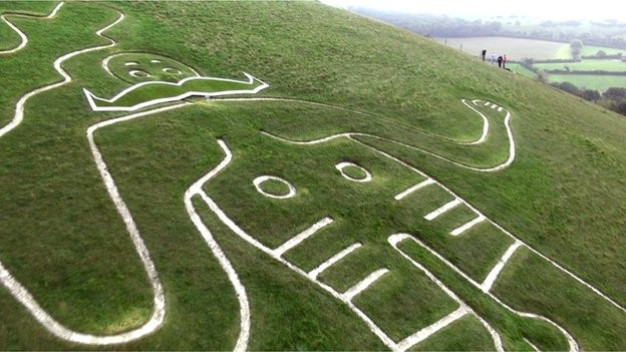 The chalk giant at Cerne Abbas has sprouted a grass moustache for Movember to raise awareness of prostate and testicular cancer.
The National Trust's Rob Rhodes told the BBC: "It's all a bit of fun to highlight an important subject so we were happy to give our support and join in the fun."
He said the 180 ft (55m) giant's 36ft (11m) moustache would be removed, and that the figure carved into the chalk Dorset hillside would not be damaged.
"I am sure the giant would approve," he added.
It is believed that the figure depicts a fertility deity, and was created around 1694. Its new moustache is far from its most prominent feature.
The giant joins millions of men worldwide who are cultivating moustaches in November for cancer awareness.
Movember began as a challenge between friends in a bar in Melbourne, Australia, 10 years ago to see who could raise the most money for charity by letting their moustaches grow unhindered. The campaign has since spread to 21 countries.
Last year, Movember generated £27 million in the UK alone, and £92 million globally.
Justin Coghlan was one of the original band of Melbourne MoBros and is now head of Movember in Europe. He said he was still surprised at the campaign's global success, but believed that it was achieved through blokeish bonding.
"Every guy wants to know what it's like to grow a moustache," he says.
"It's a fun thing to do with your friends and it sparks conversations with complete strangers too. It's all about guys coming together, but for a serious reason," he told the BBC.
Celebrities including Homeland star Damian Lewis are amongst those to have taken up the challenge.