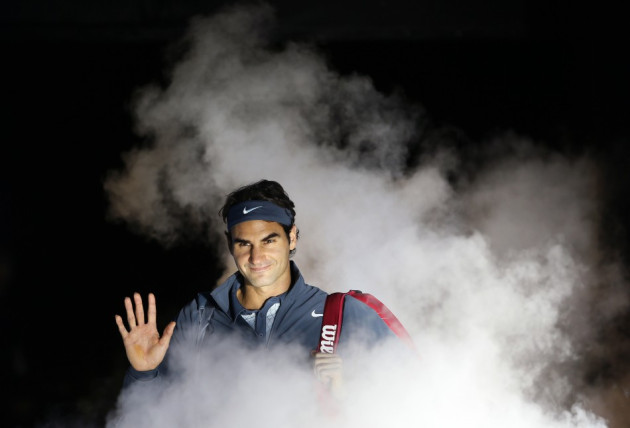 Roger Federer takes on Juan Martin del Potro before Novak Djokovic plays Richard Gasquet
Where to Watch
Juan Martin del Potro v Roger Federer is live on Sky Sports HD3 and BBC Two HD no later than 2pm GMT. Live commentary is available on BBC Radio 5 live sports extra.
Novak Djokovic v Richard Gasquet is live on Sky Sports HD3 no later than 8pm GMT.
Preview
The final day of the round-robin stage at the ATP World Tour Finals sees Juan Martin del Potro and Roger Federer battle for the final semi-final place before Novak Djokovic aims to stay unbeaten against Richard Gasquet.
The afternoon plays host to Federer's continued attempts to win a seventh tour finals crown against Del Potro, with the winner guaranteed to qualify for the last four.
Del Potro missed out on booking his place in the last four after losing in three sets to Djokovic, while Federer, the 17-time grand slam champion, kept his hopes alive after beating Gasquet in two sets.
Federer has a 14-5 win record against Del Potro, the most recent victory coming in Paris last week but that is the Swiss' only success in the last four meetings. The Argentine has prevailed twice on the hard courts of Basel and at last year's ATP World Tour Finals.
In the final round robin session of the week, Djokovic aims to sustain his unbeaten run since the US Open against Gasquet, who despite beating the Serb in his only other tour finals appearance in 2007, has yet to win on his return in 2013.
The defending champion has lost just once in 10 meetings with the world No.9, in China in 2007, and won as recently as in Beijing earlier this year.
What they said
Juan Martin del Potro: "It's going to be a decision match for both. We play in every Masters, the last match of the group, and we always play for something. I will try to do my best. I know for me has been a long season. I'm getting tired."
Roger Federer: "I'm glad I got one back in Paris because I knew we could be again in the same group, we could be playing each other. Think that win for me in Paris Psychologically was very important."
Novak Djokovic: "I had my luck that my group was selected to play Tuesday, Thursday and I played night matches, so it gave me more time to rest, gave me more time to get ready. I still want to try to win the last match of the group."
Richard Gasquet: "I'm taking a lot of experience playing this Masters because the level is very high, very difficult, So of course, it's very good for me to play these matches for next year. I need to improve on my game to play these guys."
Day 1 review: Wawrinka and Del Potro clinch opening wins
Day 2 review: Nadal thrashes Ferrer as Djokovic Outlasts Federer
Day 3 review: Nadal secures world No.1
Day 4 review: Djokovic powers through as Federer Retains Hope
Day 5 review: Wawrinka sets up Djokovic semi-final