As he plummeted to Earth at more than 800mph it wasn't just the sound barrier that Felix Baumgartner broke - he also became the most watched live event in YouTube history, with more than eight million concurrent viewers.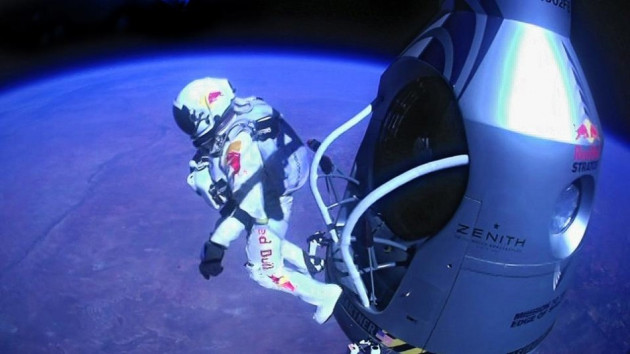 The previous record for the most concurrent live viewers on YouTube was around 500,000, a record set during the London Olympic Games in the summer and smashed by Baumgartner's 128,000ft leap into the record books.
YouTube said afterwards: "We congratulate Felix Baumgartner and the entire Red Bull Stratos team for their successful mission, and for creating a livestream with the most concurrent views ever on YouTube."
The 24-mile ascent and skydive was broadcast live from several high definition cameras mounted to Baumgartner's balloon and to his pressurised space suit, with more than 40 television networks in 50 countries showing the event live, and a further 130 digital streams across the web.
Over on Facebook, sponsors Red Bull posted a photo of Baumgartner on his knees moments after landing. In just 40 minutes the image was shared across the social network 29,000 times, 'liked' more than 216,000 times and received more than 10,000 comments - the following morning the images had accumulated nearly half a million likes.
Twitter was ablaze with messages of support and amazement from viewers, and during the jump half of the site's worldwide trending topics were about the skydiver, pushing him past tweets about Justin Bieber and seven NFL games that were going on at the same time.
At IBTimes UK we were almost as impressed with the technical achievement of broadcasting the event, as the jump itself.
Anyone in the world with an average internet connection was able to enjoy more than two hours of high quality video through their computer, tablet, TV or smartphone, with commentary and live audio from mission control and Baumgartner himself, and - for us at least - the video quality was as good and even slightly ahead of what live TV news was showing.
The footage collected will be used during a one-hour documentary to be broadcast by the BBC and National Geographic next month.