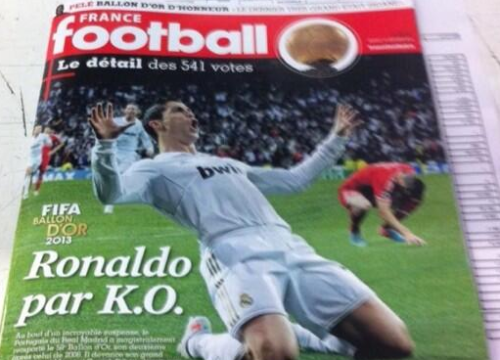 A French Football magazine has reassured that it has not accidently revealed the winner of Fifa's Ballon d'Or after photos showing Cristiano Ronaldo on its front cover circulated online.
Rumours began circulating that the winner of the player of the year for 2013 was leaked online after photos of the magazine was seen on social media networks.
The pictures show the Real Madrid star hailed as the winner on the cover of France Football magazine ahead of the other two shortlisted finalists, Barcelona's Lionel Messi and Bayern Munich's Frank Ribery.
Many saw it as proof that the decision as who would win this year's Ballon D'or as the bi-weekly football magazine is seen as one of the most respected in Europe. The magazine also introduced the Ballon d'Or in 1956 to award the best European footballer of the year, before expanding it to be a worldwide competition in 2007.
However, the magazine was quick to quash the rumour they already know the winner of the competition. The magazine tweeted a picture containing three separate front covers which declares Ribery, Ronaldo and Messi and the winners with the caption: "whoever the winner of the FIFA Ballon d'Or 2013 is, we will be ready".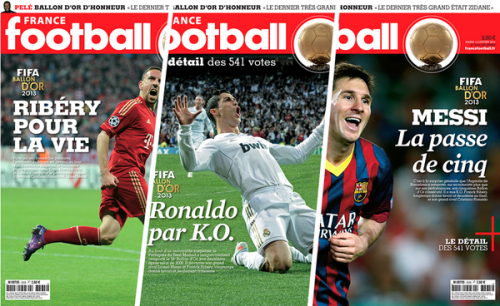 People may also have been ready to accept the leak as genuine as Ronaldo is the favourite to win the award for the second time in his career after scoring 66 goals in 56 appearances for club and country in 2013.
Messi, who has won the award for the past four years, is predicted to finish in second place after scoring 42 goals in 45 games in a season.
France winger Ribery makes up the rest of the shortlist after helping Bayern Munich to five major trophies in 2013 - Bundesliga, German Cup, Champions League, Uefa Super Cup and Club World Cup – and scoring 22 gaols in the process.