Fifa World Cup 2014: Argentina 1-0 Iran, Germany 2-2 Ghana, Nigeria 1-0 Bosnia-Hercegovina As It Happened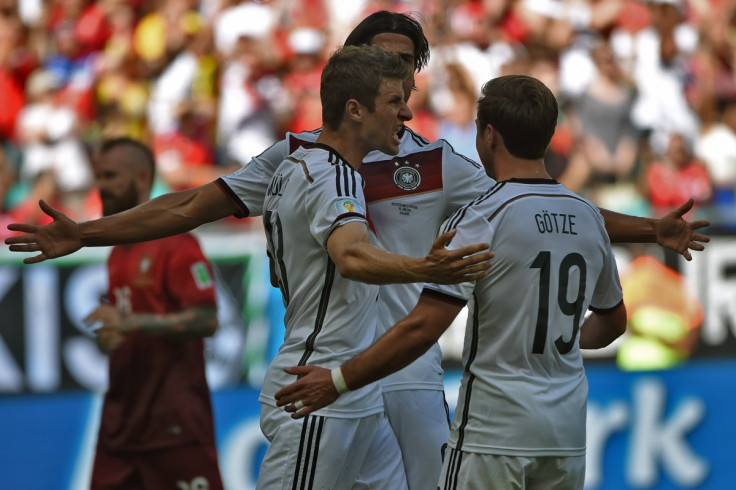 Click Here to Know Prediction, Betting Odds, Preview and Team News for Belgium v Russia.
Argentina 1-0 Iran FT
Germany 2-2 Ghana FT
Nigeria 1-0 Bosnia-Hercegovina FT

Argentina are through to the next stage of the World Cup finals after beating Iran
Germany draw with Ghana while Klose equals Ronaldo's World Cup goalscoring record
Bosnia out of the latter stages after suffering defeat at hands of Nigeria
12:51pm: And that's a wrap! Nigeria take the win and Bosnia are out of the latter stages of the World Cup. Thanks for joining us tonight, same time and place tomorrow!
12:48pm: The ref calls three minutes extra time, Bosnia have a corner and Dzeko heads it straight to the keeper. Sums up his night unfortunately.
12:45pm: It's the final third where both sides lack so much and Bosnia's lack of experience at a World Cup is now showing. Getting into the final minutes now...
12:40am: Emenike is down but the referee is having none of his claims for treatment, insisting he get on with it. It's looking tougher and tougher for Bosnia to compete with Nigeria who are in complete control despite their lack of possession.
12:29am: Babatunde is off for Nigeria after picking up an injury and Uzoenyi replaces him. 15 minutes now for Bosnia to save their World Cup hopes...
12:22am: Bosnia make another change with Haris Medunjanin replaced by Tino-Sven Susic. The side are very much looking on the back foot and their keeper is keeping them in this at the moment. Shola ameobi is also on for Nigeria in place of Ahmed Mula, who has been at his best for his side tonight.
12:15am: Vedad Ibisevic replaces Izet Hajrovic for Bosnia and the side look yet to get back into the game. Maybe this will turn things around?
12:08am: The stats are looking very equal for Bosnia and Nigeria with both sides having 10 shots on goal, 4 of which were on target. But Nigeria holds the advantage in possession with 60% and will be hoping to keep that control over the next 45 minutes.
12:02am: The players are back out on the pitch and Nigeria will be looking to protect their lead while Bosnia hope to undo an unjust non-goal.
11:47pm: And that's a wrap on the first half!
11:45pm: Not long now until half time and as it stands Bosnia will exit the World Cup after the gropu stages. Nigeria were disappointing in their first match but are now much more confident and attacking making it particularly difficult for their opponents.
11:36pm: Nothing in Bosnia's protests, by the way, with Emir Spahic brought down by his own poor defending rather than any foul play by Nigeria. But they will rightly be very angry that Dzeko's goal wasn't counted earlier. A lot of time left to make up for it though.
11:28pm: GOAL! Nigeria go 1-0 up thanks to Peter Odemwingie. Bosnia are angry that their man is brought down in the lead-up to the goal but it stands.
11:21pm: Dzeko shoots, he scores... and it's ruled offside. But is it? The replays looked to be in his favour. Certainly another incident to add to the argument for video referees...
11:16pm: Musa is the target man for Nigeria at the moment who are looking dangerous up front but vulnerable in defence.
11:11pm: It might have taken the Germany - Ghana game a while to open up but this is already end-to-end stuff within 10 minutes! Nigeria and Bosnia clearly both going for the win.
11:06pm: Nigeria have a shot on goal already but it's Bosnia who have been dominating possession. Medunjanin is handed a yellow for a rough tackle and the Bosnia fans go wild for the free kick, which comes to nothing.
11:00pm: And we have kick-off!
10:55pm: The players are out and the anthems are starting. It might be Bosnia's first World Cup but with the side fielding Edin Dzeko and Stuttgart's Vedad Ibisevic they could be a tough force to beat, as was proven against Argentina.
10:48pm: It's getting closer to kick-off, this is definitely a late one and after the excitement of Ghana and Germany, and Argentina nearly suffering a shock at the hands of Iran, this could yet follow suit and turn out to be an exciting match-up. One can have hope, right?!
10:20pm: While Nigeria drew with Iran in their first group stage match and will be disappointed with their performance, Bosnia came close to Argentina with Lionel Messi their undoing as they lost 2-1. Both teams need to win to stay in the fight for the next round and on past perdormances you'd have to fancy Bosnia.
10:10pm: Team line-ups for Nigeria v Bosnia-Hercegovina:
Nigeria: Enyeama, Yobo (c), Ambrose, Musa, Odemwingie, Emenike, Mikel, Oshaniwa, Onazi, Babatunde, Omeruo
Bosnia-Hercegovina: Begovic, Spahic (c), Besic, Pjanic, Misimovic, Dzeko, Mujdza, Sunjic, Lulic, Medunjanin, Hajrovic
9:57pm: What a game! Great attacking from both Ghana and Germany and once again the Germans weren't able to back up their first World Cup win with another victory in the second game. Now we turn our attentions back to Group F where Bosnia-Hercegovina and Nigeria face off in the final game of the day.
9:53pm: And that's a wrap! Germany have the last piece of play and it's not enough to win the match, which finishes 2-2. Meanwhile Mueller has taken a nasty hit to the head in the scramble for the ball and is bleeding on the pitch.
9:50pm: Extra time, Germany with the corner, Ghana get the ball and go on the counter and... offside. It's end to end stuff now!
9:44pm: Getting into the last 10 minutes and Ozil passes to Klose in front of goal but he can't connect with the ball in time. Germany getting frustrated with missed chances.
9:41pm: Shots for both Germany and Ghana as this game looks to have well and truly opened up. Germany's midfield are no longer being bossed as much but their shots on goal as still low compared to Ghana's and they'll be looking to improve that fast.
9:34pm: Those changes for Germany were ones that needed to be made; Khedira has been disappointing and Klose and Schweinsteiger combined to put Germany back in control immediately. Now, the side have a shot through a free kick and Schweinsteiger is just over the bar.
9:31pm: That was Klose's 15th World Cup goal, equaling Ronaldo's all-time goal scoring record.
9:30pm: GOAL! Fantastic substitution for Germany as Klose scores just after coming on!
9:28pm: Klose is on for Gotze as Germany look to change things up, with Schweinsteiger also replacing Khedira.
9:25pm: Ghana in the driving seat now and Germany are struggling, though Neuer is holding his ground. Another goal for the African side and the Germans will be in serious trouble.
9:22pm: GOAL! Ghana go up 2-1 with Asamoah Gyan going one-to-one with the keeper and winning. Germany's defence is a shambles at the moment.
9:19pm: Germany are trying to respond to that equaliser but Ghana's defensive line is holding firm. Ghana have had 10 shots on goal compared to Germany's 6 at the moment - not what you'd expect from the side who destroyed Portugal less than a week ago.
9:12pm: GOAL! Ghana equalise thanks to Andre Ayew. And here I was thinking that pitch invasion meant they wouldn't be able to respond quickly enough!
9:12pm: Ayew is on for Ghana's Boateng as someone invades the pitch.
9:10pm: GOAL! Gotze and Mueller combine to put Germany ahead 1-0!
9:03pm: And we're back! Mustafi replaces Boateng because of injury.
8:47pm: And that's a wrap for the first half! We'll be back soon for the second half of Germany v Ghana.
8:44pm: Neither side finding a clinical touch in that final third at the moment. Ghana make a call for a penalty after getting a corner but Neuer doesn't look too bothered.
8:39pm: Neuer looks to have been Germany's key player for a time in this game with Ghana pushing up front, but the Germans look to have regrouped now and the game has slowed down.
8:30pm: Chance for Nigeria after the ball deflects off Mueller, then not long after Muntari smashes it at Neuer only for the ball to go straight into the German keeper's hands. Germany have been the dominant side but each have had 3 shots on goal now.
8:20pm: Khedira has the chance to either pass into the box or shoot, and he chooses to shoot... it doesn't work out so well. Germany continuing to attack but Ghana have more shots on goal right now.
8:18pm: Ozil is looking decent for Germany so far and the Arsenal man has completed 100% of his passes as it stands. He didn't have the best end to the season for the Gunners but an all-German midfield is proving to be to his benefit.
8:12pm: Mueller in with a huge chance and Germany are starting to mount an attack. Ghana's defene held well against Mueller, forcing him to pass elsewhere but it's a good start for the World Cup favourites.
8:07pm: Lots of stats going around about Germany's struggles in their second World Cup group stage game - they have won it only once since 1994. The side start well but Ghana are also pushing forward confidently.
8:00pm: And we have kick-off!
7:54pm: The players are coming out now. Just minutes until kick off and Germany look like they mean business - can they better their 1-0 win against the African side from the 2010 group stages?
7:46pm: The teams are finishing their warm-up and are ready to go! Ghana are aiming to take a win after losing to USA in their opening match. For Germany, meanwhile, the prospect of continuing to assert themselves as favourites to win the competition will be the aim for tonight.
7:27pm: Starting line-ups for Germany v Ghana:
Ghana starting XI: Dauda, Gyan (c), Atsu, Boateng, A Ayew, Muntari, Rabiu, Mensah, Asamoah, Boye, Afful.
Germany starting XI: Neuer, Howedes, Hummels, Khedira, Ozil, Muller, Lahm (c), Mertesacker, Kroos, Gotze, Boateng.
6:55pm: And that's a wrap! Argentina are saved in the final minutes after Lionel Messi scores in injury time to put his side 1-0 up. We'll be back soon to cover Germany's match-up with Ghana at 20:00.
6:53pm: Di Maria is off for Biglia. Argentina in the place they want to be right now - but Iran have been attacking and could have a last minute chance...
6:50pm: GOAL! Messi might have been frustrated before, but he's celebrating now as he scores for Argentina. The superstar may have saved his side from humiliation! Assist credited to Ezequiel Lavezzi.
6:48pm: We're into the final five minutes and it's a tense one for both sides who want that win badly. Messi is looking particularly frustrated and he should be, with this game looking a walkover for Argentina before it began.
6:45pm: Reza again! Open on goal, he shoots and while the keeper saves it, if there had been one more place in the Iran box... they will be disappointed not to get that one.
6:42pm: This has been a brilliant effort from Iran, who have proven themselves to be a tough side as well as making Argentina look poor. For Argentina, to be unable to convert such a high percentage witht he likes of Aguero, Higuain and Messi starting is particularly disappointing.
6:36pm: Masoud comes off for Iran in place of Heydari. Meanwhile Argentina look to ring in the changes as the side desperately search for a goal, with Polacio and Lavezzi on for Higuain and Aguero.
6:34pm: Di Maria lights up and comes forward with a close shot but it falls straight to the keeper's hands. Sums up Argentina's night so far.
6:27pm: Dejagah! Iran looking much more convincing this half in attack as the side have another shot on goal that goes just over the bar.
6:24pm: 15 shots to 5 on goal for Argentina at the moment but the side only have 2 on target compared to Iran's 1. We're into the final half hour and The South American side need to lift if they want to cement their status as a chance to win the Cup.
6:17pm: Messi is getting closer but still off target, with the attacker finding space but shooting *just* wide of the bar. He's closing in on a goal but Argentina look far from convincing up front at the moment.
6:12pm: Hello Iran!! Reza in with a huge chance in front of goala nd Argentina's keeper will be counting himself lucky he caught that one.
6:11pm: More of the same from Argentina so far. Keeping up their dominance but as Aguero gets a chance in the box the striker fails to connect and the ball goes flying to the left.
6:05pm: And we're back! Can Iran keep up their watertight defence? Can Argentina become more clinical in the final third? Stay tuned and find out!
5:49: And that's half time, with a dominant Argentina side failing to find the back of the net against Iran. Scores sit at 0-0.
5:44pm: According to OptaJoe,
Iran conceded their last 5 goals at #WorldCups in the second half. Descent."

5:43pm: Decent chance for Iran! After getting a corner the side nearly have one up on Argentina thanks to their defenders heading the ball in the wrong direction. You'd have to expect that would be one of their few chances in this game though...
5:42pm: Iran have gained some possession on Argentina - it's now at 21%! But still only those two shots on target for the South Americans.
5:38pm: More firepower from Messi with the superstar floating a free kick to Garay who misses the target with his header.
5:36pm: Meanwhile over in the England camp the side are currently having a press conference to talk about their shock exit which was confirmed last night when Italy failed to beat Costa Rica in Group D. Wayne Rooney said of the situation:
We're hurting, disappointed to be out of the tournament but we have to pick ourselves up for Tuesday and restore some pride.

Roy has brought in an enthusiasm to the squad, and introduced youngsters. Make no mistake - he is the man to take us forward.
5:33pm: Lionel Messi with a free kick right in front of the goal, it's past the wall and... just high of the target. The Barcelona man will no doubt be frustrated by that.
5:28pm: For all of Argentina's possession the side have so far only had two shots on target. The side will be hoping to be more clinical in their final third as the half continues.
5:23pm: Argentina look to counter attack after Iran fail to capitalise on a corner, with Gonzalo Higuain starting to pile up his side's shots on goal. Aguero follows with another chance himself but the side aren't looking particularly dangerous - yet.
5:15pm: Argentina have so far completed 30 of 36 passes in the final third, while Iran have completed 0 of 3 in theirs. Starting to look like it's going to be a one-sided match.
5:12pm: Di Maria and Messi both getting sight of the ball but Iran are holding firm. Aguero's also had a close call already and the Manchester City man is looking like a decent target to aim for during this match.
5:05pm: Both sides are attacking already with this game looking slightly open already. Iran have had a chance on goal while Argentina dominate possession.
5:00pm: And we have kick off!
4:55pm: Argentina and Iran currently occupy first and second spot respectively in the table for Group G. Shoudl Argentina win they will have a stronghold on first position, but Iran can cause a shock tonight and overtake their opponents if they collect three points.
4:50pm: Team line-ups for Argentina v Iran:
Iran: Haghighi, Haji Safi, Hosseini, Sadeghi, Nekounam, Shojaei, Timotian, Montarezi, Ghoochannejad, Dejagah, Pooladi
Argentina: Romero, Zabaleta, Garay, Fernandez, Rojo, Gago, Mascherano, Di Maria, Messi, Higuain, Aguero
4:45pm: Hello and welcome to the IBTimes UK live blog covering all the Saturday night action in the World Cup! What a night we have ahead of us, with Argentina taking on Iran in the next 15 minutes, followed by Germany and Ghana and then finally Nigeria and Bosnia and Herzegovnia.
© Copyright IBTimes 2023. All rights reserved.