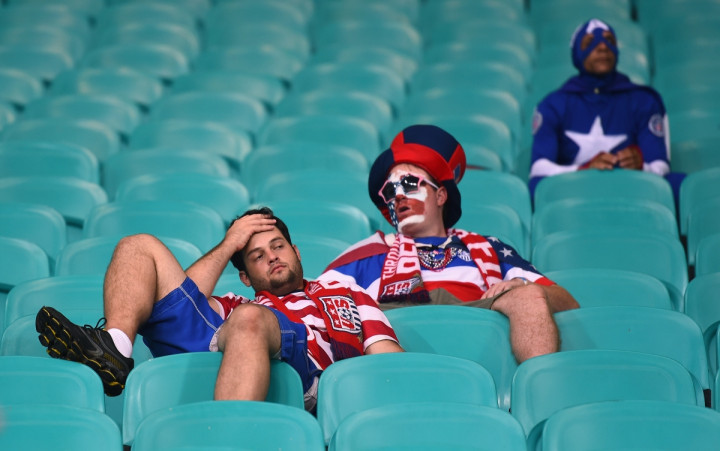 11:50: USA mounted one of the comebacks of the competition in that final 15 minutes of action in Salvador but their campaign comes to and end. The quarter-finals of the World Cup commence om Friday and here are the fixtures:
Brazil v Colombia
France v Germany
Netherlands v Costa Rica
Argentina v Belgium
11:34: What a game, but it is Belgium who will meet Argentina in the quarter final.
FULL TIME
Belgium 2-1 USA (After Extra Time)
11:33: Jurgen Klinsmann is doing his nut, the referee is only allowing one minute of time added on. This should be it.
11:31: And USA are straight up the other end as Julian Green races down the left and lifts the ball over to the far post but Yedlin cannot get their time having pelted up the right channel.
11:29: Jones does brilliantly to bring the ball down just inside the box but he is unable to slip it through to Dempsey. Belgium launch it upfield finding Lukaku down the left flank. Instead of running to the corner, he tries to find Mirallas at the far post but he is inches away from taking it down.
11:28: Another great chance! Bradley finds Yedlin who fires an excellent ball into the danger zone from the right but Belgium just about scramble the ball away.
11:27: Centre half Gonzalez has gone to play up front. Chadli came on for Hazard a few moments ago. Meanwhile the knackered Fellaini and Witsel stay on the pitch.
11:26: That was probably the best free kick routine you will see in this World Cup. What a game but we are into its last five minutes.
11:24: What a free kick routine from USA! Bradley shapes to shoot from 30 yards but instead slides it into the edge of the box and an instant one two finds Dempsey whose effort is saved by Courtois!
11:23: USA chants are raining down from the stadium in Salvador, Klinsmann's side are in the ascendancy here. USA have a free kick.
11:21: Howard saves again! Lukaku picks up the ball and menacingly drives towards goal, twisting and turning past Gonzalez and another defender to work the room to shoot but Howard is equal to it again!
11:19: And it's nearly 2-2! Bradley finds room again and clips a ball in from the left. Jermain Jones is in the middle and tries to poke into the far corner of the net but it veers just wide! So close!
11:18: USA have one back! Michael Bradley floats a long ball over the top that Green, who is just off the bench, gets on the end of to volley past Courtois!
Goal! Belgium 2-1 USA (Julian Green)
11:16: And we are back underway for the final 15 minutes.
11:15: Once again Marc Wilmots has used his substitutes to perfection; the introduction of Romelu Lukaku at such a decisive point gave his side the added impetus to find the breakthrough.
HALF TIME IN EXTRA TIME
11:12: Surely that seals it for Belgium! USA are caught out with too many man upfield and De Bruyne races into space down the left. He cuts inside, slows the ball down and lays through a perfectly weighted ball for the onrushing Lukaku who smashes one past Howard.
Goal! Belgium 2-0 USA (Romelu Lukaku)
11:11: Howard saves again! It;s a wonderful move up the inside right channel that allows Mirallas to race through one on one but's it's a poor shot straight at the USA goalkeeper who makes the save.
11:09: USA are still battling here. Beasley breaks into space down the left and is again picked out, but his cross is slightly overhit and bypasses his teammates loaded in the box. De Bruyne races into the loose ball out on the right and accidentally hammers the ball into Jermain Jones' face! He'll need a minute after that.
11:07: Lukaku again powers past his markers like they are now there and fires a diagonal shot in from the left, but Howard again makes a good save.
11:06: Cameron brilliantly jinks (!) his way through the middle and the ball falls to Dempsey just outside of the box in a central position. He leaves if for Jones whose shot is blocked. The midfielder appears to have suffered a knock too and the players are gifted a breather.
11:04: Lukaku himself now has an opportunity after his clever run inside the left channel is picked out. From a tight angle he gets the shot on target but Howard makes the save. USA clear the resulting corner.
11:03: Belgium have a chance to end it! It's three on two as Lukaku slides the ball over to Vertonghen who has emerged on his left. On the edge of the defender gets caught, in two, three or four minds however and eventually hits a tame effort that is harmlessly cleared. Lukaku has been outstanding since his introduction.
11:02: USA have a free kick and immediately throw everyone. The ball is overhit however.
11:01: Belgium lead! Lukaku pulls out to the right wing and brushes off the challenges of Besler. He powers his way to the byline and slots the ball back to de Bruyne who has joined him in the box. Gonzalez gets a foot to it but showing fantastic compsure, de Bruyne takes a touch and slots one into the far corner.
Goal! Belgium 1-0 USA (Kevin de Bruyne)
10:59: Beasley makes a clever run down the left flank towards the byline and Bradley finds him witha great cross field ball. The full back digs out a sweeping cross that Jones meets in the box but he gets too much on it and it flies over the bar.
10:58: And USA get us started for the first half of extra time.
10:56: Romelu Lukaku has come on for Origi. Not what you need when you're a knackered American centre half.
10:54: What an incredible game this has been and we are about to get at least another half hour out of it.
END OF 90 MINUTES
Belgium 0-0 USA
10:51: What a miss for USA! Jones nods the ball into the six yard area and it lands at the foot of Chris Wondolowski who has the goal gaping, but he slices it horribly wide! The fourth official has his flag raised for offside but replays show he was at least two yards onside thanks to Toby Alderweireld.
10:50: We're well into the three minutes of added time.
10:49: Hazard has it back and races to the byline again before clipping in a cross with the outside of his boot but Gonzalez is across to clear with his shoulder. The resulting corner is, at long last, a good one, but Fellaini heads over.
10:48: Kompany brilliantly steps across the line to deny a US attack and is immediately up the other end supporting an attack! De Bruyne breaks down the inside left and finds his skipper in the centre but his scuffed effort his palmed away by Howard!
10:47: What a terrible decision from Hazard! Thwe forward is brilliantly played in down the inside left flank and with teammates waiting in the centre he tries to beat Howard at his near post and lashes one into the side netting.
10:45: It's another poor effort and Origi threatens to break down the right flank but Beasley holds him up and wins the free kick for himself.
10:44: Van Buyten is forced to make an improvised clearance at his nearpost. USA corner.
10:43: The resulting corner finds Fellaini at the backpost but he is penalised and USA get the free kick. Just five minutes of normal time remaining.
10:42: Hazard cuts in from the left and finds Origi and turns and shoots from the edge of the area. It's a powerful effort from the youngster but it is straight at Howard who palms over.
10:40: Brilliant defending from the US! A terrible corner is retrieved by de Bruyne who slips a clever ball down the inside right channel. Van Buyten has stayed forward but just as he is about to pull the trigger Besler excellently intercepts.
10:39: Bradley finds Yedlin who has snuck in behind Vertonghen on the right and he dinks a ball intot he box but Fellaini does brilliantly to get back and hook the ball away.
10:38: Howard saves again! Mirallas does brilliantly down the right and finds Fellaini in the box who pulls it down into the path of Hazard. He hits it through a crowd of players but Howard is down to his left to bat it away.
10:35: From the resulting corner Kompany flashes a header across the face of the goal. Replays shows Gonzalaz landed horribly on his rolling ankle as he challenged the Belgian but looks okay to continue.
10:34: Brilliant save from Howard! Hazard tracks back and excellently steals possession from Yedlin. He brings the ball forward and finds Origi who lays of a ball off for Mirallas who is bursting through on the inside left channel. He only has Howard to beat but the goalkeeper sticks out a foot to deny the goal bound effort!
10:32: It opens up in front of him as Dempsey brings the ball forward. He has Bedonya whose threatening to break free down the right but the forward goes it alone and his effort on goal is saved by Courtois.
10:30: Origi denied again! Mirallas brilliantly jinks his way into the box from the right past three men but the ball falls to the Belgian teenager whose effort is blocked by Howard! He should have done better with that, his scuffed effort was straight at the Everton goalkeeper.
10:28: Graham Zusi has failed to track Vertonghen for much of the game and he looks positively dead on his feet at the moment. A few of the American players do and Jurgen Klinsmann may choose to make some changes oon.
10:26: Fellaini is found in space out on the right but opts to return it rather than take the cross on. He finds Alderweireld who squares it to Witsel who hits a vicious first time effort for the bottom left corner but it's just wide of the post.
10:23: Yedlin finds a burst of space and evades Vertonghen down the right wing. He picks out an excellent cross but Courtois follows it all the way and plucks it out of the air.
10:21: Mirallas receives the ball on the edge of the area from de Bruyne but can't decide what to do with it. He eventually opts to pass back to De Bruyne who has joined him in field but his effort is deflected and cleared.
10:19: Kevin Mirallas is on for Mertens.
10:18: Hazard pulls wide to the left before laying the ball off to Origi. He cuts in, then cuts back out and veers past three men towards the byline before cutting an inviting ball over the near post. Mertens meets it with a neat flick but he can't direct it on goal.
10:15: Vertonghen again is picked out in space advancing down the inside left and after seeing his last cross evade teammates a few moments ago decides to have a crack himself and meets the long ball with a volley. It's a vicious, dipping effort but it never troubles Howard.
10:14: Belgium are getting closer here. Alderweireld comes in from the right and dinks in a ball that Origi leaps to meet magnificently, but his effort bounces off the top of the bar.
10:13 Hazard dinks in a diagnoal ball to Fellaini who has taken a good position on the edge of the right hand side of the box. He takes the ball on his chest and slips the ball into De Bruyne who has a crack on goal but he slices his effort horribly.
10:12: Close again from Belgium! Once again Vertonghen bursts up the inside left channel and steers a brilliant ball across goal but neither Origi or De Bruyne can divert it into the back of the net.
10:11: De Bruyne slips a ball through to Alderweireld whose hugging the right touchline but it's intercepted. From the resulting throw in Mertens tries to win possession back but gives away the foul.
10:09: Fellaini does well to win possession fairly just inside the American half and seeing a path opening up before him takes the ball and unleashes an effort on goal from a good 35 yards. It's not a great one and veers harmlessly wide.
10:06: Belgium have another corner but again it's a poor delivery and the chance is gone.
10:05: Good start from Beglium and Origi who shows neat footwork to slip away from his man and play a ball through to De Bruyne down the inside right channel. He hits a first time outside-of-the-foot cross into the box that Mertens does well to meet with a flicked header, forcing Howard to palm over the bar.
10:02: Belgium get us started for the second half.
9:52: Very vibrant first half here, Belgium have perhaps enjoyed the better of the chances but USA have worked openings for themselves too. Very open, long may it continue.
HALF TIME
Belgium 0-0 USA
9:46: Vincent Kompany is shown a yellow card.
9:45: Courtois punches clear and American cross that finds Origi who races up the other end before sliding a ball back to De Bruyne on the inside left channel. He sweeps a powerful, first time effort on goal but it's straight at Howard. Three minutes of injury time added on.
9:43: Howard gets a firm fist to the corner and it's cleared and Mertens' poor first touch sees US win the throw in.
9:42: Vertonghen again does well getting down the left and whips a teasing ball into the box that Gonzalez heads over the bar. Corner.
9:40: Great move from the USA! Bradley lifts an excellent ball out to the right, directly onto the toe of the onrushing Yedlin who has slipped behind the Belgian full back. As he reaches the byline he pulls the ball back to Zusi but he scuffs his effort on goal.
9:39: Yedlin again does well down the right and whips a great ball into the far post where Dempsey is lurking but Alderweireld makes a great defensive header and clears.
9:36: Bradley's reverse ball into the Belgian penalty area is dealt with and a counter is sparked. Mertens receives the ball out on the right flank and manages to jink his way past Cameron before being fouled. The ball falls to De Bruyne and the advantage is played as the Wolfsburg star passes across to Hazard who cuts inside from the left and tries to rifle a shot through a posse of American defenders but to no avail.
9:34: The corner comes in and Dempsey brilliantly takes it down on his chest but can't work room for the shot. The ball falls to Jones about 25 yards out from goal but his low drive is always going wide.
9:33; Yedlin immediately does his best impression of Johnson. Dempsey works the ball out to the right and the young Seattle Sounders full back takes on Hazard down the right and wins his side the corner.
9;32: Johnson, who has had an excellent campaign, has come off with that strain and is replaced by DeAndre Yedlin
9:30: USA have a problem here, the impressive Fabien Johnson stretches to bring the ball under control and immediately reaches for his hamstring which is already got strapping around it.
9:28: That corner comes to nothing however and USA spring an attack of their own, launching a long one over the top for Dempsey to chase down. He's close to nipping in behind Alderweireld who is covering for Kompany but the Atletico Madrid man takes an excellent touch and brings the ball out to safety.
9:27: Hazard is looking increasingly menacing again, he drives down the left to draw another corner for his side.
9:25: Belgium close again! Vertonghen jinks his way towards the byline from the left and tries to place one across the box where Fellaini is the furthest man forward but Beasley manages to dig it out. Fantastic start to this game.
9:22: What a chance for Belgium! Zusi loses the ball dead in central midfield allowing Vertonghen to take possession and maraud forward through the middle. Belgium have plenty of shirts forward and Vertonghen sides a neat ball through to De Bruyne who has pulled away from his man on the inside left channel. He takes a touch, cuts inside and drags his shot a good four feet wide of the left hand post! Awful effort.
9:21: From there USA are straight down the other end Dempsey draws a decent save out of Courtois!
9:20: Cameron meets the corner with a glancing header but it won't fall for Dempsey who gambled and cut across the box. The ball falls to Origi whose over on the right and he sprints past his man to start the counter. A poor touch just inside the USA half sees the move come to an end, however.
9:19: A ball is played down the right for Zusi to chase and although Vertonghen looks to be incontrol of the situation, somehow concedes the corner.
9:17: Toby Alderweireld leaps through the air to intercept a Bradley ball intended for Bedoya and instantly finds Mertens to breaks from his own half before he is cynically barged to the floor by Cameron. The American is rightfully shown a yellow card.
9:15: Origi is caught late by Besler and has to receive some treatment but is back up on his feet after a few minutes.
9:13: Inside his own half Hazard brilliantly glides past his man before finding Origi hugging the touchline to his left. The young striker neatly returns his pass to set Hazard away but the Chelsea star is brilliantly halted by Cameron who robs him of possession just as he is threatening to burst in behind the American line.
9:12: Fellaini nods the ball into the box and causes a moment of confusion between Howard and Bradley before the ball is hacked away for a corner. The ball is floated into Fellaini's direction once again but he can't bring the ball down and USA clear.
9:10: Besler launches an ambitious ball forward that momentarily slips in-between Kompany and Vertonghen but Courtois reads the situation well and is out to clean up.
9:08: USA lose possession and suddenly Belgium can counter. De Bruyne charges through the middle and clips a through ball over to Origi who held his run brilliantly, but there is just too much on the pass and he is unable to prevent it rolling out for the throw in.
9:06: DaMarcus Beasley, who showed no hesitation in getting forward from left back against Germany is at it again and tests the legs of Fellaini. The United midfielder is across quickly to put the full back under pressure and his cross curls over the bar.
9:04: Michael Bradley picks up a loose ball and he suddenly has men bursting ahead of him. Belgium have enough men behind the ball however and their job is made a lot easier by Bradley's poor pass which I think was intended for Bedoya who was emerging on the left flank.
9:02: Belgium have started very brightly here. De Bruyne this pops up on the inside left channel and wriggles away from his marker but his tame effort on goal rolls wide of the post.
9:01: Origi nearly scores within 40 seconds! Down the right De Bruyne plays a neat one two before sliding ball into the box. Origi cuts across ahead of his marker and from a narrow angle strikes on goal but Howard makes the save. Belgium get the corner but USA clear.
9:00: And we are off underway!
8:55: And the national anthems are underway.
8:53: A quarter-final clash with Argentina is on the line here, so far the knock out phase has seen each of the group winners progress. Can USA halt that trend?
8:52: And both teams are now making their way out onto the pitch.
8:48: Origi, who is reportedly edging closer and closer to a move to Liverpool, again starts ahead of Romelu Lukaku this evening. After his wonderful season at Goodison Park last season the striker has looked utterly jaded in Brazil, devoid of the much-improved first touch and awareness that were noted as his biggest improvements last season. In Origi, Wilmots has a skilful, lightning quick outlet who can provide the impetus up front that has been lacking when Lukaku's on the pitch.
8:40: If Belgium need a good omen this evening, they have it goalkeeprr Thibaut Courtois. In 20 international games where he has started in goal Beglium are yet to lose.
8:32: Here are those teams as we count down to kick off. One big surprise from Jurgen Klinsmann sees the unmistakable Kyle Beckermann dropped as Cameron steps in.
Belgium: Courtois, Alderweireld, Kompany (c), Vertonghen, Witsel, De Bruyne, Fellaini, Hazard, Mertens, Van Buyten, Origi
USA: Howard, Gonzalez, Bradley, Besler, Beasley, Dempsey (c), Bedoya, Jones, Zusi, Cameron, Johnson
8:25: We are just over half an hour away from kick in Salvador where Belgium take on USA to decide who will take the final place In the quarter-finals of the World Cup. Vincent Kompany returns to Marc Wilmots' side after missing the final group game against South Korea and Marouane Fellaini has passed a late fitness test and starts in midfield.
Jozy Alitdore had been tipped to return for USA tonight after suffering a hamstring injury in his side's opener, but the Sunderland striker has not made the cut this evening.
7:38: Absolutely incredible. That game was utterly dismal for 117 minutes but what an exhilarating conclusion it had. Lionel Messi, who could barely stand moments before, suddenly found the energy to burst past his man to slide a ball through to Angel Maria who has comfortably been the most wasteful man on the pitch today. With new-found composure he slotted home what would be Argentina's winner.
That was enough drama for us. We were full. But unbelievably Dzemaili would hit the post for the Swiss moments later with the goal gaping following a scramble in the box.
Even when this World Cup is bad, it is still utterly engrossing. Argentina are through to the quarter-finals where they will meet either USA or Argentina.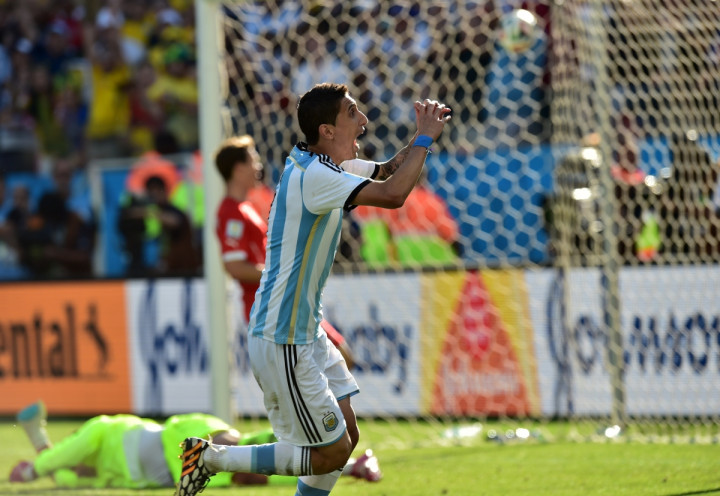 FULL TIME
Argenina 1-0 Switzerland
7:35: The Argentine wall does it's job and blocks Shaqiri's free kick, and that's it! Argentina are through.
7:34: Switzerland are straight back up on the counter and Shaqiri is hacked down right on the edge of the box. The referee gives the free kick! Shaqiri, with the last kick of the game, has the chance to equalise.
7:32: Benaglio is still up and suddenly the Swiss loose possession and Angel di Maria has the ball in his own half with the goal gaping! He tries to hit the target from a good 50 yards out but it sails just wide.
7:30: What a chance immeditaely for Switzerland! And what a terrible miss it is! Benaglio is up for the corner and his miss hit overhead kick sails out to the right. It's whipped back in where Dzemaili is free at the elft post but he heads against the woodwork with the goal empty!
7:26: Argentina have done it! Palacios wins the ball just inside the Swiss half and slips it in field from the left to Messi. He drives forward menacingly, finding energy he didn't seem to have anymore before playing through di Maria who has burst through on the right. He's been woeful this evening, but Di Maria calmly slots home a winner. Incredible.
Goal! Argentina 1-0 Switzerland (Angel di Maria)
7:22: The corner is cleared but only to Di Maria just outside the box. It really isn't his day though as he nails another poor effort clear over the bar.
7:21: Messi again tries to dance his way into the box but again is hustled oiut of by a cluster of red shirts. Moments later the ball falls to Di Maria who tries to bend one in from the right but it cannons off Djourou and it goes out for a corner.
7:19: Suddently the Swiss have space to break and Seferovic leads the charge, only for Zabaleta to slide in and hook the ball away.
7:16: Argentina carefully probe in front of the Swiss defence until Biglia slides the ball into the path of Di Maria cutting in from the right who lashes an effort towards the top corner. He's desperate to redeem himself after an awful individual performance and he came close there, forcing Benaglio to palm it over.
7:15: We are back underway, thankfully there are just 15 minutes of this left.
7:14: Alejandro Sabella makes a change and it's a very conservative one. Lucas Biglia comes on for Gago.
HALF TIME IN EXTRA TIME
7:11: Di Maria clips the ball over a sliding Swiss challenge down the left flank and bursts into space down that flank. He has Higuain and Messi in the box but his driven ball into the box is another poor effort. Messi chases it down but immediately has three Swiss shirts surrounding him. Not one of his teammates offers him a route out of their and the Barcelona star has no choice but to retreat.
7:07: Switzerland enjoy a very tidy passage of play down their left, retaining possession brilliantly between Fernandes, Shaqiri and Inler. The Brazilians in attendance are loving it and the Swiss nearly work it into the box after beat skill from the Bayern Munich star but Argentina finally get it off them when Di Maria hacks clear.
7:03: Switzerland seem content for this to go to penalties at the moment. Argentina continue to mount pressure but with no real quality. This really has been a terrible game.
7:00: Now Argentina have a free kick from out on their left after Mascherano blocked Shaqiri off the ball, but Inler's effort fails to beat the first man and is headed away.
6:59: The ball is whipped in at pace towards Palacios but his glancing header is gathered by Benaglio.
6:58: Rather unwisely, Djourou tries to skip inside Gago after Benaglio's clearance and has to pull back his opponent and gives away the free kick out on the right.
6:56: Argentina immediately put the Swiss under pressure as Garay almost nods in at the far post from a corner but Benaglio deals with it at the second time of asking.
6:54: And we are back underway for 30 minuted of extra time and maybe penalties.
6:49: This contest definitely livened up in the second half but neither side have been able to conjure something to unlock this game. For the fourth time in the first knock out phases we are awaiting extra time.
END OF 90 MINUTES
Argentina 0-0 Switzerland
6:46: Into the three minutes of added time. Switzerland have the chance to launch one into the box with Schaar's presence in the box causing a few problems but Fernandez marshals the Basel centre half well.
6:44: Out on the left flank Messi dances past challenges from Behrami and Litchensteiner and drives into the box. The ball is just about hacked away from him and spills out for a corner. It falls to Rodriguez however who bursts away down the right hoping to lead a Swiss counter, only to be cynically floored by Rojo who is booked.
6:42: Messi slides into win the ball from Behrami and as the two get to their feet, still contesting the loose ball, the Argentine ever so slightly shoulder barges his opponent. Behrami hits the deck theatrically but the referee takes no action, settling for a chat with both players.
6:41: Zabaleta plays a beautiful cross field ball from the right to di Maria who has found space just to the left of the Swiss box. He pings a cross into the box off the outside of his foot but the ball is partially cleared to Rojo. From 20 yards out he thunders one at goal but it flies harmlessly over the bar.
6:39: Seferovic, who has just come on for Drmic, runs at the Argentine back line but never really has the ball under control and Fernandez defends well.
6:36: Argentina have a free kick in an interesting position but it's hastily wasted by Gago. Moments later Messi appeals for a free kick after being blocked right on the edge of the box but the referee is having none of it.
6:33: Appeals from both sides after Messi is denied! A corner falls to the no. 10 on the edge of the box and he dances his way into the box before firing a low effort on goal. Benaglio makes the save but the ball spills in front of him cueing a mass charge for the loose ball,. The Swiss goalkeeper bravely knocks the ball away seconds before Palacios comes crashing into him at the near post. Argentina want a penalty for the trip on the striker, Switzerland want a free kick for a foul on their goalkeeper. The referee awards the corner however and Benaglio somewhat nervously bats it clear.
6:30: Rojo plays the ball in field from the left for Messi who from just inside the box clips a wonderful ball into the centre that's just begging to be headed home. Rodrigo Palacios, who has just replaced Lavezzi, leaps and gets in the way of Higuain, however, and none of them get it. What a waste.
6:28: Mehmedi receives the ball from Shaqiri out on the left and horrible slices his cross field ball. Angel di Maria retrieves possession and advances only to be sliced down by a crunching challenge from Gelson Fernandes, who came on for Xhaka. The former Man City midfielder is shown a yellow card for the cynical challenge.
6:27: Zabaleta makes another excellent run inside from the right but Mascherano's lifted through ball isn't good enough to find the Manchester City full back.
6:24: Close from Messi! The ball comes in from the corner and eventually falls to the no. 10 on the edge of the box who takes it on his chest before lashing a half volley towards the top corner. It sails just over the bar, however.
6:22: Zabaleta plays a neat one two down the right and clips a wonderful ball into Higuain whose positioned at the near post. His glancing header is terrible, however, and the ball drifts away. Argentina chase it down and eventually win a corner.
6:20: Argentina are beginning to take control of this game. They've lacked the final ball to make something happen so far but you feel the pressure growing on Switzerland.
6:19: Rojo has had a very good half providing support down the left and whips another excellent ball into the box. Higuain is on the end of it and gets his header on target but Benaglio manages to tip it over the bar.
6:15: Di Maria brilliantly slips past Rodriguez down the right and for the first time Argentina are in behind the Swiss full back. Hilariously, well, if you're not Argentinian, the Real Madrid midfielder attempts to get the ball into the box via a rabona, but it's sailed harmlessly over the bar.
6:13: Much better from Argentina. Messi drives forward and slides a ball down the inside left channel that Rojo gets on the end of. Cutting into the box he clips the ball towards goal and Benaglio has to adjust himself mid-air to make the near-post save. It may have been a cross from Rojo, but he won't admit it.
6:12: Rojo is slipped in down the left and clips a decent ball into the box. It's just over the head of Lavezzi in the middle and the Swiss goalkeeper punches clear, but only into the path of Higuain whose shot on goal is a poor one.
6:09: Higuain again fails to bring a ball under control after being found in the final third. He's had a very disappointing afternoon where he has even struggled to do the easy things right.
6:07: Shaqiri finds space down the inside left channel and pulls one back for Xhaka but from a tight angle he can only smash one away from the target.
6:06: Xhaka, who was shown a yellow card in the first half clumsily comes crashing through the back of Messi and is very fortunate to still be on the pitch.
6:05: Switzerland have a free kick that Shaqiri tries his luck from. He sends Romero scampering across his line to try and collect and just about stops it going for a corner.
6:04: The corner finds Macherano on the edge of the box but his effort from range deflects out for another set piece. Schaar does well to get ahead of Messi and guide the ball out of danger.
6:02: A brilliant ball from Zabaleta I think finds Messi on the edge of the D who slides to down the left channel for Lavezzi. The PSG forward reaches the byline and tries to steer one back for Higuain but it's blocked. Argentina corner.
6:01: And Switzerland get us back underway for the second half. Let's hope this livens up a tad.
5:55: Thus far, Lionel Messi has been carefully marshalled by the Swiss who have probably created their best chance of the game, only for Joesep Drmic to pass it up. The Argentine no.10 may have to summon another moment of genius to inject some inspiration into this contest.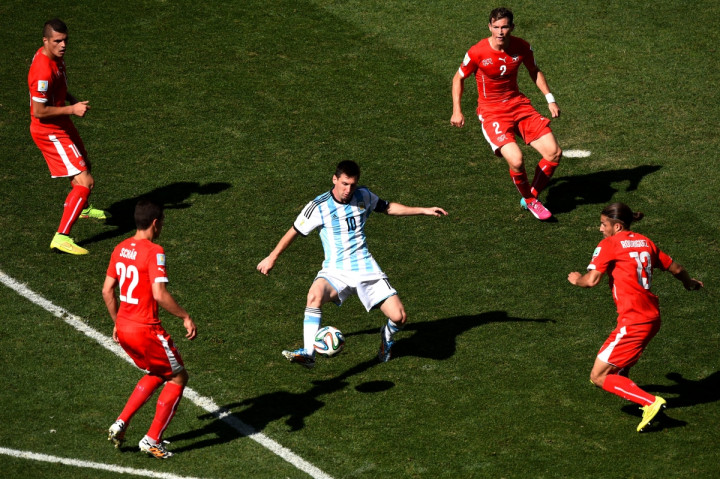 5:46: The referee brings an end to a turgid first half of football. If this World Cup has been a wonderful night out on the town, this first half has been waking up the wallet full of eye-watering receipts the next morning. It hasn't been pretty.
HALF TIME
Argentina 0-0 Switzerland
5:44: Switzerland have a corner and it is likely to be their last chance to work something before the half ends. The ball is lifted into Schaar at the near post but Garay nods clear.
5:41: Argentina play some neat stuff on the edge of the Swiss box and Messi's threaded through ball suddenly deflects into the path of di Maria who is positioned to the right of goal. He looks to curl one inside the near post with his left but it's a poor effort that Benaglio collects.
5:39; What a chance for Switzerland! A terrible sliding challenge from Fernandez allows Drmic to cut across to the inside left channel ahead of the last man. Romero is well placed to come out of this area and clear the danger but for some bewildering reason decides to hold his ground and allow the Swiss to race onto the open ball! Drmic reaches the ball and luckily for Romero, clips a terribly weak effort straight into the goalkeeper's grateful arms.
5:37: The Swiss advance rather slowly up pitch and win another free kick about 30 yards. There have been plently of those in this half and have contributed to the poor half. The ball is sent into the box but Romero punches away.
5:34: Angel di Maria whips a stunning corner into the box that Ezequiel Garay is centremeters away from connecting with.
5:31: Argentina respond by working their first meaningful effort of the game through Gonzalo Higuain after an excellent from from Lavezzi. The Napoli striker can only fire his effort straight at the goalkeeper, however.
5:28: Switzerland come close to opening the scoring! Shaqiri's robust running down the right earns his side a corner kick. After a failed first effort the Swiss opt for a short routine, freeing Shaqiiri to scamper down the byline and slide a ball across to Xhaka. He gets his shot on target but it's saved by the boot of Romero. Drmic is first to the follow up but his tame effort is gathered. Both should have done better there.
5:25: Di Maria is once again hauled down on the wing, this time by Mehmedi. From 30 yards out a ball is curled into the box intended for Higuain but his header is a poor one that sails over the bar.
5:20: Not much happening at the minute, both sides are probing away at each other with no real intent of picking their way through. Angel di Maria has been Argentina's best attacking outlet so far operating in a wider position.
5:13: From the resulting free kick Argentina try to guide one into Lavezzi but Djourou rises to clear.
5:12: Di Maria again threatens down the left and once again draws foul as Xhaka hauls the Real Madrid man back by his shirt.
5:10: The Swiss win the corner than is worked to Inler picks up on the left hand side of the box. He lets one fly from 20 yards out but it flies well over the bar.
5:07: Very tidy football from Switzerland started by Rodriguez in his own half. He plays the ball infield in Inler who skilfully bypasses his man before finding Mehmedi out on the left. He too skips past Zabaleta like he's not there and advances. Shaqiri comes into give a hand and evades Garay before two Argentine defenders provide him with some company and they eventually hack it clear for a throw in.
5:04: Angel di Maria pulls out to the touchline again and elegantly clips the ball around Litchensteiner, who doesn't let the winger get past him as he hauls him back. Argentine free kick.
5:03: Angel di Maria has taken up a much wider position than in previous games in what could be an attempt to further nullify the threat of Ricardo Rodriguez down the left.
5:02: First touch of the ball from Johan Djourou and it is a rather nervous one, stumbling over the ball as he looks to intercept an Argentine pass. The former Arsenal made had a nightmare of a game against the French but facing up against Lionel Messi is an entirely different proposition indeed.
5:00: Argentina get us started as the first half gets underway.
4:56: Argentina's anthem booms around the Arena de Sao Paulo. Their fans have been some of the best in Brazil so far this summer.
4:55: And the national anthems are underway.
4:51: Both teams are making their way out onto the pitch. All six teams to qualify for the quarter-finals so far finished first in the group stages; can Argentina make it seven?
4:45: Switzerland remain unchanged from the side that hammered Hondruas 3-0 in their final group game.
LINE UPS
Argentina: Romero, Federico Fernandez, Zabaleta, Garay, Rojo, Gago, Mascherano, Di Maria, Higuain, Messi, Lavezzi
Subs: Orion, Campagnaro, Biglia, Perez, Maxi Rodriguez, Augusto Fernandez, Demichelis, Palacio, Alvarez, Aguero, Andujar, Basanta
Switzerland: Benaglio, Lichtsteiner, Schar, Djourou, Rodriguez, Inler, Behrami, Xhaka, Shaqiri, Mehmedi, Drmic
Subs: Sommer, Ziegler, Senderos, von Bergen, Lang, Barnetta, Seferovic, Stocker, Dzemaili, Fernandes, Gavranovic, Burki
TEAM NEWS: Sergio Aguero's injury has not ruled him out for the rest of the competition but it has been enough to see him left out of this evening's starting XI. Ezequiel Lavezzi comes in to replace the Manchester City star.
4:28: Gabriel Batistuta. Hernan Crespo. Juan Roman Riquelme. Ariel Ortega. Argentina's ranks have been littered with outstanding names for over the past two decades but not since Copa America 1993 have they lifted silverware. There have been a handful of false dawns in that period but with their catalyst and their best player since Diego Maradona now finding his feet on the grandest stage, is this their best opportunity to end that wait?
4:18: With creative outlets of genuine class in their side, Switzerland can no longer be fitted with tag of merely being "difficult to break down." It was grit and determination that saw clinch a vital 2-1 win over Ecuador in their opening game of the tournament but that positive start was nearly undone following their hammering at the hands of Didier Deschamps' side.
Even in that defeat however, we witnessed moments of brilliance from Blerim Dzemaili and Granit Xhaka and the final game of the group stage provided Xhedran Shaqiri will the platform to announce his arrival. The 22-year-old opened the scoring with a blistering effort from long range before adding two more. Across the pitch, Switzerland are a well-equipped, dangerous side. Argentina beware.
4:10: Argentina struggled to break down both Bosnia and Herzegovina and Iran in their first two group games and while Lionel Messi also endured somewhat average performances, he provided two moments of inspiration to take six points for his country. Following those narrow 2-1 and 1-0 wins, Alejandro Sabella approached Nigeria with slightly more verve and intent. Nigeria's resiliance and own cavilere attitude allowed Messi to once again take centre stage, scoring twice in one of the game's of the competition.
4:00: The final evening of the first knock out phase of the World Cup is upon us and the six teams waiting in the quarter-finals are the same six who topped their respective groups. That looks a little too straight forward on paper; a closer look shows that Brazil were within the width of the cross bar from being eliminated by Chile, Netherlands within minutes of booking their flights home at the expense of Mexico while Germany are still scratching their heads wondering how Algeria came so close from sending them packing.
Our final games this evening present Lionel Messi with another opportunity to light up the competition. Like the other established elite left in this competition bar Netherlands, Argentina are yet to realty step out of first gear. Only for some virtuoso moments of magic from their no. 10 saw them top their group. Bar an uncharacteristically dismal performance against France, Switzerland have delivered much of what we have expected of them in Brazil. While Argentina will have Messi's flair and panache to rely on in a tight contest, Ottmar Hitzfeld's side have a bit of that too in Xherdan Shaqiri, who scored a brilliant hat-trick to ensure his side are here today.
Lichtsteiner