10:56: That's it! Brazil are in the semi-finals of the World Cup for the first time since 2002. James Rodriguez's scintillating campaign has been brought to an end. He leaves the pitch in tears after scoring six goals in his six games in this competition. Goals from centre halves Thiago Silva and David Luiz proved to be enough for Scolari's side who were given an awful fright in the final ten minutes following Rodriguez's penalty, but they managed to hold on. They will meet Germany in the semi-final on Tuesday.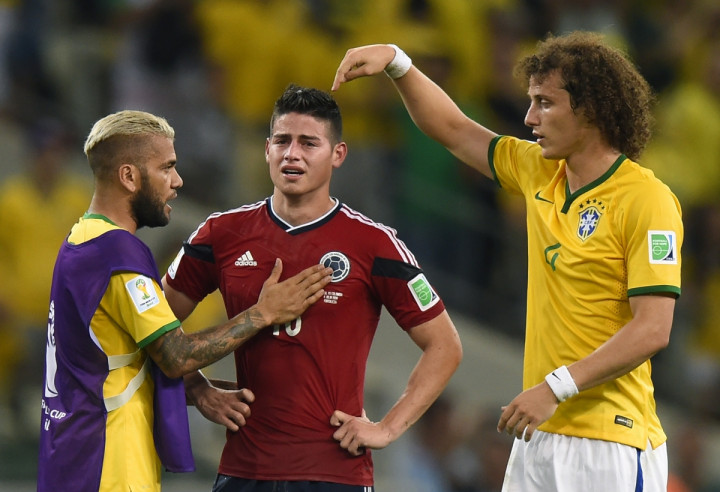 FULL TIME
Brazil 2-1 Colombia
10:53: Colombia have yet another free kick out on that right flank. Quintero takes but it's nodded well over by Ramos again and it's a goal kick. Those five minutes of extra time? They are nearly up.
10:52: Brazil panicking at the back a bit. After a succession of crosses into the six yard area a corner finds Ramos whose glancing effort just veers wide of the post with no one following up his effort.
10:51: James Rodriguez is down and is furious he hasn't been given a free kick on the edge of the Brazilian box. Brazil respond by hitting Colombia on the counter with Oscar cutting in from the right. He shapes a beautiful curling through ball over Yepes for the onrushing Maicon to get onto but it bounces just out of his path.
10:50: Five minutes of time added on.
10:48: Moments ago Neymar was on the receiving end of a painful challenge, getting a knee in the lower back from Zuniga. The stretcher is on, perhaps as a precaution, and Neymar's night is over with the defensive minded Henriquez coming on.
10:45: Quintero's corner is cleared and Brazil can clear and counter at pace through Oscar. He drives down the inside left channel but is eventually hauled down and Brazil can take a moment to calm the situation down with just three minutes left on the clock. Before that initial corner, Hernanes came on for Paulinho.
10:43: Excellent play through the middle as Zapata drives forward with the ball for Colombia with the ball eventually coming to Rodriguez. He slides a perfectly weighted ball out to the left for the onrushing Armero but he's moved to quickly and is ruled offside.
10:42: Ramires is on to sure about the Brazilian midfield, coming on for Hulk.
10:41: Rodriguez whips another cracking across from the left that Bacca nods across the face of the goal! The referee had already blown his whistle but was very close.
10:40: Quintero has come on for Colombia to replace Cuadrado.
10:39: Rodriguez waits for Cesar to dive and slides it into the bottom left hand corner! Colombia are right back in this. That was his sixth goal in six World Cup games. Absolutely incredible.
Goal! Brazil 2-1 Colombia (James Rodriguez, 79)
10:37: On the edge of the area Rodriguez brilliantly slides a ball through to Bacca who nicks the ball away from Cesar before being tripped by the goalkeeper's trailing leg! Colombia want a red card for the 'keeper but the ref shows a yellow after pointing to the spot.
PENALTY - Colombia
10:35: Oscar hoofs a clearance upfield that Neymar chases down into the box. He beautifully takes it down into his stride but Yepes makes a fantastic sliding challenge to clear the danger.
10:32: Neymar wants a piece of the action now. Cutting in from the right he works the ball onto his left foot and attempts to curl one into the top corner from a good 25 yards out. It;s a good effort, but it is always going wide.
10:30: Rodriguez tries to make something happen immediately and drives forward before chipping a ball into the box but it's just out of the reach of Ramos. Bacca has come off the bench for Colombia, replacing Gutierrez.
10:29: What. A. Hit. After that controversial decision from the ref Luiz steps up to the resulting free kick 25 yards out from goal and side-foots an absolute rocket into the top right hand corner!
Goal! Brazil 2-0 Colombia (David Luiz, 67)
10:27: James Rodriguez looks to slide in on Huk and nick possession away but catches the Brazilian forward. After having lumps kicked out of him all game, the referee shows the Monaco starlet a harsh yellow card.
10:26: Colombia win another free kick out on the right flank that Rodriguez swings into the box. After an almighty scramble Yepes slams the ball into the back of the net but the linesman has his offside flag up.
10;24: Neymar's delivery is collected by Ospina easily enough but he is checked by Silva who was looking clip the ball away from the Colombian goalkeeper. Silva is shown a yellow card and will miss the semi-finals, should his side get there.
10:22: Rodriguez swings into the box towards Zapata but after a brief scramble Brazil clear and Oscar immediately sets Neymar free down the left flank. Cuadrado is across and with no intention of playing the ball and commits the foul. Amazingly, the referee again keeps his cards in his pocket.
10:21: Luiz bodychecks Guarin who wins the free kick out on near the right hand touchline.
10:20: Colombia have Brazil pinned back at the minute and can only relieve a bit of pressure when Yepes gets too close and sends Fred tumbling. Brazil free kick in their own half.
10:18: Armero chases down a poor ball down the left flank and does well to lift it back to the edge of the box. James Rodriguez takes it on the chest and no one on the planet would blame him for trying to recreate that stunner against Uruguay. He doesn't, however, knocking it onto Guarin who lifts his effort well over the bar.
10:15: That breathless, end to end first half that thrilled us? Yeah, this half hasn't been like that. Neither side are holding onto the ball at the minute with a lot of niggly challenges breaking up the flow of the game even more.
10:12: Hulk picks out Marcelo down the left. The full back rushes towards the byline and hangs a ball up across goal but Ospina is out bravely to pull the ball out of the air. He lands akwardly, but he's back on his feet soon enough.
10:11: Neymar floats one into the box looking for Luiz but Zapata gets their first and heads over. Bizarrely, Colombia are awarded the free kick.
10:10: Fernandinho charges towards goal and is given a slight shove by Guarin. The City midfielder keeps running for another couple of yards before losing his balance and the ref award Brazil a free kick about 35 yards out from goal.
10:08: The idea of this game being refereed well due to the man in black's reluctance to dish cards out is disintegrating quickly. Fernandinho in particularly is getting away with anything and everything.
10:07: Ramos has an early chance to stretch his legs, galloping onto a loose ball down the left flank but his slifhrlt nudged off the ball by Fernandinho and Brazil are given the goal kick.
10:04: And Brazil get us started again for the second half. More of the same, please. One change to tell you off, Ibarbo has come off with Ramos on for Colombia.
10:00: It is Thiago Silva's goal that is the difference at the half way stage, however, kneeing the ball across the line within six minutes of the first half.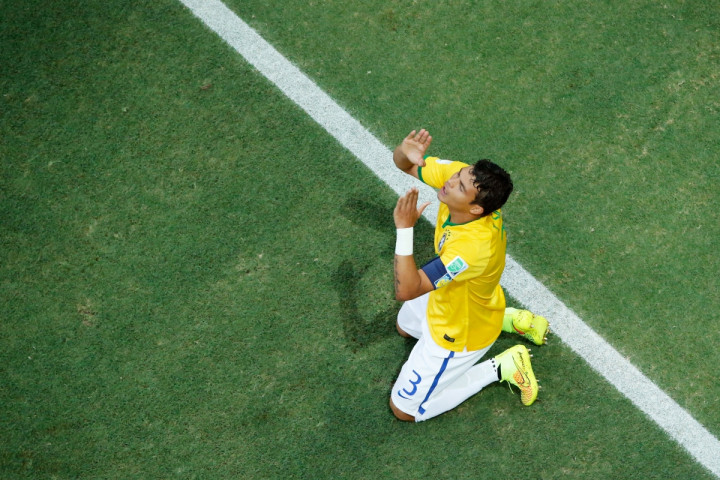 9:53: Fernandinho somehow came through that first half unscathed after a handful of late challenges on James Rodriguez. Keeping tabs on the young Colombian has been top of the midfielder's agenda all week, however.
9:51: Well, that first half flew by. It's been a pulsating affair and Brazil have just about edged the contest thus far. Colombia have looked dangerous on the counter attack but have yet to fashion a clear opportunity to haul themselves back into this game. The open nature of the contest has been no doubt aided by the referee's reluctance to show anyone a card, but is likely to change in the second half.
HALF TIME
Brazil 1-0 Colombia (Thiago Silva, 6)
9:46: Zuniga catches Hulk with a late challenge at a dangerous height. Should have been a yellow, but the referee is deperate to keep his cards in his pocket. Moments later Fernandinho, not for the first time, is late crashing into Rodriguez, but he too avoids a booking. Just one minute of added time here.
9:45: Neymar takes and lifts one towards the top right corner, but it has too much height on it and sails just over.
9:44: Neymar pulls the ball down and clips it between the legs of Zuniga, who hauls the Brazilian down. It's another free kick, this one slightly left of centre, 25 yards out.
9:41: Hulk is found in a pocket of space just inside the left corner of the box and does well to work an opening after side-stepping Zapata but wildly smashes his shot way off target.
9:40: Rodriguez takes again but cannot find a teammate in the penalty area.
9:39: Rodriguez takes but it's charged down immediately by Neymar. Colombia get the ball back and wins another free kick, this one out towards the left hand touchline.
9:37: Armero races down the left and lifts a ball into the box. Cuadrado can't bring the ball down first time and leaves it to Ibarbo who wins the free kick after a high foot from Fernandinho. That looked harsh as both players had raised their boots, but Colombia get the decision in a very dangerous area.
9:36: Fernandinho jumps for the ball but doesn't get the right connection and it flies out for a Colombian corner.
9:35: Neymar receives the ball in a central position from Marcelo and immediately pings on out to the right for the onrushing Maicon. He looks second best to get it but somehow wins the corner.
9:32: Luiz wins the ball and finds himself charging forward in the Colombian half and after beating one man, tries to get past another. He manages it and surges towards the byline before Armero gets across and steals possession. Playing a neat one two down the left flank he tries his luck at surging forward but a brilliant sliding challenge from Oscar stops him in his tracks.
9:29: Great save from Ospina! Marcelo's first attempt to cross the ball comes back to him and this time opts to cut it back to Hulk inside the box. He neatly lifts the ball over a challenge, pushes forward and slams a low effort that Ospina reacts brilliantly to save. Yepes' clearance falls to Oscar who shoots, but by now a couple of Brazilians are in offside positions.
9:27: Paulinho neatly feints and side steps his man just inside the box with options left and right to him but is eventually closed down by Armero.
9:26: There is a breathless tempo to this game. Rodriguez is bundled over near the centre circle and there's a coming together between him and Paulinho. The Colombian then looks to play a quick one through to Ibraro, but the forward isn't sure if the referee has allowed it and possession is stolen from him. Brazil surge forward.
9:23: Colombia nearly catch Brazil on the break! Rodriguez brilliantly brings the ball under control, skips past his man and drives forward before sliding through a perfectly weighted ball to Cuadrado to his left. The Fiorentina star can take the shot on himself from just inside the box but tries to slide it across to Gutierrez, only for Luiz to slide and intercept.
9:22: Hulk should have perhaps done better with that chance; he hits this one straight into the ground which take the pace off the shot and made it easier for Ospina to save.
9:21: Hulk is fed by Oscar and surges towards goal, playing a clever one two with Neymar before continuing his run into the box. Hulk shoots, but Ospina bats his effort away. It falls to Oscar on the edge of the box and despite being wrong footed curls a shot on goal that again Ospina is equal to.
9:19: Yepes partiallly clears the corner but it's quickly worked back into Hulk who skips past his marker but in doing so forces himself wide of the goal. He opts for the shot anyway but Armero charges it down and the deflection doesn't fall kindly for Luiz who is waiting a couple of yards out from goal.
9:17: Cuadrado works the ball in field from the right towards Rodriguez but for once his first touch lets him down. Oscar is on the loose ball and brings the ball forward. Brazil opt for a slower approach however and eventually work the ball out wide for Maicon to chase down and he wins a corner.
9:15: James Rodriguez is found in the central of the park and deflty knocks it onto a teammate, but it doesn't stop Fernandinho crashing into him with a late challenge.
9:13: Colombia have responded immediately. Guarin takes on Luiz down the right flank and manages to get his cross in. Brazil fail to clear it and Colombia work it across to Cuardado who cuts inside from the right and lashes one on goal, but his effort takes a slight nick off Marcelo. Brazil deal with the resulting corner.
9:12: Colombia have their own free kick from about 35 yards out that Guarin is feeling confident about. I'm not sure why, it's fired wildly over the bar.
9:11: That's the first time Colombia have fallen behind in this World Cup.
9:10: The Brazilian captain gives his side the lead! From that corner Silva is unmarked at the right hand post and can bundle the ball into the back of the net. Simple goal, but terrible marking from Colombia. It;s positively rocking at the Castelão
Goal! Brazil 1-0 Colombia (Thiago Silva, 6)
9:08: Excellent from from Fernandinho who surges through midfield before hitting an outside-of-the-boot pass out to Neymar down the inside left channel. Zapata is across and knocks the ball out for a corner.
9:06: Neymar whips one over the Colombian wall but his effort is already drifting wide of Ospina's left hand post.
9:05: Brazil have an early free kick as Fred cuts across Neymar, nearly colliding with him, before being hauled down about 30 yards out from goal.
9:03: Paulinho tries his luck with a surging run down the right flank but 38-year-old Yepes is dilligently across and intercepts with an excellent slide challenge.
9:01: And Colombia, in their away strip of red shirts and blue shorts, get the ball rolling for the first half.
8:58: No tears this time as players, the mascots and supporters belt out the Brazilian national anthem.
8:52: And the two teams are making their way out onto the pitch at the Castelão
LINE UPS
Brazil: Julio Cesar, Thiago Silva (c), David Luiz, Fernandinho, Marcelo, Hulk, Paulinho, Fred, Neymar, Oscar, Maicon
Colombia: Ospina, Zapata, Yepes (c), Sanchez, Armero, Gutierrez, Rodriguez, Cuadrado, Guarin, Ibarbo, Zuniga
TEAM NEWS - Colombia: Pekkerman has made two changes to the side who beat Uruguay last Saturday. Jackson Martinez, whose role hasn't been as influential as his goal scoring record for Porto suggests it would be, drops out for Ibraro who offers greater pace in a wide position.
TEAM NEWS - Brazil: With Luiz Gustavo suspended for this game, Scolari has looked to make a couple of tactical adjustments. Tottenham midfielder Paulinho, despite enduring a fairly uninspiring campaign comes into midfield while Dani Alves is replaced on the right hand side of defence by Maicon. The lack of a recognised holding midfielder is Scolari's main concern however and the coach may deploy a 3-5-2 to supplement Gustavo's absence. Neymar of course starts, after recovering from a couple of hefty challenges he sustained against Chile.
8:10: Much of the build-up ahead of tonight's game has been a tale of two tens. Colombia's Rodriguez - who was a year old when his country last beat Brazil - and Neymar have been influential in their side's progress so far. In the Brazilian, he is arguably his side's only attacking player to stand in the face of the unyielding expectation that has been heaped onto the team. His four goals have not been enough for him to catch up with his Colombian counterpart however. The Monaco starlet leads the charge for the competition's Golden Boot and unless he produces something that borders on the ridiculous in his remaining games, he has already secured the goal of the tournament too after his stunning volley against Uruguay.
8:04: Colombia have never before been at this stage of the World Cup and have not beaten Brazil since 1991 but Jose Pekkerman's vibrant unit look equipped to shatter those pre-match records.
Inspired by the outstanding talents of Juan Cuadrado and James Rodriguez, Colombia have fought their way to this stage of the tournament with some stand out attacking performances. In Japan, Greece, Ivory Coast and Uruguay, they have had perhaps the easiest route to this stage of the teams remaining in the competition but their approach in these games suggests they are fully capable of troubling Brazil.
Luiz Felipe Scolari's side were within the width of the cross bar of going out of their World Cup against Chile. Whether that close call can act as a catalyst and shake them into life remains to be seen, but they cannot afford to keep relying on luck and their standing as competition hosts to haul them over the finishing line.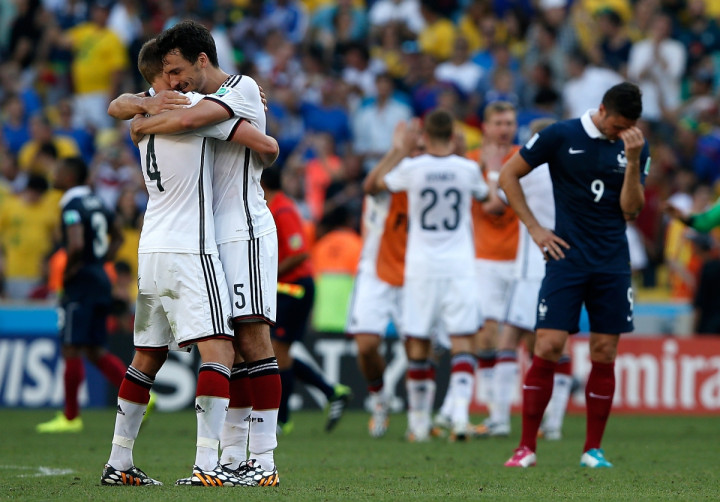 7:02: Germany are the first team to seal their place in the semi-finals of the World Cup. They will meet either Brazil or Colombia, who meet in this evening's second game at 9:00 (BST)
FRANCE OUT OF THE WORLD CUP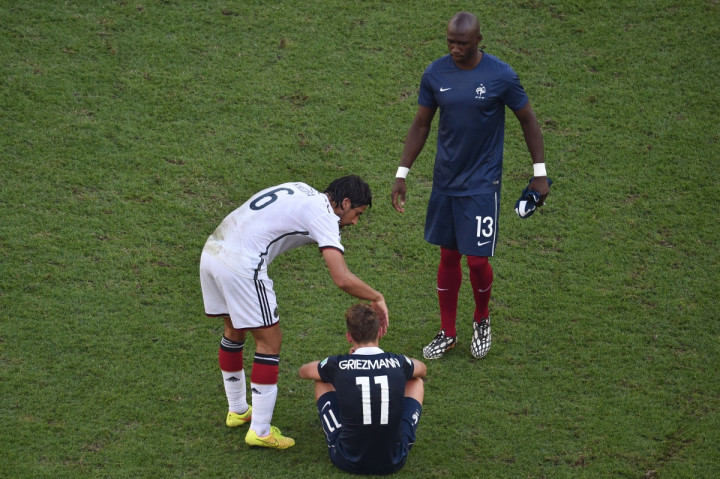 6:56: France are out of the World Cup, After rediscovering their verve in this competition they were unable to muster anymore against Germany. Didier Deschamps made changes that lifted his side in the final 20 minutes but should have perhaps made them earlier. The presence of Mats Hummels back in Germany's defence was paramount and Germany march into the semi-finals.
FULL TIME
France 0-1 Germany (Mats Hummels, 13)
6:53: France have one final rally, as Benzema plays a neat one two coming in from the left and breaks through into the box. From a tight angle he fires on goal but Neuer sticks out a hand to palm it away! France retrieve the ball and Matuidi attempts to loft it back in for Benzema, but his delivery is awful. That should be it.
6:51: Germany are running the clock down here, Schurrle cleverly wins a free kick and Toni Kroos makes way to be replaced by Kristoph Kramer.
6:50: Four minutes of time added on.
6:49: Another oustanding interception from Hummels breaks up a neat move involving Benzema and the ball is cleared.
6:48: Boateng finds himself supporting the German attack! Don't know if Low will be happy with that. He has the ball on the edge of box but has possession stolen off him by Benzema who brilliantly dances past his man to bring the ball out. The ball is eventually worked ovwer to Giroud but he's offside.
6:46: What a block from Varane! Evra loses possession and Muller races into acres of space down the right. He slides the ball across goal to Schweinsteiger but his powerful drive is charged down the young Frenchman.
6:45: Didier Deschamps has made his changes but have they come too late? France are running out of time with just four minutes remaining.
6:44: Another change, Olivier Giroud comes on for Valbeuna. Moments ago Ozil came off for Germany and was replaced by Mario Gotze.
6:41: Wonderful opportunity for Germany to make it two on the counter! Lloris has perhaps just kept his side in the World Cup. Neuer launches the counter and finds Ozil down the left and finds Muller, who can't find space to shot and slides across from Schurrle who has burst in from the right. From 10 yards out he perhaps has time to take a touch but doesn't, driving a low effort straight at Lloris.
6:39: Germany have wrestled control back after those couple of chances but France look like they will be dangerous on the break at any opportunity.
6:37: France are pressing now. Varane finds Remy who slides a neat ball through to Benzema inside the box. He twists, turns and shoot but Hummels brilliantly slides across to intercept. Moments later Matuidi races up inside the right, cuts in and shoots but Neuer saves.
6:35: Germany counter and Ozil threads a neat through from the edge of the box for Muller but his attempt to slide the ball back across goal is intercepted by Varane who taps back to his goalkeeper to clear.
6:34: Andre Schurrle runs into space down the right before cutting into the box and shooting from a tight angle, but Lloris is equal to it and saves.
6:33: Another chance from France, Loic Remy comes on Cabaye.
6:32: Griezmann does well to win the ball out on the right and cuts inside past two men before bending a shot wide from goal about 25 yards out. Poor decision, blue shirts were charging into the box before he let fly with that poor effort.
6:31: After that lass horrible attempt of a pass, Didier Deschamps has taken off Sakho who is replaced by Koscielny.
6:29: Germany nearly have a second! Sakho horribly misplaces a pass out from the back that Kroos is onto in a flash. He finds Muller cutting into the box from the right and his low effort is deflected away from goal by Sakho. Bewilderingly, the linesman awards France the throw.
6:28: Miroslav Klose won't be breaking any records today, Andre Schurrle comes on for the veteran.
6:26: Germany edge their way up the touchline through a succession of throw ins but as the ball reaches the byline Matuidi does well to hold off his man and win the goal kick. Olivier Giroud is also beginning to warm up.
6:25: After a number of niggly fouls and a few wasteful passes the pace has dropped out of this game somewhat. Andre Schurrle appears to be warming up on the German bench.
6:23: The corner finds Benzema who has shrugged off a challenge of Muller to chest the ball down, but is penalised for hand ball. Poor decision.
6:22: Good interplay from Benzema and Pogba in the left hand corner of the German box frees Evra who drives a ball across goal but it's deflected out for a corner.
6:18: Matuidi does well to leap and intercept a German ball before playing a neat one two to burst down the left. He reaches the byline and lifts a ball across goal but Schweinsteiger clears for a corner. It looped in for Varane who leaps well but doesn't get the power on his header and Neuer saves.
6:15: Germany drive forward again and a ball is slipped through to Kroos about 25 yards out from goal. It looks like an ideal ball to hit first time but rather uncharacteristically, Kroos drags a poor effort wide.
6:13: Kroos plays a brilliant ball across to Lahm who is bursting into space down the right but Evra intercepts and launches a counter. Griezmann and is found and drives at Germany, drifting from out left to a central position before he hauled down Khedira. Yellow card for the Real Madrid midfielder.
6:12: The ball is swung into the box again looking for Hummels but the centre half is penalised after Lloris punched clear. Not quite sure what he didn wrong there.
6:11: Kroos steals possession of Cabaye and drives dangerously through the heart of the French team. He reaches the edge of the D and slides a ball to his left for Ozil. The Arsenal midfielder cuts in and looks to thread a ball across to Klose but France force the ball out for a corner.
6:10: More neat play finds Matuidi burst inside the box towards the byline, but he is unable to dig out a decent cross.
6:09: Valbeuna wins a free kick in a similar position from where Kroos teed up Hummels in the first half. The ball is whipped in and somehow Evra is unmarked in the box, but he is unable to take the ball down.
6:07: There's already been a bit more urgency from France in this half. Germany have barely touchedthe ball in the opening minutes.
6:04: Lovely stuff down the right as Debuchy finds Pogba who plays a beautiful ball down the inside right channel. Valbuena brilliantly dummies, allowing Debuchy to race onto the ball but his ball into the box doesn't find a teammate. Just before that Antoine Griezmann went down followinf a challenge from Schweinsteige, but there was big appeals and play went on.
6:03: And France get us back underway for the second half, no changes to bring to you.
5:51: Mats Hummels' second goal of the competition has given Germany the advantage here. Neither side have looked particularly comfortable in defence, however, and you suspect that won't be the only goal of the contest. Once again, Germany's backline have struggled to live with balls over the top, one of which led to France's best chance so far where Manuel Neuer leapt to make the save. Having said that, Joachim Low's changes have worked and the have been the better side at the half way stage.
HALF TIME
France 0-1 Germany (Mats Hummels, 13)
5:46: Kroos and Muller try to play a one two through France but they win the ball back and find Pogba. From just inside the German half the Juventus midfielder lifts an excellent ball over into the path of Bezema who is breaking down the inside left channel. His first touch is exceptional, allowing him to cut inside onto his right but his guided shot is straight at Neuer.
5:44: Schweinsteiger gives the ball away allowing Patrice Evra to venture forward and swing an excellent ball in from the left. Benzema is up to head it and immediately appeals for hand ball following Hummels' block. He won't get it, the Dortmund centre half had his arms well tucked in and was hit square in the stomach.
5:43: After a brief break - I don't think it was a planned water break but it may have evolved into one - Germany have a free kick from where Kroos found Hummels for the opening goal. The same man stands over it and swings another good ball into the penalty box but France manage to clear this time.
5:41: Khedira is down and replays suggest he got a whack in the face from the ball during that previous chance. He'll be alright.
5:39: Good defending from Sakho. On the edge of the box Kroos dinks a ball through that takes a slight nick off Patrice Evra to take it into the path of Klose but the Liverpool centre half is across to clear the danger.
5:38: Sakho is on the end of the resulting corner but heads it tamely over the bar.
5:37: Great save from Neuer! The ball breaks to Valbuena inside the box and hits a half volley across goal from a tight angle. Neuer reacts well to palm it away. The ball falls to Benzema but his attempt to curl it around a cluster of Germans is blocked. Corner.
5:36: Muller wants a penalty after is felled after a darting run into the box but replays show Debuchy, who ever so slightly brushed the forward, had his eyes on the ball at all times.
5:35: Valbuena, now over on the left, slides the ball back to Matuidi who clips a first time ball over for the diminutive Frenchman to race onto. The ball picks up pace off the bounce however and Neuer is out like a flash to collect.
5:34: Lloris comes out to punch the ball clear from the resutling corner and Germany have a free kick deep in the French half, but it comes to nothing.
5:33: Germany have a free kick on the edge of the box out on the left. Its fizzed low into the box and despite appearing to take the final touch of Howedes, it's a German corner.
5:32: Valbeuna is slipped into space near the right side touchline and whips a ball into the box. Only Benzema is in the box but Lahm, one of the smallest men on the pitch leaps and brilliantly heads back into the hands of Neuer. He's not bad at right back, you know.
5:29: Germany again pick their way through with Muller racing onto a loose ball inside the right hand side of the box but Lloris is out bravely to smother the ball.
5:28: Klose wants a penalty but he won't get it. From the inside right channel Ozil clips a ball across goal but the veteran striker is unable to bring it down with his first touch. With the ball away from him, Klose hurtles himself to the floor under pressure from his marker but his theatrical fall alone was enough for the referee to make up his mind, it seems.
5:26: A brilliant shot of Hummels' openerl Lloris had absolutely no chance of saving that.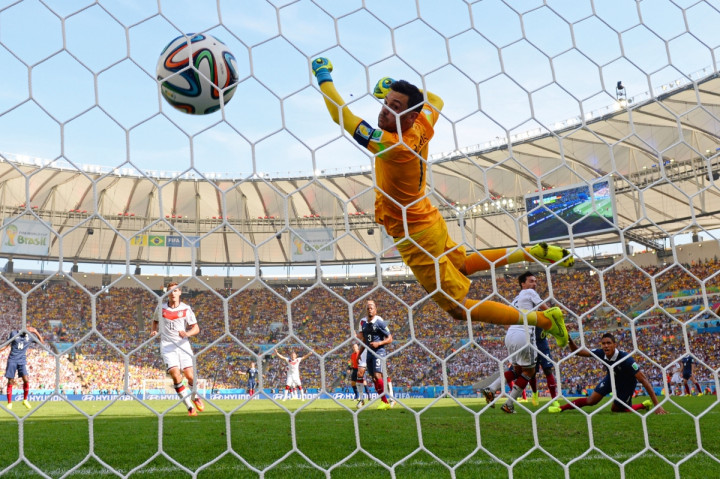 5:23: Matuidi has barely had any influence on this contest so far and when he has got hold of the ball has been wasteful. Benzema does well to hold his line down the inside left flank but Matuidi's ball is overhit and the chance is gone.
5:20: Prior to Hummels goal, Germany's backline looked far from stellar, barely managing to deal with France's two efforts. If they can the invention and fluency that has accompanied their campaign so far they can certainly work their way back into this.
5:17: France has responded well to falling behind, working a move down the right with Cabaye and Debuchy before swinging an inviting ball into the box but Hummels is on the scene to power the header clear.
5:15: Germany have the lead! Kroos swings an excellent cross in from deep out on the left that Hummels, who has slipped off Varane, leaps to brilliantly guide into the top right corner. That's his second of the competition.
Goal! France 0-1 Germany (Mats Hummels, 12)
5:14: Another chance for France! Griezmann breaks the offside trap down the left and tries to slide one through to Benzema but Germany clear.
5:13: France are growing into this contest now mainly thanks to Valbeuna. Benzema cuts out wide and slides a neat ball through to Valbeuna whose run into space down the inside right channel. He slides a ball across goal but it's just behind Pogba whose made the run into the box.
5:12: Germany march foward and find Ozil down the inside left channel. His cleverly dinked ball evades Klose in the box who is well marshalled but Germany's pressing means the French can only hoof the ball clear.
5:10: Benzema fizzes a shot just past the post! Evra initially launches a ball in deep from the left and Germany fail to clear the danger. France retrieve tha ball and probe patiently in front of the German defence before switching it to Valbeuna who has found space just outside the box to the left. He dinks a wonderful ball into Benzema whose stinging effort flies just wide of the left post.
5:08: France are struggling to get hold of the ball at the minute. They've looked slow to react to Germany's frantic pressing and cannot find a pass out of trouble.
5:06: Evra is nowhere to be seen as Muller drives down the inside right flank with Mamadou Sakho nervously backtracking. He gets his shot off but it is blocked and the rebound doesn't call comofortably for Klose whose effort is also blocked by a blue shirt.
5:04: Germany's high pressing is evident in the opening minutes as Muller puts Sakho under pressure to knock the ball back to Lloris but the Spurs goalkeeper calmly sweeps the ball out to Debuchy.
5:02: And Germany gets us underway for the first half.
5:00: Bit of a delay ahead of kick off as Fifa sort out a pre-match photo for their Say No to Racism Campaign. Tall ones at the back, lads.
4:55: And the national anthems are underway at the Maracana.
4:50: Ten minutes to go! Both teams are waiting in the tunnel to come out onto the pitch. Here's a reminder of those starting XI's.
Germany: Neuer; Lahm, Boateng, Hummels, Howedes; Khedira, Schweinsteiger; Kroos, Ozil, Muller; Klose
France: Lloris; Debuchy, Varane, Sakho, Evra; Cabaye, Matuidi; Valbuena, Pogba, Griezmann; Benzema
4:41: Hugo Lloris brought the idea of a 'sweeper 'keeper' to the Premier League, regularly charging off his line behind his persistently high defensive line. It's a role Manuel Neuer has carried out with aplomb for both club and county for a number of years but in last week's absence of Hummels with the less than quick Mertesacker deputising, he was springing out of goal to challenge forward more often than we ever seen, perhaps.
4:33: Supporters are starting to pile into the Maracana with just under half an hour to go until kick off.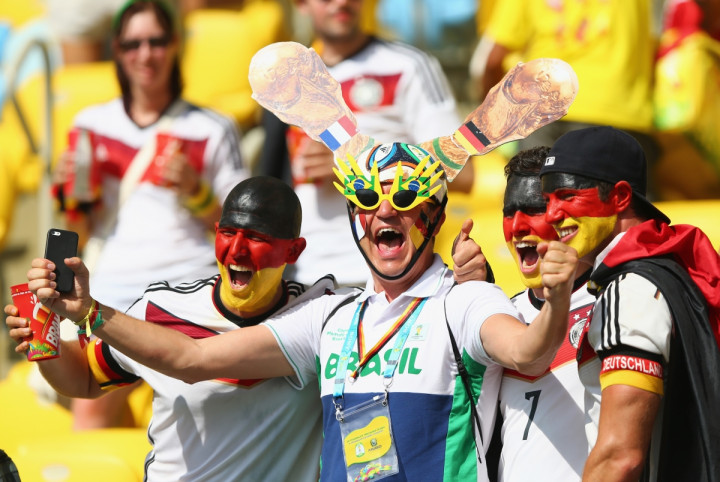 4:25: Mamadou Sakho will be tasked with dealing with the threat of a man 12 years his senior this evening in Miroslav Klose. While the Frenchman certainly has the advantage in terms of pace and power, the wily veteran's movement and potency in front of goal remains as big a threat as over. With Mesut Ozil and Thomas Muller operating off him, Klose could be in for a record-breaking evening.
4:22: For the first time in Brazil this summer Germany are starting with a real full back, one who is a bit good, too. The absence of Philipp Lahm's marauding runs down the right flank this summer has been sorely missed and Germany's lack of real dynamism may be attributed to that. Sami Khedira's presence in the middle ensures that the back four will have a formidable shield in front of it too.
4:18: Joachim sent alarm bells ringing yesterday when he admitted seven members of his first team were suffering with minor cases of the flu. Although he didn't name any names, seven doesn't sound too good. Hummels and Christoph Kramer were ill earlier in the week but the Germany manager has had no qualms in naming his strongest side.
LINE UPS
TEAM NEWS - FRANCE: Mamadou Sakho returns at centre half while Antoine Griezmann has been preferred to Arsenal's Olivier Giroud.
TEAM NEWS - GERMANY: Mats Hummels returns after recovering from a fever and Philipp Lahm returns to right back for the first time in a year. If Miroslav Klose is to etch his name in history and become the World Cup's all-time record scorer, he won't get a better chance to do so tonight. The 36-year-old starts up front, with Thomas Muller taking up a place on the right of attack.
4:10: You can argue that Germany's performances have waned dramatically since their campaign-opening hammering of Portugal. A vibrant 2-2 with Ghana was followed by a narrow win over the USA but even in that contest against Jurgen Klinsmann their back line looked suspect. Without Mats Hummels, Per Mertesacker and Jerome Boateng endured troubled evenings against a powerful and quick Algeria side. They will need the presence of the Borussia Dortmund rock tonight.
4:05: After a group campaign that saw them score eight goals in three games France displayed real determination in order to see off a resilient Nigeria side in the last 16. Following the introduction of Antoine Griezmann Les Blues attacked with renewed invention and through Paul Pogba's towering header, they found their breakthrough. Griezmann's clever run off his man wasn't enough to earn him his side's second which went down as a Jopseh Yobo own goal, but it was a powerful indication that there is real depth to Didier Deschamps side.
4:00: 56 games and 154 goals later we are down to the final eight teams standing in this wonderful edition of the World Cup. That leaves us with only six days of football – over the next week and a half – to feast on before this competition comes to a close when we will all have to begin to venture outside again wondering what to do with ourselves.
In France v Germany we have our only last eight game between two European heavyweights. France, whose international campaigns over the past six years have been marred by anarchy, have emerged in Brazil as one of the most collected units in the competition and are yet to be troubled on their way to the quarter-final. Germany on the other hand looked their sublime selves against Portugal in their opening game but have looked anything like that since then. The apex of their woes was on show against Algeria where their once impenetrable back four was persistently duped by a simple ball over the box with only sweeper 'keeper Manuel Neuer on hand to clean up.
With Mats Hummels back to marshal the German backline however you feel order will be restored tonight. But the verve of a French attack which tonight includes Antoine Griezmann after he proved to be catalyst of the bench for Les Blues against Nigeria will test that theory.