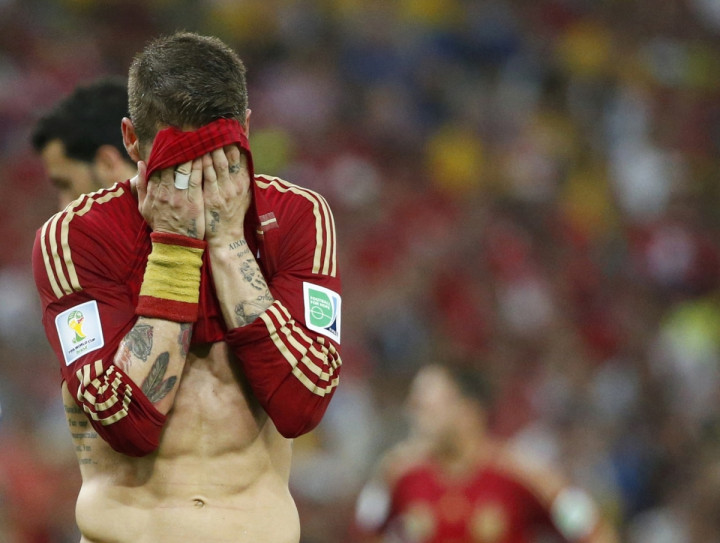 The Spanish and world media are getting ready to say goodbye to Spain after they were eliminated from the World Cup by Chile, in just their second match of the group stage.
Vicente del Bosque's side failed to deliver the dramatic turnaround needed - after their devastating 5-1 loss to the Netherlands - and instead drew the curtain down on the end of a golden period for the national side that began with Euro 2008, moved on to World Cup 2010 and culminated in Euro 2012.
Spanish newspaper Marca, one of the most critical onlookers, asked: "The end -- now what?"
Other headlines pointed to the team's perceived problems:
Diego Costa - failed experiment
"Sad farewell to the world champions. Spain fall again with further damage to its image after being overcome by a Chilean team who hardly need to try
(Eduardo) Vargas and (Charles) Aranguiz showed up the shortcomings of a selection which now desperately need young players
Daily AS, meanwhile, highlighted the lack of attitude of the players, adding:
Goodbye to the World Cup – it was good while it lasted. Maracana marked the end of the glorious generation
Do not ask for forgiveness, we owe you so much. The debate about the end and the succession is now open
La Roja did not have the play or the luck
The Catalan newspaper Sport, however, could not forgive La Roja, accusing them of the worst Spain performance in a World Cup.
Historic KO of Spain. Spain deservedly say goodbye to the tournament after leaving a very poor image
The masterful dancing of Netherlands in the opening game, added to Barcelona's Alexis Sanchez's [in the Chile game] physical display, took advantage of the weakness of a team that is over
Mundo Deportivo drew a parallel to news from back home with:
(Spain) Abdicate - and are dismissed by the back door, asking many questions for the future
We cannot have excuses about what has happened - but we have to thank this group for everything that they have done
Meanwhile, Germany's Bild harshly declared:
The 'tiki-taka' is dead – requiem
While finally, Britain's Daily Mail asks the question:
What if 'tiki-taka' never existed and there were only eleven great players?"