Group A: Brazil, Cameroon, Mexico, Croatia
Group B: Spain, Chile, Australia, Netherlands
Group C: Colombia, Ivory Coast, Japan, Greece
Group D: Uruguay, Italy, Costa Rica, England
Group E: Switzerland, Ecuador, Honduras, France
Group F: Argentina, Nigeria, Iran, Bosnia-Herzegovina
Group G: Germany, Ghana, USA, Portugal
Group H: Belgium, Algeria, South Korea, Russia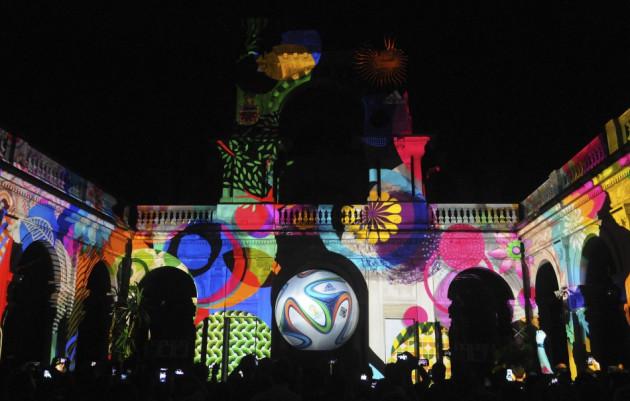 18:40: Well, that's all from us. As expected we have been served up some incredible ties in the group stages of the 2014 World Cup, but England may have drawn the short straw. Thanks for reading and join us for live Premier League coverage from Saturday.
18:31: Before we leave you, let's have one quick run down of England's fate. 2006 champions Italy, Copa America holders Uruguay and the unknown quantity of Costa Rica await Roy Hodgson's side in Group D. If that wasn't tough enough, England will play their first fixture in Manaus, a city the Three Lions boss specially noted for its tough playing conditions, against the Azzurri who knocked them out of Euro 2012 at the last 16 stage a year and a half ago.
ENGLAND FIXTURES
England v Italy - Manaus Sunday 15 June
Uruguay v England - Sao Paulo Thursday 19 June
Costa Rica v England - Belo Horizonte Tuesday 24 June
On the draw, Hodgson said: "With Uruguay and Italy, we almost have two number one seeds in our group. It does not surprise me at all to get a tough draw. But I am still very positive about the whole affair, as you never know." [via BBC Sport]
18:20: As expected, there is likely to be Premier League talent dotted all around Brazil outside of the England camp next summer. Tottenham duo Paulinho and Sandro will be pushing for midfield berths for the hosts while Cardiff's Gary Medel (Chile), Crystal Palace enforcer Mile Jedinak (Australia), Arsenal hopeful Joel Campbell (Costa Rica) and Stoke stopper/goal scorer Asmir Begovic (Bosnia and Herzegovina) are just some of the names already counting the days.
And obviously the likes of Luis Suarez, Mesut Ozil, Robin van Persie and over half the Belgian first team need no introduction.
18:14: Belgium - everyone's dark horses for the World Cup - have also picked up a favourable group with Fabio Capello's Russia posing the biggest threat to Marc Wilmots' side topping their group.
18:08: France have eased themselves into what would be considered the easiest group of the bench. With its seeded nation the organised but limited Switzerland joined by Ecuador and Honduras, Didier Deschamps may feel is side have got a result here. However, The Ecuadorians will fancy their chances of confining Les Blues to another lacklustre exit, and why not? They finished fourth in the south American qualifying group, ahead of Uruguay.
17:58: A word on the holders Spain. The suggestion that next summer may be a tournament to far for a side widely regarded as one of the best of all time was reinforced when del Bosque's side were thrashed 3-0 by Brazil in the Confederations Cup final last summer. It's a different tournament with monumentally different circumstances, however, but like England, La Roja are facing a potentially troublesome group themselves.
Chile have proven over the past year to be a an adept outfit capable of stifling a game or producing swift counter attacking football at the drop of the hat. Outsiders Australia will be looking to crash the party and as we have already seen four years ago, Holland v Spain is a tie fit for a final. Howard Webb will be thankful he can watch this one from the comfort of his front room.
17:55: The moment when a nation simultaneously face-palmed.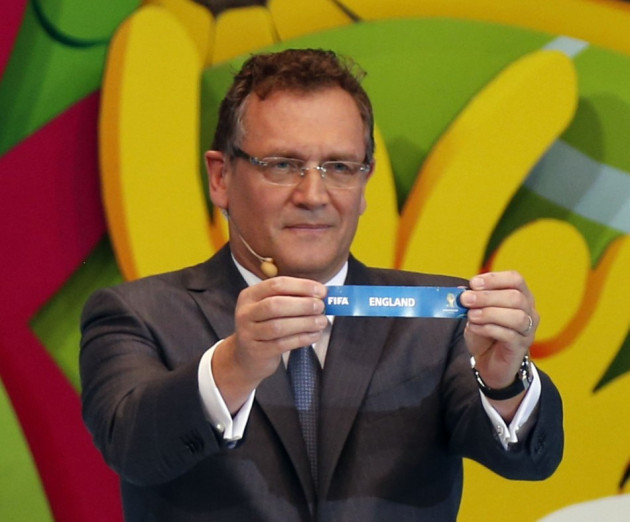 17:51: Chairman of the FA Greg Dyke rather aptly summed up England's chances with a throat-slitting gesture as the Three Lions' fate was sealed. Honest, yes, but doesn't really instill much confidence. Watch it here [via Huffington Post]
17:45: For all the adulation Luis Suarez received during the week, every goal he scores from now until the summer will be met with trepidation. The Liverpool star has had his manager and team captain placing him next to Cristiano Ronaldo and Lionel Messi as the best players in world football, and having witnessed him tear through Premier League defences for the past two years, Phil Jagielka, Gary Cahill et al might just be a bit worried.
Oh yeah, and Edinson Cavani.
17:38: And of course, Italy, and if you want to be a bit more specific, Andrea Pirlo were responsible for putting an end to England's European Championship campaign in 2012. The effects of playing in Manaus that Hodgson duly pointed out are likely to be equally draining on the Azzurri, so that's a small scrape of consolation at this stage, I suppose.
ENGLAND FIXTURES AND DATES
England v Italy - Manaus Sunday 15 June
Uruguay v England - Sao Paulo Thursday 19 June
Costa Rica v England - Belo Horizonte Tuesday 24 June
17:32: If Roy Hodgson wasn't miffed enough with England's group, the location of those ties will do the job. England will open their campaign against Italy in the city of Manaus, the one location Hodgson specially noted as problematic earlier this week. The Three Lions take on Costa Rica in Belo Horizonte in their final game, where they memorably lost to the USA in 1950.
17:27: The group stages are littered with cracking ties. A replay of the 2010 final between Spain and Holland awaits, Jurgen Klinsman will lead his USA side out against his native Germany while Joachim's Low will also face a mouth-watering tie with Portugal at the early stages of the competiton. Brilliant stuff.
17:24: And we've been handed a fantastic opening game of the competition in Brazil v Croatia.
17:22: Wow, England's hopes of drawing an easy group have been well and truly dashed. 2006 champions Italy and Copa America holders Uruguay along with Costa Rica await the Three Lions in Group D. Luis Suarez, Edinson Cavani, Andrea Pirlo and Mario Balotelli await!
CONFIRMED GROUPS
Group A
Brazil
Croatia
Mexico
Cameroon
Group B
Spain
Netherlands
Chile
Australia
Group C
Colombia
Greece
Ivory Coast
Japan
Group D
Uruguay
Costa Rica
England
Italy
Group E
Switzerland
Ecuador
France
Honduras
Group F
Argentina
Bosnia and Herzegovia
Iran
Nigeria
Group G
Germany
Portugal
Ghana
USA
Group H
Belgium
Algeria
Russia
South Korea
17:17: Russia join Group H with Belgium, Algeria and South Korea.
17:16: Portugal join Germany, Ghana and USA in Group G.
17:15: Bosnia Herzegovina join Group F Awith Argentina, Iran and Nigeria
17:14: France join Group E with Switzerland, Ecuador and Honduras.
17:13: England join Italy, Uruguay and Costa Rica in Group D.
17:13: Greece join Colombia, Ivory Coast and Japan in Group C.
17:12: Netherlands join Group B with Spain, Chile and Australia
17:12: Croatia join Group A with Brazil, Mexico and Cameroon
17:11: South Korea join Group H with Belgium and Algeria.
17:10: USA join Germany and Ghana in Group G.
17:09: Iran join Argentina and Nigeria in Group F.
17:09: Honduras join Group E with Switzerland and Ecuador.
17:08: Costa Rica join Group D with Uruguay and Italy.
17:07: Japan join Group C along with Colombia and Ivory Coast.
17:07: Australia join Group B with Spain and Chile.
17:06: Mexico join Group A with Brazil and Cameroon
17:05: Algeria join Belgium in Group H.
17:05: Ghana join Germany in Group G.
17:04: Nigeria join Argentina in Group F
17:04: Ivory Coast join Group C with Colombia
17:03: Ecuador automatically join Group E with Switzerland.
17:02: Cameroon join Brazil in Group A.
17:01: Chile join Spain in Group B.
17:01: Pot X sees Italy drawn to join Uruguay in Group D.
17:00: Belgium drawn into H1
17:00: Germany into G1
17:00 Argentina into F1
16:59: Switzerland drawn into E1
16:59: Uruguay drawn into D1
16:59: Colombia drawn into C1
16:57: Spain drawn into B1.
16:55: Host nation Brazil are automatically drawn into Group A.
16:50: Geoff Hurst strolls out to preside over pot 4, the first of a line up of legends.
16:47: We're nearly there! Fifa secretary Jerome Valcke takes the stage to warm things up.
16:42: We're informed we are about ten minutes away from the draw. Pele takes the stage. "I really trust Brazil very much and I think we will be in the final."
16:38: There's some dancing going on. And on.
16:30: The World Cup's all time leading goal scorer Ronaldo takes to the stage as one of the final guests and proceeds to get abuse from all angles. "It is said you work harder off the pitch than you ever did on it," muses the presenter, before BBC's Jonathan Pearce wades straight in with a fat jibe. Uncalled for, really.
16:22: Vicente del Bosque takes to the stage now to return the World Cup trophy. He places it onto the podium with excellent technique and flawless poise. Just excellent.
16:19: Images of Mandela shown upon the start of the ceremony, greeted by a around of applause.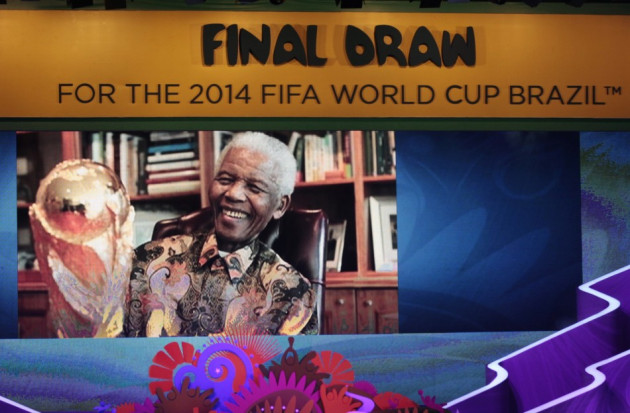 16:17: And before the drawn out draw itself starts, prepare yourself with our guide of the pots, groups and formats right here.
16:16: Not long now, here's a reminder of those pots.
Pot 1: Brazil, Spain, Germany, Argentina, Colombia, Belgium, Uruguay, Switzerland
Pot 2: Chile, Ecuador, Ivory Coast, Ghana, Algeria, Nigeria, Cameroon
Pot 3: Australia, Iran, Japan, South Korea, Costa Rica, Mexico, Honduras, United States
Pot 4: Bosnia-Herzegovina, Croatia, England, France, Greece, Italy, Netherlands, Portugal, Russia
16:11: Sepp Blatter and Brazil president Dilma Rousseff take the stage to lead a moment of applause in memory of Nelson Mandela, who died aged 95 on Thursday.
16:06: Big montage to get us started. Who expected that?
16:00: And we are getting underway! Well, sort of. The ceremony at Costa do Sauipe is underway, the draw itself scheduled to commence in about 40 minutes.
15:51: Capello is all business in front of one amateur photographer, we can only assume Spain's Vicente Del Bosque felt it necessary to photobomb the Italian. He does what he wants.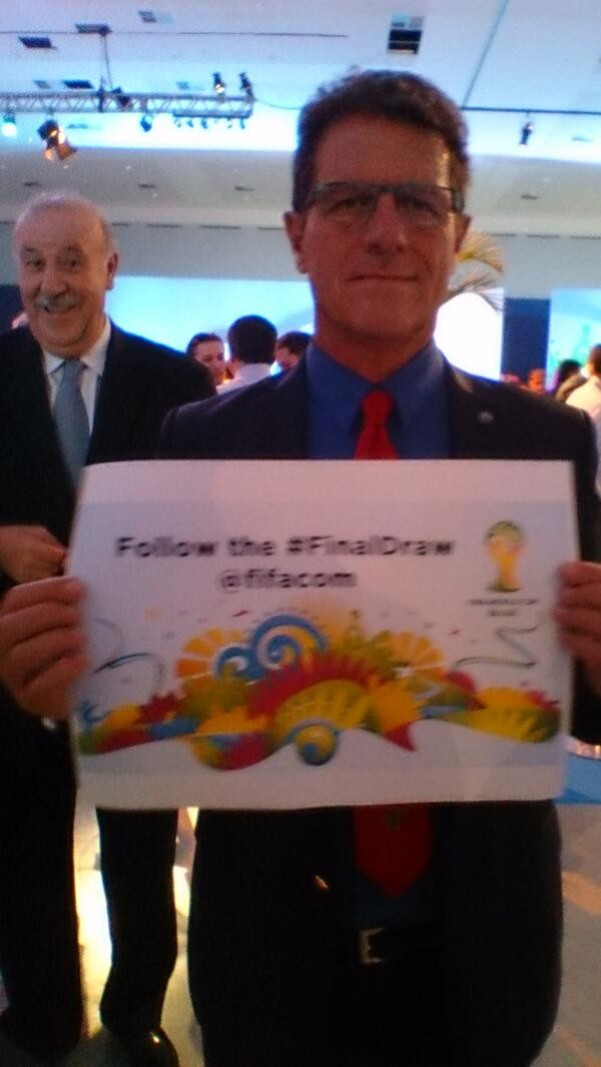 15:47: This year's format leaves the assembly of a 'Group of Death' almost a certainty next summer. Will England draw the short straw? They did in 1970, when the term was originally coined by Mexican journalists at the 1970 World Cup. Grupo de la muerte consisted of holders England, eventual winner Brazil and 1962 runners up Czechoslovakia and Romania.
15:40: 20 minutes before the ceremony begins, approximately 50 before the draw starts. With that in mind, prepare yourself for the generic speeches from faceless Fifa executives with our breakdown of every team to be drawn later this afternoon from our very own Eduardo Fernandez Abascal here.
15:36: Pele has also been joined by Bebeto, one half of the Brazil strike force that helped the country to success in USA 1994. One of the most lasting memories of that tournament is his rocking the baby celebration alongside side his teammates as a gesture to his new born son. That new born is now Mattheus, a 19-year-old attacking midfielder playing for Flamengo. How old do you feel now?
15:27: Having turned down the chance to draw the balls himself after admitting he didn't want to be responsible for Brazil being drawn into a devilishly difficulty group, Pele has arrived to enjoy a front row seat to the proceedings.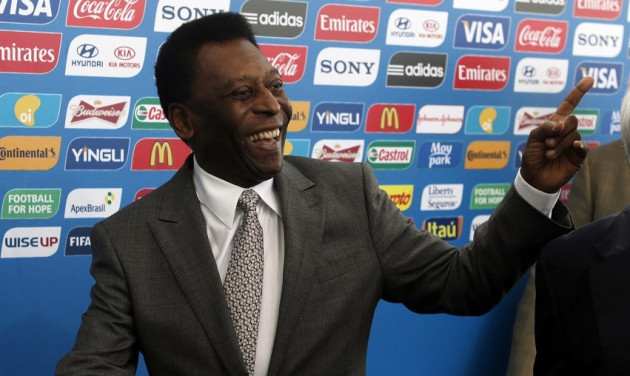 15:20: Italy's Cesare Prandelli is the latest to arrive at Costa do Sauipe, but the coach was far from pleased with Fifa's plan of action. : The seeded teams for the competition were decided based on the top eight teams in FIFA's World ranks as of October of this year. While the ranking system has constantly been an irksome and arguably deceptive methods, Prandelli was particularly peeved at the system.
Prandelli: "Everyone knows the system doesn't work and must be revised.
If the ranking counts, then we are now seventh and were seventh for two and a half years, but the only month that counts is October... It's a bit ridiculous.
We played against top teams to get in that position. In any case, it remains a draw and we'll see what happens." [Gazzetta dello Sport]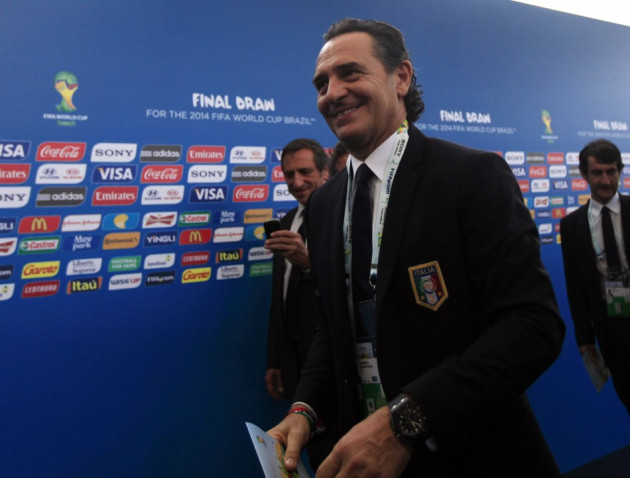 15:17: Less than 45 minutes before the ceremony is officially underway. Let's take a look at what some of the players have said ahead of the draw, Starting with Cristiano Ronaldo, who is embracing Portugal's slightly unusual underdog tag.
"We know we are not favorites and that is good for us, we will have the advantage of surprise. I hope we get in a good group and then we'll see.'' [Marca]
15:08: Let's face it, there is no such thing as a bad World Cup. Some will inevitably pale in comparison to others, but the biggest tournament hosting the best players from across the planet (except for Zlatan, obviously) will always produce unforgettable moments and this afternoon's draw will give us those first glimpses of what next summer holds. Vanessa Keller looks at the most exciting possible scenarios that could unfold later on here.
15:00: They've been joined by the big guns of the international management scene who are sauntering their way in as we speak.
Former England boss and current Russia head coach Fabio Capello...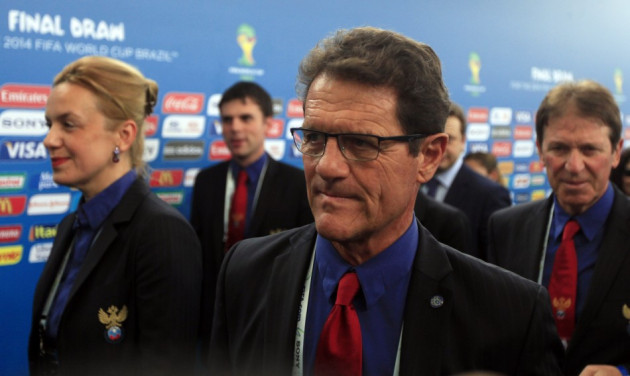 And the perennially suave Joachim Low are first in the door.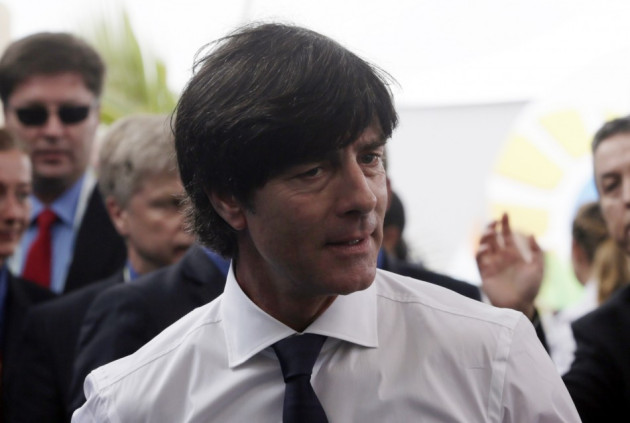 14:55: Fifa delegates have begun to arrive at the venue with the ceremony due to start at 16:00 (GMT).
14:50: Speaking of England, Roy Hodgson yesterday earned himself the wrath of a slightly peeved Arthur Virgilio, the mayor of the Brazilian city of Manaus which will play host next summer.
Virgilio: "We would also prefer that England doesn't come. We hope to get a better team and a coach who is more sensible and polite. He's one of the few people in the world who is not curious about the Amazon, who doesn't want to know about Manaus."
Hodgson's crime? Suggesting Manuas will be a problematic location for teams from northern Europe.
14:46: Inevitably, much of the attention this afternoon will come down to how England fare. One team from the European pot is going to draw the short straw, could it be Roy Hodgson's who draw a potentially dreaded group alongside Brazil, Japan and Holland? Arunava Ray takes a look at the best and worst possible scenarios for the Three Lions here.
14:42: With just under two hours remaining before the draw, the excitement is already palpable. Even Brazuca, the official ball of next summer's World Cup is already losing it.
@brazuca: So excited about #FinalDraw that I could burst, although my Polyurethane makes that kind of unlikely.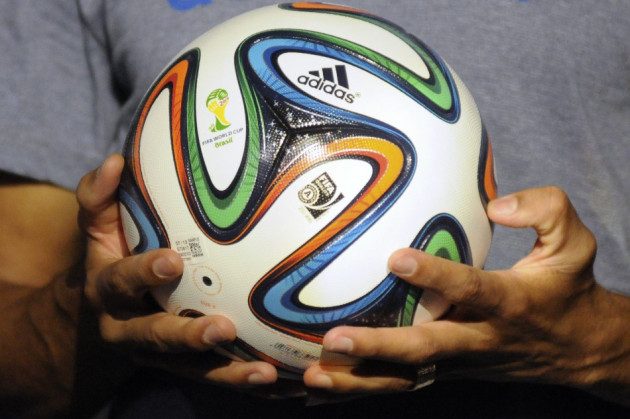 14:38: The usual overdrawn process of completing the draw is destined to be laced with emotional montages, celebrity appearances and perennial struggles to open the balls. The procedure itself would appear to have been complicated by the introduction of the mysterious Pot X, but never fear, Nick Howson has broken down the draw's pots, seeds and drawing format for us to ensure head-scratching is kept to a minimum. Catch up here.
14:35: First things first; the pots themselves.
Pot 1: Brazil, Spain, Germany, Argentina, Colombia, Belgium, Uruguay, Switzerland
Pot 2: Chile, Ecuador, Ivory Coast, Ghana, Algeria, Nigeria, Cameroon
Pot 3: Australia, Iran, Japan, South Korea, Costa Rica, Mexico, Honduras, United States
Pot 4: Bosnia-Herzegovina, Croatia, England, France, Greece, Italy, Netherlands, Portugal, Russia
14:30: Hello and welcome to IB Times UK's LIVE coverage of the group stage draw of the World Cup 2014. The draw itself commences at 16:30 (GMT) so stick with us for the next couple of hours as we wait to learn the fate of the 32 nations counting the days until next summer.