Three mountaineers, including a Briton, have claimed they were attacked by 100 Sherpas while they were climbing Mount Everest.
Officials in Nepal are investigating the allegations by renowned climbers Simone Moro, of Italy, Swiss national Ueli Steck and British photographer Jonathan Griffith.
The trio claim that they were attacked by the mountain guides in an argument more than halfway up the mountain. The group were attempting to climb the 8,848-metre (29,029-ft) peak by a new "undisclosed" route without using supplementary oxygen.
Both sides have accused each other of starting the fight. The Sherpas said the mountaineers pressed on with the climb even after they were asked not to until the guides fixed some ropes. One Sherpa was hit by falling ice.
An argument broke out with the mountaineers saying that up to 100 Sherpas attacked them. The climbers said they "owe their lives" to a another group of mountaineers who acted as a buffer for the "the out-of-control mob".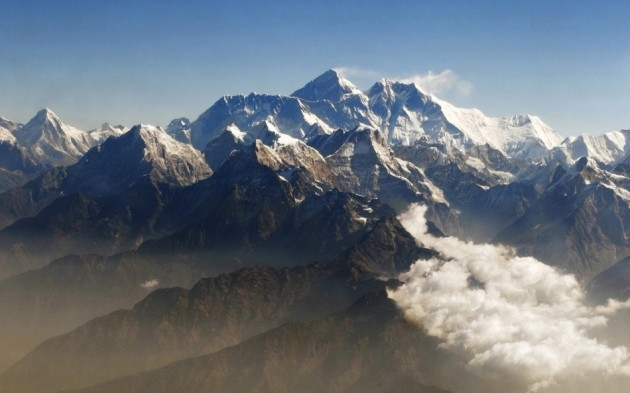 The fight is said to have broken out between Camp Two which lies at an altitude of 7,500m and Camp Three at 8,300m.
Moro said on his website: "At the point where Ueli Steck stepped over the rope the lead climber [the Sherpa guide] noticed the climbers below and began shouting and banging the ice with his axe erratically.
"Still shouting down at the climbers, he fixed his rope and abseiled down. As Ueli was soloing and therefore not attached to a rope it was natural that he should hold his hands up to take the impact of the force arriving on him from the lead climber abseiling right on to him.
"This prompted the lead climber to accuse Ueli Steck of 'touching him'. In between hitting the ice with all his force and screaming at Ueli Steck 'why you touch me?' he said that they had kicked ice down on them and injured a Sherpa.
"Simone Moro then joined the team and the lead climber turned on him wielding his ice axe in his direction. Simone swore at the lead climber as is the natural reaction when faced with this aggression. No amount of talking would calm the lead Sherpa down and as a final act of defiance he ordered his whole team of 17 Sherpas off the Lhotse Face and back to Camp 2.
"By the time the climbers descended back to Camp 2 some 100 Sherpas had grouped together and attacked the three climbers. They became instantly aggressive and not only punched and kicked the climbers, but threw many rocks as well. A small group of Westerners acted as a buffer between the out-of-control mob and the climbers, and they owe their lives to these brave and selfless people."