The Financial Times website and Twitter accounts have fallen victim to hackers claiming to be part of the Syrian Electronic Army, who changed the headlines of stories and tweeted from various FT accounts.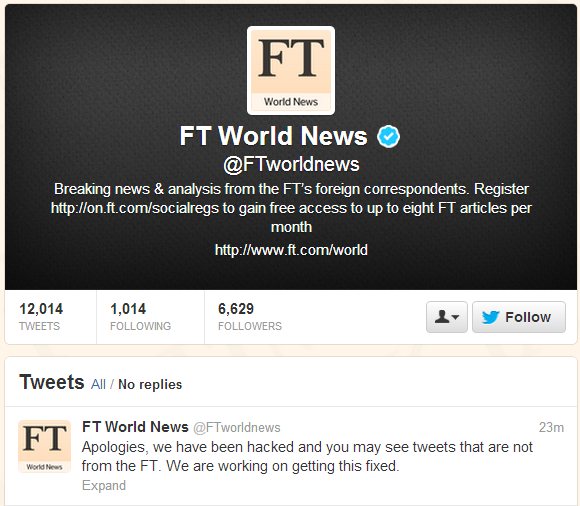 Hackers replaced headlines on the FT's website with: "Hacked By Syrian Electronic Army" and messages on the newspaper's Twitter feed read: "Do you want to know the reality of the Syrian Rebels?"
Another tweet, sent through the FT's World News Twitter account read: "Jabhet A-Nosra terrorists executed innocent citizens" and included a graphic video of a hooded man shooting kneeling prisoners.
The FT said: "Twelve posts entitled 'Hacked by the Syrian Electronic Army' appeared on the FT'stech blog between 12.38pm and 12.42pm on Friday, with official Twitter feeds also disrupted."
"We have now locked those accounts and are grateful for Twitter's help on this," said Robert Shrimsley, the managing editor of FT.com.
It is believed that hackers had been trying to break into the FT's computer systems for 24 hours before the attack took place, with an internal memo seen by the Associated Press warning FT staff not to click on suspicious emails.
No idea why the Syrian electronic army wd want to hack the FT tech blog, but here it is. twitter.com/MatinaStevis/s…

— Matina Stevis (@MatinaStevis) May 17, 2013
A Financial Times spokeswoman told the AFP: "Various FT blogs and social media accounts have been compromised by hackers and we are working to resolve the issue as quickly as possible."
The attack comes just weeks after a hack on the Associated Press's Twitter account saw it publish tweets claiming US President Obama had been injured in an explosion at the White House, causing the Dow Jones to briefly fall 150 points.
The fake post was retweeted more than 5,000 times within minutes, knocking the Dow Jones down from 14,703 to 14,554. Prices recovered quickly after it emerged that the tweet was fake and that AP had suspended the hacked account.
The Syrian Electronic Army has gained widespread publicity in recent months following a series of similar attacks on news websites and their Twitter accounts. The BBC, AFP news agency and satirical site The Onion are all recent victims of the pro-Assad group.
Twitter security
A Twitter account can be logged into from any browser or smartphone in the world, providing you have the correct username (or email address) and password. If Twitter implemented two-step verification, as Apple, Google, Facebook and others have done recently, then logging in from an unknown device would not be possible.
Two-step verification prevents anyone from logging into an account from a device that is not already recognised and trusted by the service. For example, logging into Facebook from a brand new smartphone or computer is impossible with just the username or email address and password.
Instead, Facebook sends a randomly generated code to the account holder's mobile phone via a text message. Without this code, a would-be hacker cannot gain access to the account.
It is a simple solution and one which Twitter has been often criticised for not having, despite high-profile account hacks in recent months including Burger King, Jeep, the AP and now the Financial Times.