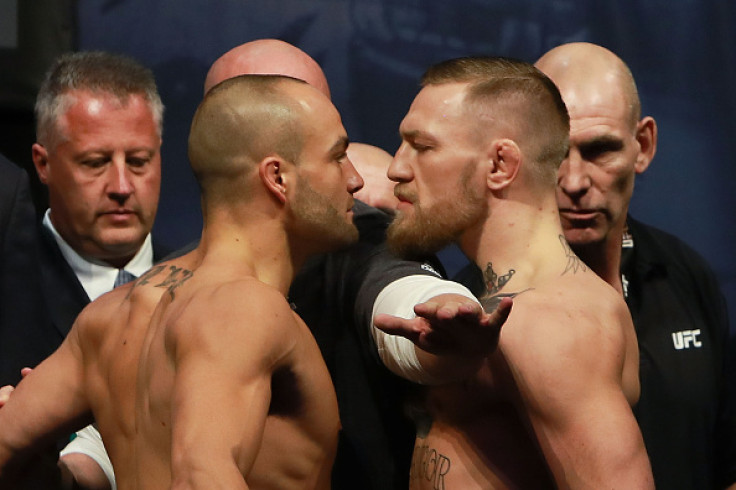 UFC star and middleweight champion Michael Bisping has backed Eddie Alvarez to beat Conor McGregor at UFC 205 on 12 November. The two fighters will face each other for the lightweight title at Madison Square Garden in New York.
The Notorious and the American have been involved in a war of words prior to the fight. The former went on to claim that the upcoming fight between the pair will be Alvarez's last and his wife and kids will not recognise the 32-year-old after the fight.
Alvarez, who is the current lightweight champion, was unhappy with the Irishman's remarks and wanted an apology from the latter. However, the featherweight champion did not give his opponent what he needed and later during the pre-fight press conference, he attempted to throw a chair at Alvarez.
McGregor's coach John Kavanagh has backed the 29-year-old to come out victorious after his fight at UFC 205. However, Bisping has explained why he backs Alvarez to beat McGregor in New York.
"This is very unpopular for me to say this, but I see Alvarez winning. I'm rooting for Conor, but don't see it happening. If it stays on the feet, I think Conor can win, but I think Eddie will get the takedown," Bisping told FOX Sports, as quoted by the Telegraph.
"Conor is the total package. His straight left hand has been the money shot his whole career. Key one, he needs to look for counters. Alvarez is going to be coming forward in this fight. Eddie is going to go for takedown as well and Conor has to defend the takedowns. Finally, he's got to be unpredictable. He's got so many weapons. If he uses them all, he might just win the fight."