The world's oldest digital computer is to be rebooted at The National Museum of Computing, following a three-year restoration project to get the 61 year old machine back to life.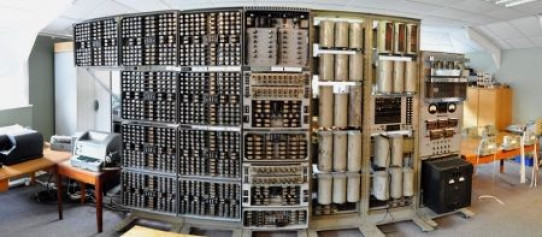 Weighing 2.5 tonnes and completed in 1951 after two years of production, the Harwell Dekatron (later known as Witch) was the world's first digital computer, using 828 Dekatron valves, 480 relays and a bank of paper tape recorders to make calculations.
Kevin Murrell, trustee of the National Museum of Computing at Bletchley Park, Buckinghamshire, said: "In 1951 the Harwell Dekatron was one of perhaps a dozen computers in the world, and since then it has led a charmed life surviving intact while its contemporaries were recycled or destroyed.
"As the world's oldest original working digital computer, it provides a wonderful contrast to our rebuild of the wartime Colossus, the world's first semi-programmable electronic computer."
The computer was used at Harwell's Atomic Energy Research Department to automate tedious calculations that were previously worked out using mechanical hand calculators; designed for reliability rather than speed, it could work relentlessly for days at a time and delivery error-free results - but calculations took between five and 10 seconds each.
Working 80 hours per week, the computer used its 828 Dekatron valves to keep count, as each gas-filled tube caused a neon light to rotate within it at a set frequency; the results of calculations are then stamped out onto paper tape.
No longer needed
By 1957, the computer was no longer needed at Harwell and a competition was set up to offer it to the educational establishment that put forward the best case for its continued use.
Wolverhampton and Staffordshire Technical College won, renamed it the WITCH (Wolverhampton Instrument for Teaching Computation from Harwell) and used it for computer education until 1973.
The computer was then retired, put into storage and forgotten about until it was discovered by a team of volunteers from the computing museum at Bletchley Park in 2008, who then developed a plan to restore the machine and install it for educational use.
Murrell added: "To see it in action is to watch the inner workings of a computer - something that is impossible on the machine of today. The restoration has been in full public view and even before it was working again the interest from the public was enormous."