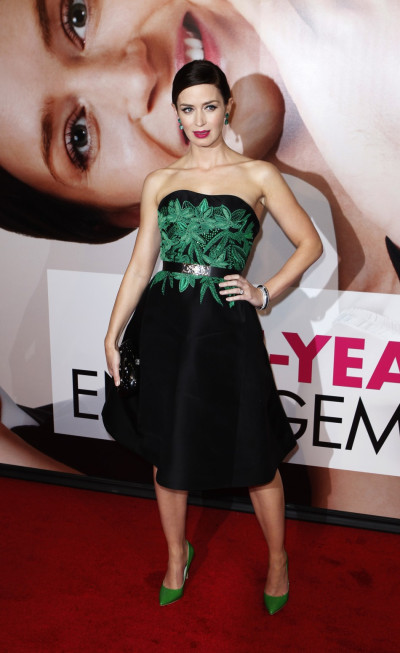 The Tribeca Film Festival opened with the screening of the "The Five Star Engagement", at midtown Manhattan's (New York City) Ziegfeld Theatre, on 18 April.
The film had largely the same team as the one that worked on "Forgetting Sarah Marshall" and the film's stars - Jason Segel, Emily Blunt, Alison Brie, Dakota Johnson and Kevin Hart - joined director Nicholas Stoller, producer Judd Apatow and assorted A-listers from Robert De Niro to Julia Louis-Dreyfus for the screening. There was also a wedding-themed party afterwards which was attended by all the stars.
The official site of the film says it looks at what happens when an engaged couple - Segel and Blunt - keep tripping up on the long walk down the aisle.
"This is how inertia can destroy a relationship. They realize that they didn't know each other quite as well as they thought. It's about how an engagement can get in the way of a relationship. We like things to be awkward and real like they are in real life. People don't often come out with the perfect phrase to explain a moment. That kind of awkwardness and reality makes for the best comedy because people can see themselves in the characters," Stoller told Reuters.
"Marriage is a three-ring circus: engagement ring, wedding ring, suffering," Stoller said before the premiere.
The Los Angeles Times describes the plot of the movie: Tom (Segel) is a chef; Violet (Emily Blunt) is a psychology grad student. They seem to be in love, but life circumstances force them to postpone the wedding. As they move from San Francisco to Ann Arbor, Mich., so she can pursue her degree, they begin to grow apart. As with most movies produced or godfathered by Judd Apatow, jokes about Chewbacca's anatomy sit alongside more honest discussions of relationships.
According to the Arab Times Online, this year, the Tribeca will screen 89 feature films split between 57 fiction and 32 documentaries, including 50 world premieres.
"The Five-Year Engagement" hits theaters on 27 April.