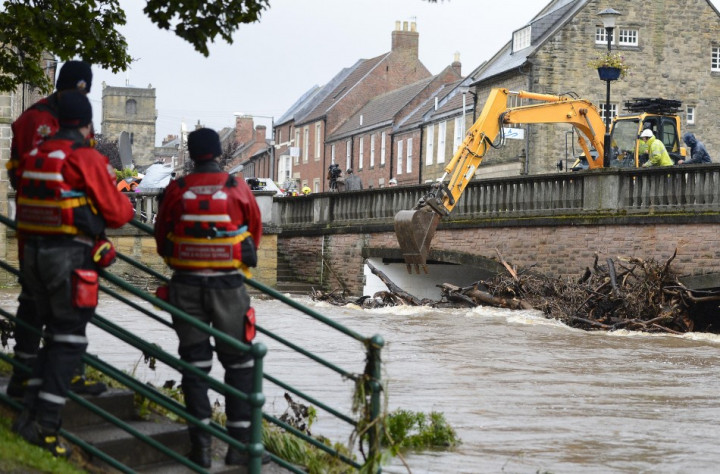 Hundreds of people across the northeast of England were forced to spend the night in temporary accommodation following flooding during the worst September weather for 30 years.
Residents were forced to evacuate their homes in Morpeth, Rothbury, Newburn, Gateshead, Sunderland and County Durham following two days of heavy rain in the area.
More than 70 flood warnings are still in place for areas across the northeast and northwest of England, but forecasters have said the rain which has battered the UK over the last few days is due to subside.
A month's worth of rain fell in just 24 hours in some areas, bringing chaos to public transport and causing river banks to burst.
Forecasters say the rain looks set to ease in the north of England and Scotland, but some area of Wales and southern England can still expect some heavy downpours.
Police in the northeast of England are warning drivers about the risk of driving on roads inundated with surface water. Long stretches of both the M6 and East Coast Mainline are flooded, while several railway branch lines are completely submerged.
David Jordan, director of operations at the Environment Agency, said: "Our thoughts are with those whose homes have been flooded this week. Flooding has a devastating impact on property and possessions.
"Our teams have been out around the clock over the last few days to minimise the risks and prepare for flooding. We urge people to keep up to date with the weather forecast and remain prepared for flooding in their area, sign up to receive free flood warnings and stay away from dangerous flood water."
A spokesman for the Met Office said: "On Thursday we expect the weather to calm down and we'll see a return to fairly standard autumn weather. So, although we will still see some rain in places this will be much lighter than we have seen over the last few days.
"The rain will gradually ease away from Scotland, but further heavy rain is expected across parts of Wales and southern England where up to 40 mm of rain may fall locally in places over the next 24 hours."