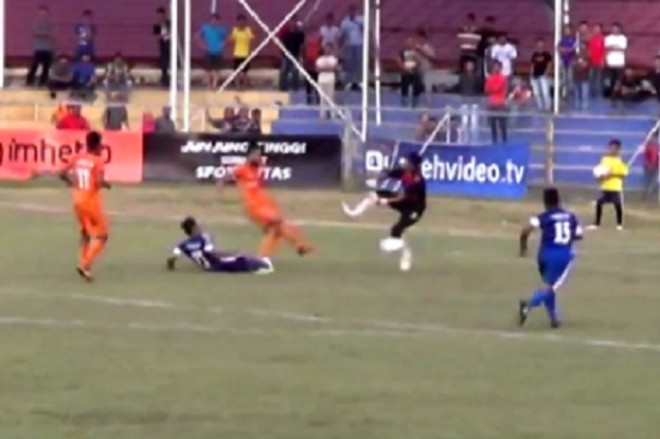 This is the moment which led to a footballer in Indonesia dying from injuries he sustained in a horror tackle during a match.
Akil Fairuz, in orange, and goalkeeper Agus Rahman clashed during a match in the Indonesian equivalent of the Premier League.
Persiraja striker Fairuz was clattered by PSAP goalkeeper Rahman as he latched onto a loose ball the goalkeeper had just spilled.
As Rahman rushed to collect the ball he lifted his boot and planted his studs straight in to Fairuz's midriff.
The striker was taken off but not given medical treatment straight away, continuing to watch the game from the sidelines. He was only taken to hospital later after falling ill.
Fairuz died six days later from leaking of the bladder sustained in the tackle.
His death has triggered an investigation by the authorities, but keeper Rahman is not being held solely responsible.
The chairman of the footballers' association of Indonesia said Persiraja should have got Fairuz treated more quickly. Ismed Sofyan said: "It's a lesson learned for the future, do not be late in dealing with injured players."