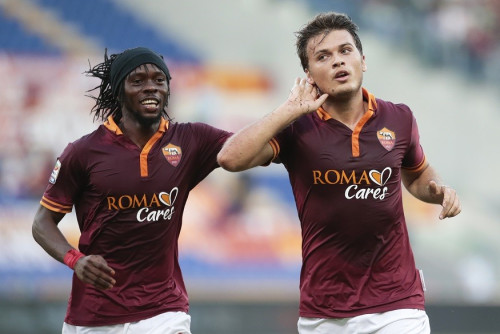 Former Arsenal forward Gervinho has criticised Arsene Wenger for failing to give him more playing time during his spell in north London as his form with Roma continues to prove his credentials as a back-up for Olivier Giroud.
The 26 year old moved to the Emirates in the summer of 2010 for a fee of £10.8m after excelling at Lille but during his two seasons he failed to convince Wenger that he deserved a place in the team scoring just eleven goals in 63 appearances.
However, the striker is back to his best at Roma, he has netted 8 goals in 20 games, his latest success coming in the Coppa Italia semi-final against Napoli he scored a crucial brace to lead his team to a 3-2 victory.
Asked after the game which is the secret of his change he said: "The fundamental difference between Roma and Arsenal is the coaching.
"My coach here [Rudi Garcia] gives me confidence, because I know he believes in me.When I wake up in the morning, I like coming to work, I look forward to being with these people,
"I could sit here and say that [my success at Roma] is because of Italy, but it's not the case. Yes, the people here are great, the city is wonderful, and the passion for soccer is strong, but a lot of these qualities were in England too. Life in Italy is the same it's always been for me: games, training and time with my family."
The Ivory Coast international started just 12 Premier League last season at the Emirates as Wenger preferred to use Theo Walcott, Olivier Giroud, Alex Oxlade-Chamberlain and Lukas Podolski in his attack.
"What did I learn at Arsenal? Honestly, not much because you cannot learn much from being on the bench. I left England because I was not playing. Not enough. The most difficult moment was being on the bench. That was the worst part for me and my confidence."
Rudi Garcia, who got the the best out of Gervinho when they were together at Lille, has also praised the striker.
"He has the ability to go deep, and dribble past opponents with devastating speed," he said. "He is unpredictable for defenders.
"Gervinho's the type of player who has to feel trusted in order to play well, and it is the coach's job to bring out the best qualities in the player."