Former Manchester United defender Gary Neville says he has no plans to return to management "in the next five years" after resigning as England assistant manager in the summer.
Neville, 41, had an ill-fated spell as manager of Valencia which ended after only four months in March this year.
He was sacked after leading the Spanish club to just three wins in 16 league games and 10 in 28 matches overall.
The Manchester United legend also left his coaching role with England after the Three Lions suffered a humiliating exit from Euro 2016 at the hands of Iceland.
He has since returned to his role as a television pundit for Sky Sports and remains a co-owner of National League North club Salford City.
Neville is also involved in the development of Hotel Football near Old Trafford in Manchester.
"I always say 'never say never' because my love of football is too great, but I genuinely believe it will be very difficult for me to go back into coaching because of my commitment now to so many different things," Neville told Sky Sports.
"It's my obligation to deliver Salford City to the Football League. It's my obligation to roll out Hotel Football internationally.
"I can't go back into coaching now in the short term – the next five years – and the reality of it is I don't want to.
"It could be that I'm no longer ever a coach in football but that's not a loss. Some people might think it is, but the fact of the matter is it's not to me."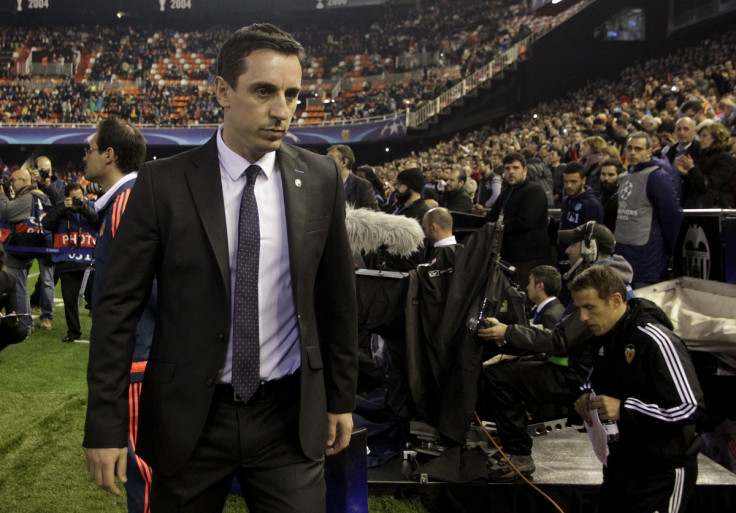 Neville said he had been "chucked overboard" by the FA after England's failures at Euro 2016 and called for long-term investment in the coaching set-up at the national level.
"The FA and Roy Hodgson invested in me for four years and I'm the most experienced I've ever been, yet you get chucked overboard," he stated.
"The reality is the investment has to come through defeat and victory. The pathway for young coaches cannot just be based on a run of defeats or a run of victories otherwise you are forever changing.
"Holland have the solution. Ajax have the solution. Barcelona have the solution. There are models out there. They create pathways and they keep you on the pathway."