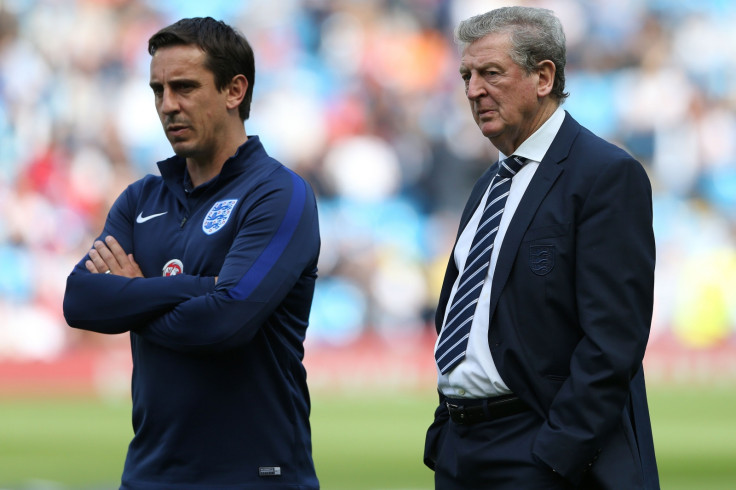 Gary Neville does not harbour any regrets about Roy Hodgson's selection decisions at Euro 2016. The former Manchester United captain served as Hodgson's assistant during the summer tournament and although England crashed out in embarrassing fashion to Iceland, Neville insists the manager's selection choices were not to blame.
Hodgson infamously rested six players for the Three Lions' last group game against Slovakia, which they drew 0-0, meaning they qualified for the round of 16 in second place in Group B. The decision has since been criticised by England captain Wayne Rooney, who was among the players rested on the night – but Neville stands by Hodgson's much-maligned decision.
"We had four points, actually needed to win [to top the group] but felt very confident and trusted in the squad," the former United defender told Sky Sports. "I think two of the changes, to be fair, I think most people would have said weren't changes, because you remember, Jamie Vardy and Daniel Sturridge came on in the second game and did well.
"So, I think those changes were welcome. So you're talking about four changes ... Walker and Rose had been rotated. We generally felt they would need a one-game break, with the engine they put into the games. So from that point of view, I actually felt it was the right decision and I still believe it was the right decision. I wouldn't change anything.
"It wasn't my decision but I support Roy in those decisions. And from my point of view, I'd seen England managers play the same 11 players and then fall off the edge of a cliff in terms of physicality in 2004 and 2006."
Neville admitted Hodgson took a risk with his team selection, but insisted it was one worth taking to give England the best chance of winning the tournament. "You can say it was a risk. Of course it was a risk," he reflected. "But it was a risk, actually, in the past not changing players or trusting in the squad. We didn't see a massive difference between Nathaniel Clyne and Kyle Walker or the other players who came in.
"We didn't see a massive difference in terms of quality. It wasn't as if you were dropping Beckham, Gerrard and Scholes. You were dropping players who were coming in for players who were equally as good."
By contrast, Rooney claimed recently that Hodgson's decision to rest players for their game against Slovakia contributed to their eventual elimination to Iceland. "I felt we had a good squad," the United striker explained, according to the Daily Mail.
"A lot of ability, a lot of talent. Yes, we had some young lads and you know there is a risk some won't react as positively at a tournament, but I still thought we could do really well. To then go out as we did, and against Iceland, was beyond disappointing.
"If you leave playing your best, beaten by a better team, I accept that. But we didn't play. We had lost momentum from the Slovakia game and tournament football is about confidence. You get that from winning."