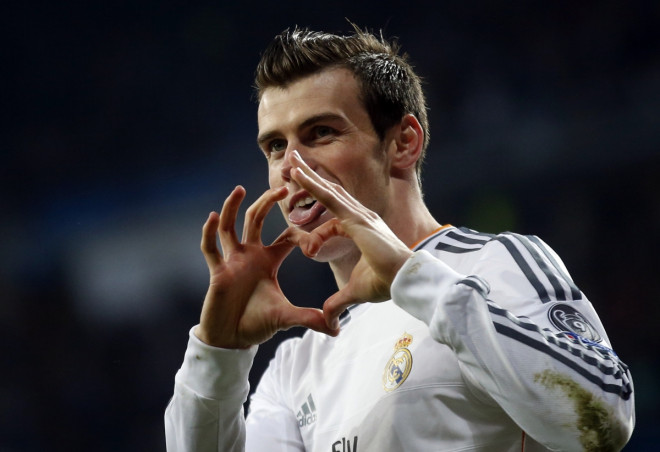 Real Madrid midfielder Gareth Bale assured that playing the Champions League final with his team "would be a dream" while stressing he hopes to stay a long time with the Spanish giants.
Bale's side are through to the semi-finals but were given a scare by Borussia Dortmund, who won 2-0 in the second leg, only for Real to sneak through 3-2 on aggregate after their dominant first-leg performance.
The 24-year-old held a Google Hangout to answer questions with Los Blancos fans from around the world through the team's website, and talked about Real's title challenge and their quest for a tenth Champions League crown.
"I want to stay with the team as long as possible and win a lot of titles. Madrid is in a good position and hopefully we can win the Champions League. There are two important games coming up. Playing in a final would be a dream, I hope I can play the World Cup with my national team someday as well."
The former Tottenham superstar also revealed how he became a Real Madrid fan: "I have been a Real Madrid fan since I was ten or eleven years old, when I saw them win the ninth European Cup with [Zinedine] Zidane's wonder-goal."
Regarding his future, Bale admitted that he is "having fun playing for Madrid, enjoying it a lot. I want to stay here a long as possible and win a lot of trophies.
"[Real] is the biggest club in the world. To be a part of this club is incredible. We are fighting for every title and we have the best fans in the world."
The world's most expensive player – who has grabbed 13 assists in La Liga this season and has scored 18 goals in all competitions – has been under scrutiny since his £91m summer move to Madrid last summer, with recent reports criticising him for shooting at every opportunity instead of passing the ball to his teammates.
With Cristiano Ronaldo likely to miss the Copa del Rey final and doubtful for the first leg of the Champions League semi-final through injury, Bale will have to carry the team on his back and justify the world record-breaking fee that Real paid for him.
The Portuguese missed a few games this season and Bale has always responded, but the real test starts - and Los Blancos fans expect him to pass with flying colours.