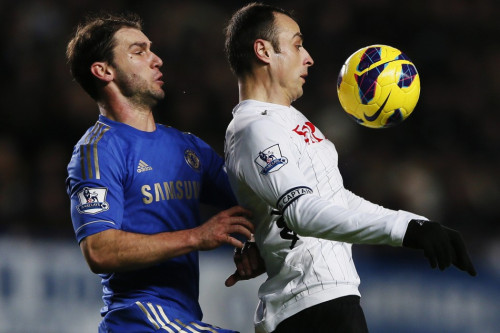 Former Arsenal midfielder Stewart Robson has urged Arsene Wenger to take the risk of signing Fulham striker Dimitar Berbatov in January in order to help the Gunners win the Premier League title this season.
The 32-year-old has been a £2m transfer target for the north London club after injuries to Arsenal's first choice strikers Olivier Giroud and Nicklas Bendtner during the festive period.
Berbatov has less than six months left on his contract at Craven Cottage and a move for the former Manchester United player will give Wenger more options to lead the Gunners' attack during the team selection.
The north London side are leading the table with 45 points after 20 games and are looking to end their trophy drought this season. Robson claims Berbatov is a better player when compared to Bendtner and the addition of the ex-United striker will strengthen the Gunners' squad.
"Berbatov can do a decent job but it's a bit of a risk. Arsenal are at their best when they play fast free-flowing football. When they pass it slowly, that's when teams defend well against them. The one thing Berbatov can do is slow everything down," Robson told talkSPORT.
"I've seen him play on many occasions at a high tempo and he can play very well. If you're asking me who's the better player between him and Nicklas Bendtner, then it's got to be Berbatov.
"Berbatov is nearing the end of his career as a top flight professional. If he signs a two-year contract and helps Arsenal win the title this season, then it would be a great move. It would be good for Arsene Wenger to get Berbatov in," the former Arsenal midfielder added.
The Bulgarian striker's agent Emil Dantchev has already revealed that Berbatov is looking for a move away from Fulham and would be looking to continue in the Premier League, despite reports linking him with a move to Turkish side Trabzonspor.
"I don't usually speculate as nobody knows what will happen in January but what I can tell you is he (Berbatov) is not happy at Fulham. He would like, if possible, to find another option," Dantchev explained.
"I cannot comment (on whether there has been any approach) but the priority is to find a solution to stay in England," Berbatov's agent stressed.