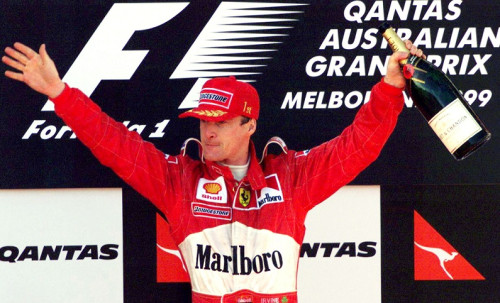 Former F1 racing driver Eddie Irvine has been sentenced to six months in jail following a nightclub brawl in Milan.
However, it is unlikely the former Ferrari and Jaguar racer will serve any time in prison after his sentence goes through the Italian courts' lengthy appeal process.
Irvine, 48, and Italian Gabriele Moratti, the son of a former Milan mayor, were both found guilty of "mutual injury" following the incident in 2008.
Both men had accused the other of starting the fight, which occurred in a VIP section at Milan's Hollywood nightclub.
Moratti claimed the Northern Irish driver started the fight by throwing a glass in his face which left him with scars above one of his eyes.
However, Irvine said: "I arrived around midnight and sat at a table in the VIP room. I drank a vodka with lemon and while I was talking with [a woman] on the sofa, Moratti hit me with two or three punches.
"He hit me from behind. I lost my balance and I fell to the floor. Someone tried to restrain Moratti."
Witnesses previously claimed the fight erupted because Irvine sent a text to a former girlfriend of Moratti.
Moratti's lawyer, Vincenzo Saponara, denied the claims. He said: "Obviously it's easy for newspapers to say they fought because of jealousy over a woman, that they were two men who were rivals for her.
"It's a nice story. But in reality that's not the case."
Lawyers called the decision a partial victory for Moratti as the court upheld his version of events.
Irvine was said to be "astonished" to have been found guilty and looks set to launch an appeal.
Irvine raced for both Ferrari and Jaguar during his nine year career as a F1 driver. His most successful season came in 1999 where he finished second behind McLaren's Mika Hakkinen.
After retiring, he built up a property empire and is now estimated to be worth around £165m (€200m).