Key Features
Developer: Playground Games
Publisher: Microsoft
Platforms: Xbox 360
Release date: 23 October
Price: £39.99
Forza Horizon Review
The last time we spoke to Ralph Fulton, Forza Horizon's lead designer, he was keen to dismiss the idea that his new racing sim told a story. In Fulton's words, the eclectic mix of archetypes, love interests and arch-rivals that players come across throughout Horizon's 20-30 hour playtime will provide a framework rather than a legitimate plot, and he's right: After finally sitting down to get comfortable with the finished product, Forza Horizon is every bit a racing game. The people you meet form just enough of a thread to hang street races, rallies and dubstep off of; Forza Horizon's strength is style, not substance.
That's made obvious straight away. As soon as Forza Horizon boots up, you're cruising behind the wheel of a sleek Dodge Viper, its chassis glistening in the Colorado sunset as it barrels towards the centre of town. The weather is clear, the car is beautiful; Netsky's VIP remix of 'Everyday' by Rusko is thundering out of your subwoofers. It's a perfect illustration of what Forza Horizon does best; a slick, glossy picture postcard from the coolest 360 game of the year.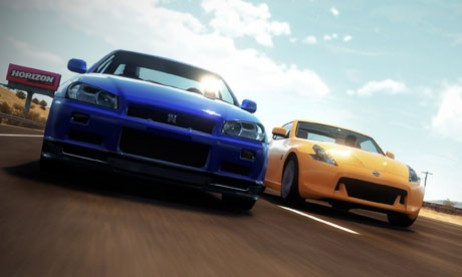 A rival sports car comes hurtling past you, and just as the music begins to peak an impromptu street race breaks out. Your car feels quick and heavy at the same time; with driving mechanics lifted almost verbatim from Forza 4, Fulton and his team have one of the best car physics engines ever at their disposal, and they're quick to show it off. This is the first Forza game to take place outside of the professional racing scene, and as you zigzag in and out of traffic, your Viper's rear wheels threatening to spin on every corner, you can't help but feel that the technology would be wasted on a conventional track racer: The open road is absolutely the home for Forza's trademark brand of heavyweight driving.
Forza Horizon takes place during Horizon, an annual racing and music festival held in Colorado. As well as acting as a framing device for the hundreds, literally hundreds of cars and competitive races you'll come across, Horizon doubles as the game's hub where you can upgrade your vehicles, play online and check out the various leaderboards. In the daytime, you can get to Horizon by checking your map; at night, you need only to look for the sparkling fireworks and flashing lights in the distance, and head there.
Gorgeous
Forza Horizon is gorgeous: Its aforementioned gloss and style comes courtesy of a near-flawless visual design that boasts shimmering sports cars, implausibly good looking characters and lustrous, varied countryside.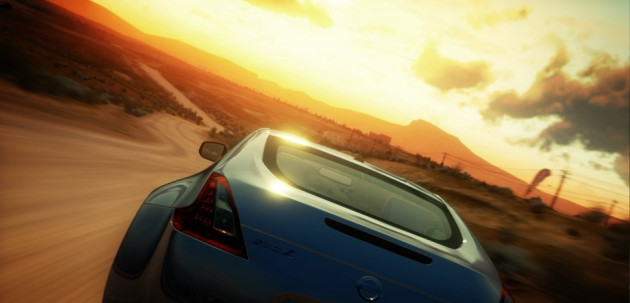 Playground's version of Colorado is the perfect setting for Forza Horizon. A veritable pallette of different floras and faunas, it's purpose built to suit four-wheel drive, sports and road cars, the rugged mountains of Red Rock playing host to the festival's rally events, the local towns falling victim to the underground street racing scene.
Speaking of the Red Rock mountains, they're where Forza Horizon first performs its most impressive party trick, Showcase Events. These wacky, bespoke crowd pleasers are the beating heart of Horizon's dumb fun. The first one you try, up in the mountains, sees you racing against a Mustang fighter plane in a - you guessed it - Ford Mustang. If the pulse quickening intensity of Forza Horizon's breakneck street races isn't enough to convince you, then Mustang v Mustang is irrefutable proof that Forza's time on the conventional racing track is done. The Showcase Events make for some of the biggest loads of fun you'll have on the 360 this year.
Festival
And then there's the soundtrack. Netsky remixes and dubstep notwithstanding, Forza Horizon sounds like a music festival, and a great one at that. It's all thanks to Radio 1 DJ and Bestival founder Rob da Bank, whose stated purpose was to bring the sound of Leeds, Reading and the Isle of Wight to Horizon's three radio stations. It's not a pop soundtrack, per se; there are plenty of artists that you'd expect to find in the charts, but there are also hits from New Order, Hot Chip and The Silversun Pickups. It's not what you'd hear from the mainstage; these are the tracks filtering out of people's tents at Glastonbury, or on a compilation tape made for the drive up. As per da Bank's brief, Horizon sounds like a festival.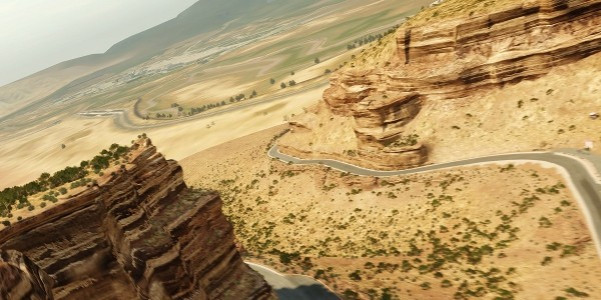 The only bum note on the score, perhaps one of the only downsides to the game entirely, is the thick, asinine so-called banter between Horizon's fictional DJs. Ranging from off-kilter remarks about how fit your mute avatar is, to jokes about llamas, the chatter between songs is the one and only reason to change the station to 'Radio Off.'
Other than that, Forza Horizon is a shiney, well oiled joyride from start to finish. With so much to do (outside of the races, there are collectables to round up and hidden cars to hunt down) and hours of fun to be had from merely driving around Colorado, Forza Horizon feels almost big enough to challenge behemoths like Gran Turismo 5. Compared to GT, Forza Horizon's level of customisation and engine tweaking feels somewhat abbreviated, but that's not what Horizon is for: This isn't a game with a story as such, but it has a constant momentum that won't be slowed by endless calibrating.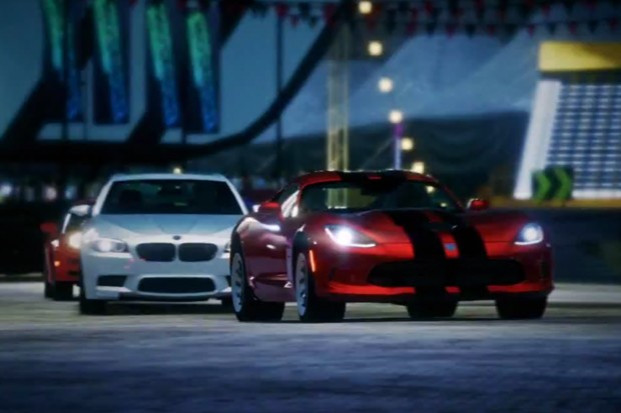 Die-hard gearheads still have plenty to get revved up for, however. Upgrades and paint jobs can be bought and flipped around to pretty much your heart's content, the idea being that you won't ditch your faithful Volkswagen Corrado just because you've won an Impreza. Forza Horizon wants you to stick with, and build up your cars. Even in the later stages, that old Mustang will still come in handy for specialist competitions.
Contrary to this year's Christmas lineup of grumpy shooters and bloody adventure games, Forza Horizon is an unadulterated, unpresuming work of fun. From its spectacular opening, to its breathtaking conclusion, Playground's newest racer is a complete sensory overload, its pristine mix of good looks, great sounds and high speeds plugging directly into your brain's pleasure centre. Racing sims don't come cooler than Forza Horizon; computer games, nowadays are rarely this much fun.
Scores:
Gameplay - 8/10: Nothing new in terms of basic mechanics, but Forza Horizon is brilliant fun
Sound - 10/10: Flawless. Engines are loud; the soundtrack could not ring more true
Graphics - 9/10: Shimmering cars and a beautiful environment. Gorgeous
Replay value - 8/10: There is a lot to do and find, and fun to be had with just cruising. You won't be bored
Overall - 9/10: Possibly the most fun you will have with your 360 this year, Forza Horizon is wonderful