There are several investment themes that could be very important in 2017:
Takeover targets, following the buyouts of companies such as Sky, Punch Taverns and Arm Holdings in 2016.
Winners from a weak pound, which should remain a positive tailwind for UK company profits in 2017.
Cheap companies, as the value style of investing has recently begun to outperform the market after several years of underperformance.
I have selected four UK-based companies that I think fit into many of these three investment themes:
Shire plc (code: SHP),
Entertainment One (ETO),
Enterprise Inns (ETI), and
Wizz Air (WIZZ).
How did last year's stocks to watch fare over 2016?
Well, I am pleased to say, that the three stocks to watch from December 2015 did pretty well overall.
First of all, all three featured shares have posted positive performance to 19 December:
EQQQ Powershares Nasdaq-100 ETF (in pounds): +26% including dividends from start-2016 to now;


All up on the year, two out of three beat the UK stock market

Source: Bloomberg.com, author

BA. British Aerospace: +19%;
IUKD iShares UK Property ETF: +2%
Secondly, two of these shares outperformed the UK stock market, which has gained 14% over the year to date. Only the UK Property ETF has been somewhat disappointing.
So what about the four featured shares for 2017?
1. Shire plc (code SHP; Healthcare industry)
Shire is a large UK-listed pharmaceutical company that makes a number of prescription drugs such as Adderall XR and Vyvanse for conditions such as Attention Deficit Hyperactivity Disorder (ADHD). It has a full new drug pipeline – more than 20 drugs currently in Phase III trial programmes, which if successful are all expected to launch by the end of 2020.

It is simultaneously:
(a) A long-term winner from a weak pound, given its high exposure to the US and thus to the US dollar, and
(b) is also cheap right now at a forecast P/E valuation ratio of 11.2 times, much cheaper than the FTSE 100 average.
The average broker price target is 34% above the current 4,562p share price according to Stockopedia, giving substantial upside over the coming year.
2. Entertainment One (code ETO: Media industry)
Entertainment One is a UK-listed company that operates primarily out of Canada, producing and distributing TV series such as children's favourite Peppa Pig and the recently-launched US series Designated Survivor starring Kiefer Sutherland.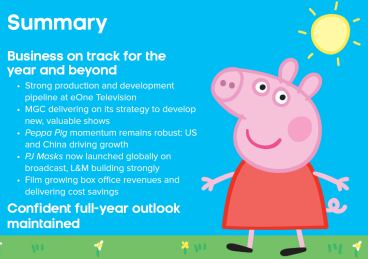 It is also a big backer and distributor of feature films, including titles such as The Girl On The Train, La La Land and Arrival, following on from recent successes such as The BFG and Eye in the Sky.
It is set for strong growth particularly from its children's TV series (Peppa Pig and also PJ Masks), and also from the strong film launch schedule for 2017.
With much of its revenues earned abroad, principally in North America, it is a beneficiary of the weak pound, which should boost its profits in sterling.
It is currently cheap at a P/E valuation ratio of only 10 times and could also be an interesting acquisition target for a larger media conglomerate, given its TV and film exposure worldwide.
3. Enterprise Inns (code ETI: Leisure industry)
Enterprise Inns is the owner and operator of more than 4,500 leased and tenanted pubs in the UK. Yes this is a difficult industry, but as recently demonstrated by the Heineken takeover of pub operator Punch Taverns, it can also be a source of hidden value in the form of freehold properties.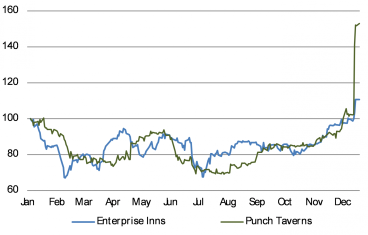 Enterprise Inns' share price has already started to rise on the back of the Punch Taverns takeover, but has only gained 10% so far this year compared to Punch's impressive 53% rise.
Enterprise Inns is certainly a cheap share at six times P/E and 0.4 times book value (the accounting value of the company). It may also be a tempting takeover target for bidders looking to repeat Heineken's approach with Punch.
4. Wizz Air Holdings (code WIZZ: Travel industry)
Wizz Air provides low-cost travel on scheduled short-haul and medium-haul routes across Europe, focusing on Eastern European countries such as Poland and the Czech Republic.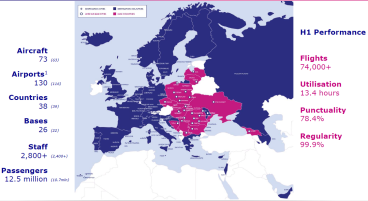 Recent results have been very strong (sales up 10%, net profit +39% for the six months ending September 2016) on the back of a combination of strong growth in ticket sales and reduction in costs.
The company is cheap at under 11 times P/E ratio, and is extremely profitable. Analysts forecast an average price target some 14% higher than the current 1838p share price, offering good upside on the back of strong expected profit growth.
Disclaimer: Edmund Shing owns shares in Shire, Entertainment One, Enterprise Inns and Wizz Air.