Andre Villas-Boas was vilified for attempted to breathe new life into a Chelsea squad criticised for its' average age during his short eight-month spell and was eventually removed as manager after combination of player unrest and poor results which had left the club on the brink of elimination from the Champions League.
Now, amid the tenures of Roberto di Matteo and now Rafa Benitez, whose control over player contracts is distant at best, the club's hierarchy are attempting to rule with an iron fist. Didier Drogba was the highest profile casualty last summer, and Frank Lampard it seems will be the headline departure this.
Too often the business intricacies of contract negotiations are used as a smokescreen for the true footballing reasons surrounding a deal. It might be well reported that Chelsea are refusing to offer two-year contracts to players in their 30s due to the financial commitment, the non-existent resale value and the risk involved.
The reality, in the case of Drogba, is that owner Roman Abramovich wanted a big money signing Fernando Torres to lead the attack and for the Ivorian to be marginalised. It came as an extra bonus to both Di Matteo and Abramovich that this coincided with his departure.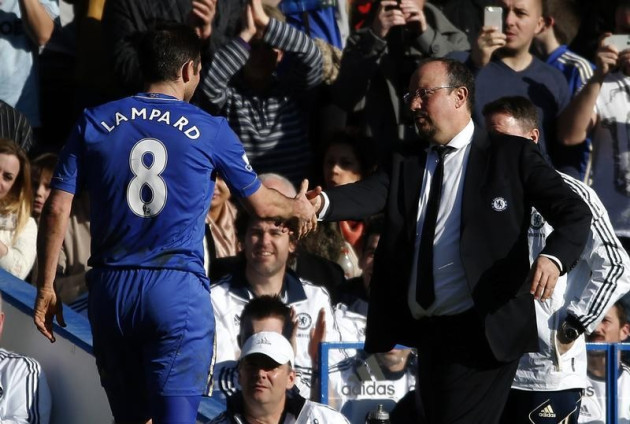 Many believed Drogba had plenty to offer any club in Europe, let alone Chelsea, after he'd led The Blues' charge to the Champions League.
If the 34 year old himself had designs on furthering his career at the highest level he'd have not turned down the offer of a one-year extension at Stamford Bridge, or been seduced by the money in China and Turkey; not two of world football's more celebrated leagues. His insipid displays at the African Nations Cup also suggest his powers are on the wane.
Sentimentality is a disease of football selection from both a manager's and a fan's point of view. Lampard would be threatening to evoke that particular notion should Chelsea hand him an extension to his contract.
The England midfielder has 14 club goals this season, only Juan Mata and Fernando Torres, both of whom have made 10 more appearances than the 34 year old this season, have more, so his worth to Chelsea is clear for all to see.
The worry is how long Chelsea will continue to look to Lampard to produce. While Paul Scholes and Ryan Giggs, albeit a few years further down the line, remain at Manchester United, they are no longer relied upon to make decisive interventions. It is perhaps worth noting the impact Scholes did make on occasions last season upon his return; a factor worth bemoaning as much as celebrating.
Sir Alex Ferguson would be the first to admit that the presence of Scholes and Giggs stifled the development of other central midfielders at the club, and until the recent good form of Michael Carrick United have been accused of looking lightweight. Similarly at Anfield Steven Gerrard continues to revive Liverpool; his departure will have comparable implications.
With or without Lampard, Chelsea seemingly don't possess a squad that can challenge for the title nor worry about finishing outside the top four. So perhaps in order not to disrupt the development of the club's younger players, in Lucas Piazon and Josh McEachran, the club should sacrifice short-term success in exchange for long-term development.