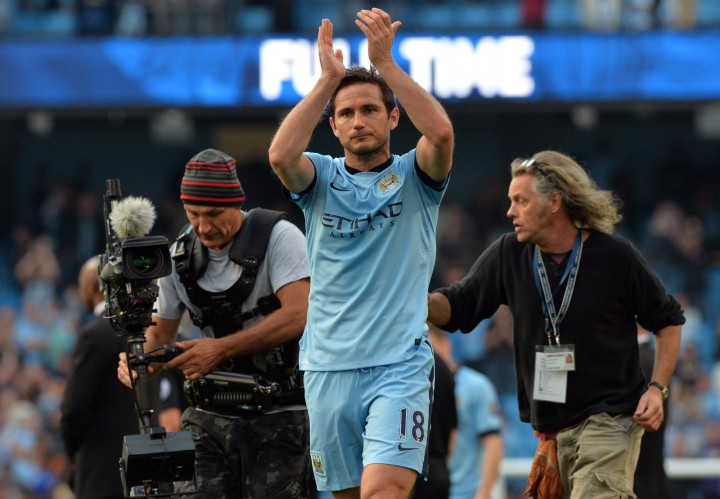 Frank Lampard has remained coy over the possibility of extending his loan stay at Manchester City beyond January.
The 36-year-old joined Manuel Pellegrini's side on a temporary deal shortly after completing his move to Major League Soccer side New York City having left Chelsea this summer after 13 years.
Lampard has repaid City's faith in him with three goals in three games for the club, the first a crucial equaliser against his former side on Sunday.
Should the veteran midfielder extend his stay at the Etihad Stadium, he is likely to return to Stamford Bridge for a second meeting with Jose Mourinho's side at the end of January.
However, Lampard insists the possibility has not been discussed yet.
"I'm signed here until January, so that's all I can say at the minute," Lampard, who spent 13 years at Chelsea, was quoted as saying by BBC Sport.
Manuel Pellegrini has previously hinted he would be open to extending the former England international's stay at City. With the new MLS campaign not beginning until March, Lampard could theoretically miss his club's preseason campaign in exchange for first team football in the Premier League, an approach a number of clubs in America have taken in the past.
"That argument's come up since I scored at the weekend," Lampard continued. "The important thing for me is to play well if I can, train well and then we will see what happens.
"I wouldn't want to get too ahead of myself; it is not my place to do that. That will obviously be a club decision first and foremost.
"I was in very much a comfort zone at Chelsea. It is good to test yourself in life. All I can say is I am enjoying it."
After scoring his first goal for the club against Chelsea, Lampard followed up with two more in City's 7-0 thrashing of Sheffield Wednesday in their League Cup third round win on Wednesday.
MLS clubs have also traditionally allowed their players to join Premier League clubs in January on two-month deals in order for them to get their fitness up ahead of the new campaign. Robbie Keane swapped Los Angeles for Birmingham in the opening months of 2012, joining Aston Villa on a temporary deal, while Clint Dempsey returned to Fulham in a similar deal last year.