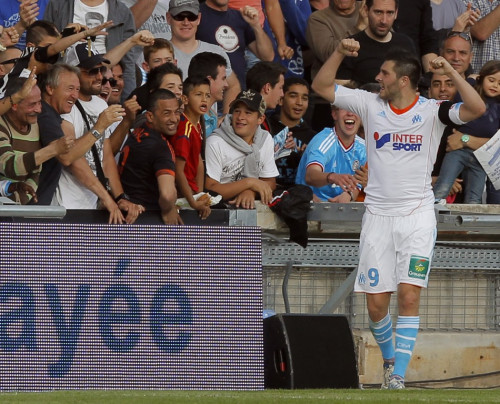 Andre-Pierre Gignac has reportedly rejected an offer from West Ham United after Marseille Chairman Vincent Labrune revealed that the striker has said no to a January move to a Premier League side.
West Ham are currently 19th in the Premier League table with just 15 points from 19 games and Sam Allardyce is desperate to add new player to his squad to avoid relegation.
Marseille signed Gignac in the summer of 2010 after paying £14m to Toulouse, where during the 2008-2008 season he finished as the highest scorer in Ligue 1 with 24 goals. The 28-year-old striker has failed to reach those figures again but he is still an important player for his side and this campaign he has already scored eight goals in 17 appearances.
French newspaper L'Equipe reports that West Ham recently made an offer to secure his services in January but according to the Marseille chairman the player rejected it.
"Without giving away any secrets, in the last few weeks he was subject to an important offer from an English club, which he refused," Labrune said.
Marseille's chairman added that the club is not willing to sell him although Gignac's contract is due to expire in 2015 and it could be a good chance to recoup some money.
"We are very happy to continue with him, at least until the end of the season. What interests me now is what happens on the pitch, that he scores goals and helps us win games. We will look at financial considerations in the future."
West Ham have scored just 19 goals in 20 Premier League games and after signing central defender Roger Johnson on loan they are now looking to add a forward to the squad.
The Hammers have also received a boost with the news that record signing Andy Carroll is near to a first-team return after being out for the season with a foot injury.