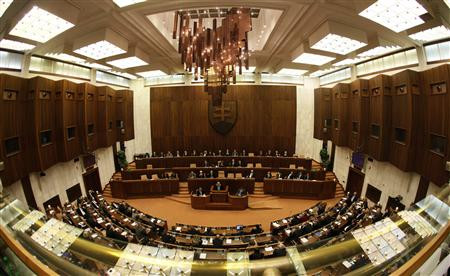 Shares in British banks were mixed on the FTSE 100 in morning trading after a surprise no vote from the Slovak parliament upset European Union plans to increase the size and power of the European Financial Stability Facility (EFSF).
The EFSF is currently seen by eurocrats as the best way of dealing with the eurozone debt crisis and its expansion needs to be approved by all 17 members of the eurozone.
While 16 states have approved the changes, Slovakia yesterday voted against such a measure, despite expectations that the move would, albeit narrowly, get through the Slovak parliament.
Slovakia may have delayed the process of enlarging the EFSF, but it is unlikely to have halted it as the political will in Brussels for its enlargement is likely too great to be resisted for now.
As Allister Heath of City A.M. pointed out, "No sooner was the scheme voted down - forcing the collapse of the [Slovak] government - that it was announced that there would be another vote."
Tory MEP Daniel Hannan also predicted the enlargement of the EFSF, saying on his Telegraph blog, "What happens now? Brussels will bring the full force of its hideous strength on Slovakia, and the vote will probably be reversed."
It is perhaps for this reason that banking shares were not too rattled this morning.
By 10:10 shares in Lloyds Banking Group were down 0.72 per cent to 36.02 pence per share and HSBC shares fell 0.04 per cent to 519.50 pence per share.
However RBS shares rose 1.30 per cent to 25.63 pence per share and Barclays shares climbed 1.59 per cent to 178.50 pence per share.
Overall the FTSE 100 was up 0.02 per cent to 5,396.94.