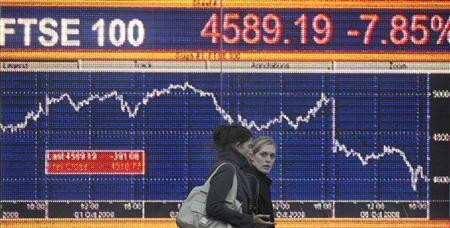 Britain's FTSE 100 index opened sharply higher Tuesday, tracking strong gains in Wall Street and in Asia, as European investors are becoming increasingly hopeful that euro zone officials will find a way to stem Greece's debt crisis and hopefully stop it wreaking havoc on the global financial system.
European stocks also opened sharply higher after Monday, with Frankfurt's DAX advanced 3.1 percent and Paris's CAC-40 Index added 2.3 percent to go with London's FTSE 100 Index which opened 1.9 percent higher.
European Central bank policy makers said on Monday that they were working to increase the firepower of the region's rescue fund in an attempt to alleviate a crisis which U.S. President Barack Obama has recently said is "scaring the world."
This has led to a positive effect for the U.S. markets, with the Dow Jones Industrial Average and the Standard & Poor's 500 Index ending more than 2 percent higher on Monday.
This also had a positive effect in the Asia markets as Japan's Nikkei Stock Average ended up 2.8 percent and South Korea's Kospi Composite climbed 5 percent as investors also took to heart the news that European official s have set out a plan to stabilise the region's debt crisis.
"It is apparent that several plans are in the pipeline, all of which involve some degree of leveraging up of the European Financial Stability Facility," said Geoffrey Yu at UBS.
"Ensuring we can continue to grind higher will rely on two key points," said Chris Weston of IG Markets. "Investors must hold their nerve and at the same time central banks and finance ministers need to remain 'on message' as any suggestions that the rescue plans may go awry will likely be enough to see markets take fright once again."