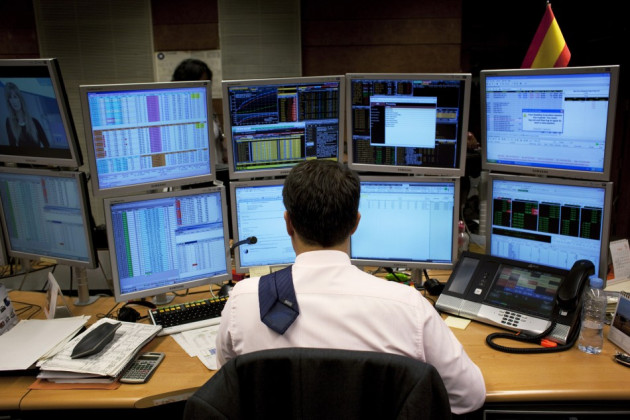 European stocks retreated from multi-month highs in thin holiday volumes as investors braced for a potentially hectic end to the trading year and a last-minute deal from US lawmakers on the impending "fiscal cliff".
The benchmark Europe-wide FTSE Eurofirst 300 fell around 0.14 percent from a nineteen-month high in early trading to 1,137.6. Britain's FTSE 100 posted a modest 0.1 percent gain - taking the benchmark to 5,945.4 points - as it continues to test 2012 highs in the final five days of trading for the year. Trading ended at 1230 GMT with the only full-day session of the week scheduled for Thursday, the London Stock Exchange said on its website.
Elsewhere benchmark indices were mixed, owing to erratic deal flow in the final day before the extended Christmas holiday. Spain's IBEX fell around 0.3 percent while France's CAC 40 posted a 0.1 percent advance.
The single currency was little changed at 1.3195 against the US dollar - although it did touch a seven and a half month high of 81.69 pence amid thin foregin exchange trading in London. The pound was steady at 1.6180 against the US dollar.
Trading in Germany was closed for the traditional Christmas Eve session.
Investors continue to monitor developments in the United States where lawmakers are scrambling to fashion a last-minute deal to avoid the so-called "fiscal cliff" - a $620bn programme of tax increases and spending cuts that will kick-in automatically on 1 January.
The failure last week by House Speaker John Boehner to gather the support of his Republican colleagues for a budget plan that would challenge that of President Barack Obama weighed heavily on investors into the weekend, and futures prices suggest US stocks will open with a weaker tone as a result.
S&P 500 futures fell 4.9 points in the pre-open and were trading below "fair value", indicating a second consecutive day of declines for the broadest measure of US stocks. Futures for the Dow Jones Indutrial Average fell 34 points and similar contracts for the tech-heavy Nasdaq traded 11.5 points lower.
Trading was mixed in Asia overnight as the broadest measure of share performance in the region, the MSCI Asia Pacific Index, fell around 0.7 percent from its 52-week high to 128.3. The index has risen around 17 percent so far this year.
In Japan, the yen fell to a 20-month low against the US dollar after Prime Minister-elect Shinzo Abe continued to pressure the Bank of Japan to increase its inflation target to 2 percent and threatened to revise a law guaranteeing the central bank's independence if his demand was not met.
Abe added that he would select a candidate who agrees with his views to succeed BOJ Governor Masaaki Shirakawa when his term expires in April 2013.