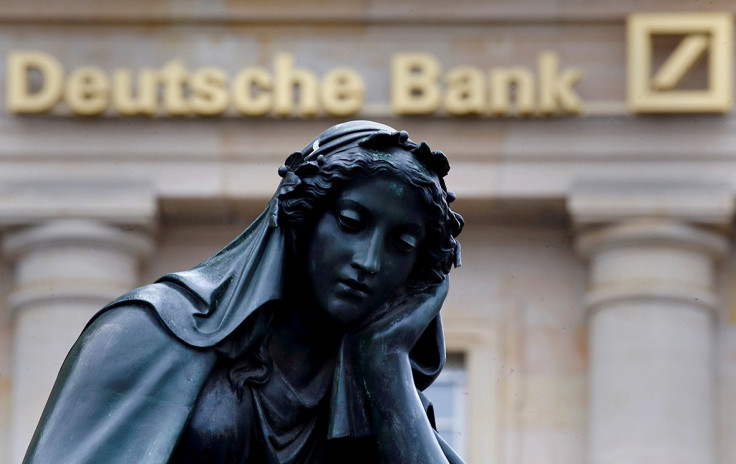 Blue chip stocks were lower in afternoon trading weighed by fresh reports that US regulators may seek group penalties against Deutsche Bank and other European lenders.
The German lender hit fresh 30-year lows after hedge funds withdrew money from the group following Department of Justice (DoJ) proposals that the bank should pay £14bn to settle allegations of mis-selling mortgage securities in the run up to the financial crisis in 2008.
But the Financial Times said the DoJ wants to strike a group settlement with Barclays, Credit Suisse as well as Deutsche Bank before the US Presidential elections in November.
The FTSE 100 Index was 53 points lower at 6866.4, as traders become increasingly worried at the deepening crisis across the European banking sector. The FTSE 250 Index fell 123 points to 17742.
IG market analyst Joshua Mahony said: "With the US Department of Justice aiming to also penalise Barclays and Credit Suisse alongside Deutsche, there is a fear that we could see huge amounts of fines levied across the whole industry, effectively wiping out much of the safety buffers built up in case of emergency."
In afternoon trading the biggest risers in the FTSE 100 Index were Burberry Group (+29p to 1382p), Fresnillo (+30p to 1840p), Randgold Resources (+130p to 8015p), Barratt Developments (+4.9p to 477.8p) and Persimmon (+18p to 1759p).
The biggest fallers in the FTSE 100 Index were Capita (-25.5p to 672.5p), Barclays (-4.5p to 162.9p), Prudential (-34.5p to 1356p), Aviva (-11p to 432.7p) and Rio Tinto (-64.5p to 2569.5p).
In afternoon trading the biggest risers in the FTSE 250 Index were Entertainment One (+7.5p to 220.6p), Tullow Oil (+5.7p to 245.8p), Domino's Pizza Group (+8.2p to 371.3p), Hochschild Mining (+5.4p to 300.8p) and Bovis Homes (+12.5p to 848.5p).
The biggest fallers in the FTSE 250 Index were OneSavings Bank (-12.2p to 251.4p), Shawbrook Group (-8.9p to 231p), Drax Group (-11.6p to 304.8p), Essentra (-17.6p to 472.6p) and Virgin Money (-10p to 305.7p).