When the Ryder Cup tees off on Friday 30 September everyone connected with the sport will have their fingers crossed for a thrilling tournament, that will allow the game to haul itself out of the doldrums it has found itself in for more than a decade.
Top European golfers such as Rory McIlroy and Martin Kaymer gathering in Hazeltine, Minnesota, will be well aware that life at the grassroots of the sport is not as healthy as when they took up the game.
The numbers have been running against the sport, which can trace its roots back to 15<sup>th century Scotland, for some time.
Busier lifestyles, high costs, elitist perceptions and the tattered reputation of Tiger Woods, who once transcended the sport, has led to fans drifting away.
The amount of adults playing golf in the UK for 30 minutes once a week is just over 738,000, according to Sport England the government-backed body which funds amateur and elite sport. This is a 21% fall from the start of 2009 – a few months after Tiger Woods won the last of his 14 majors, the US Open, which ended his dominant run in the game that lasted a dozen years.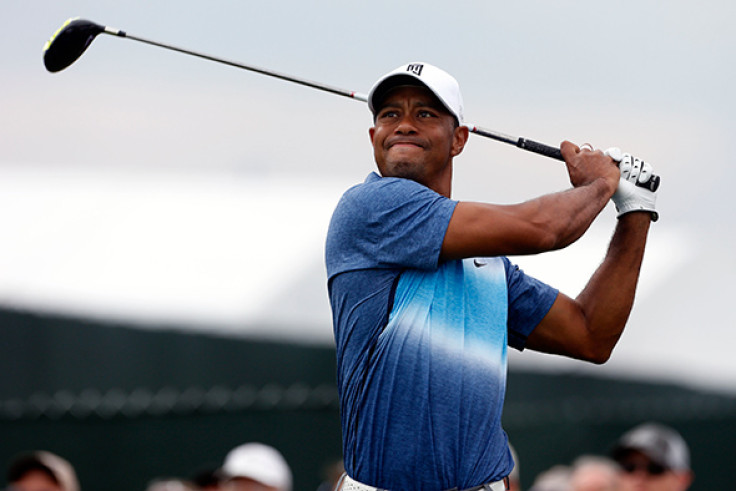 The amount of golf club memberships has tumbled by 25% to just over 661,800 to 2015 over the last 11 years, said England Golf, the governing body for amateur golf in the country. Although the amount of clubs have held steady in comparison, falling just under 2% over the period to 1,926.
Clubs for sale
Things are much worse in the US, by far the sport's biggest market, where more than 800 clubs have closed over the last decade as falling memberships have seen property developers buy up courses to build prime housing. The amount of US golfers has tumbled from 32 million in 2003, months after Woods won the US Open for the second time, to just over 24 million last year.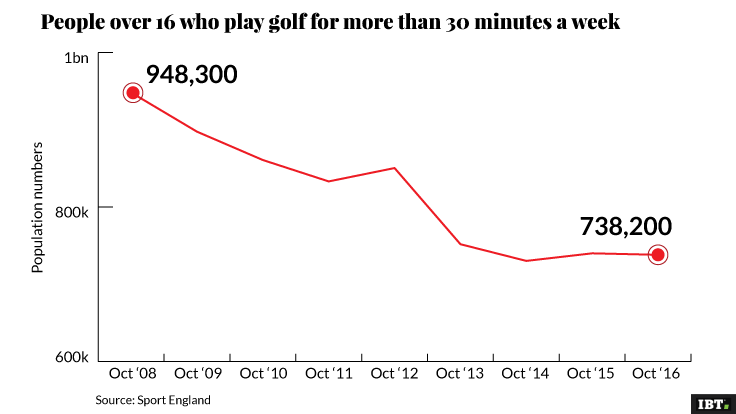 However, in the UK England Golf participation and club support director Richard Flint told IBTimes UK: "Clubs in England are up for sale on a regular basis. But over the last five years when sites have left the game, they tend to be sold for either housing or agricultural purposes."
Amateur players walking away from the game prompted the world's largest maker of sporting goods, Nike, to say last August it would stop selling golf equipment after years of falling sales at its golf division.
US giant Nike invested heavily in golf during the late 1990s with its sponsorship of Tiger Woods, giving him his first five-year contract in 1996, worth $40m (£30m). Last year sales at Nike's golf unit fell by 8% to $706m, its third year of declining sales.
Also, last year German rival Adidas said it would sell most of its golf business, which it has run since 1997. The group put its TaylorMade, Adams and Ashworth brands up for sale after years of sliding sales, which saw unit revenues fall 13% to €902m ($1.04bn) in 2015.
TV viewing of golf's four majors are also down with peak viewing of The Open at St Andrews falling 14% to 4.7m last year from the year before, according to the BBC.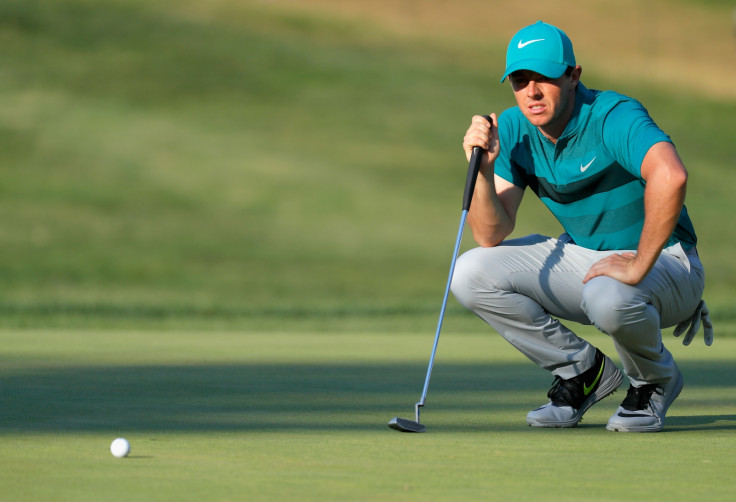 Satellite broadcaster Sky, in a deal believed to be worth at least £75m, poached The Open from the BBC last year bringing to an end 61 years of free-to-air coverage. The deal was originally due to start from 2017 and last for five years. However, the BBC opted to give up its rights to the tournament 12 months early this year for financial reasons. Sky will not publish its viewing figures for The Open held this year at Royal Troon.
Much of the reason for the fall in popularity of the game is that it is out of kilter with modern society. It takes four hours to play 18 holes of golf, and disappearing to the golf course for half the weekend does not fit in with today's attitudes for child-rearing.
The sport has always struggled to attract women and minorities. In the UK around 14% of women play golf, even though they make up 51% of the population, according to a survey by the European Tour, which runs the professional game outside the US. The same survey added 3.5% of minorities play the game, despite them accounting for being 9% of the country.
"A lot more clubs have changed their attitudes and are more welcoming," says Flint. "But I would be lying if I said they were all like that."
High costs
Cost is also an issue. The average adult membership is £845 a year, according to Golf England. And since the financial crisis young families struggle to justify this expense.
A study by Sheffield Hallam University published in March found that UK golfers spent £4.3bn on the game in 2014, and employed just under 74,500 in the sport's industry.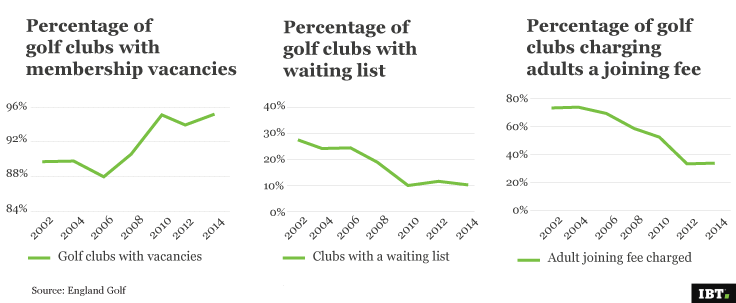 But perhaps the biggest hurdle the sport has had to deal with is the end of the Tiger Woods bubble. His 12-year dominance of the sport raised standards, added glamour and changed perceptions of who the game is for. His reign brought millions of new fans to the sport, but they have ebbed away from 2009 after Woods became bogged down by infidelity scandals, poor play and long-term injuries.
Guy Kinnings, chairman of sports marketing agency IMG's golf unit, told IBTimesUK: "Before Tiger came along, very rarely did non-golf fans watch golf. But he bought other sports fans into the game, and made it cool. He broke down barriers in terms of age and demographic, as well as race. Wherever he played he brought new people to the sport."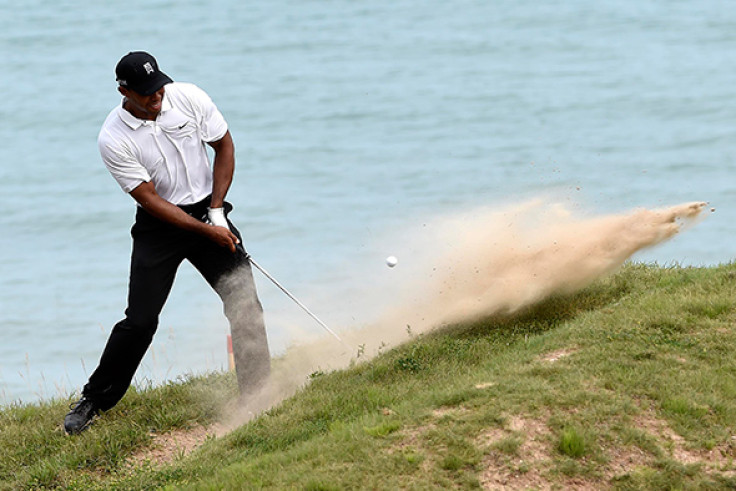 "A lot of people didn't realise how good he was for the game until he wasn't there for a while."
However, for all that, the top of the game remains in rude health, with total prize money on the European Tour jumping from £29m, in 1997, the year Woods won his first major, the Masters, to £122m last year. Even though there are more tournaments now average prize money per event has more than tripled over this period to £2.5m.
Kinnings says: "The professional game is still robust. There is still great appeal to the traditional brands, such as financial services, hotels, and luxury goods that have always liked the sport."
"The golf TV product is being improved all the time and golf lends itself to highlights and digital coverage, because a lot of background elements are possible."
New forms of golf
Supporters of the game argue that over the last 12 months or so, the amateur game has begun to arrest its decline. They also point to new and faster forms of the game, designed to attract new players. Foot golf, a hybrid of football and golf and top golf, which involves hitting gold balls onto huge, coloured targets in outdoor sports bars, are two experiments. While golf clubs are cutting membership fees and offering flexible pay-as-you-play terms.
In the professional game The European Tour is testing one-hole shoot-outs between eight players which last less than an hour, and six-hole shoot-outs an the end of a standard four-day stroke play competition.
Kinnings says: "Different formats are being tried and one will emerge as the generally accepted short form of the game. We are not there yet. But we are moving towards something that will capture the public imagination."
And there seems to be good news at the very pinnacle of the game. After more than a year of complete rest Woods, now 40, says he will return to the game to play at the Turkish Airlines Open in November. Woods is also at the Ryder Cup as a vice-captain in charge of strategy on the US team.
"What a sport needs to capture the public imagination is a single stand-out player, or a series of intense rivalries" says Kinnings. "Golf has missed this for a short while."
You get the feeling that most people in the sport hope that Woods can write one last chapter in his remarkable story, and help get golf back on its feet.