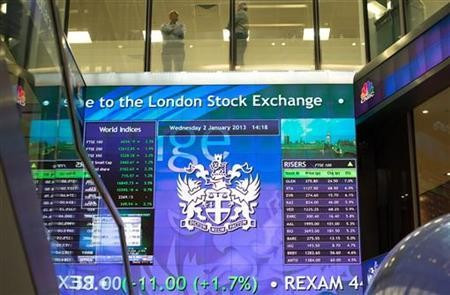 UK shares tested five-year highs after better-than-expected economic data from China lifted export stocks but worrying European data held gains Continental in check.
Britain's FTSE 100 rose nearly 30 points, or 0.5 percent, to be quoted at 6,228.11 by mid-afternoon in London. The gains took the benchmark to within 80 points of the five year high reached on 16 May 2008. Vodafone was again one of the session's biggest movers, gaining more than 2.4 percent - the steepest rise in at least six months - following renewed speculation that the world's biggest mobile phone group could be planning to sell its 45 percent stake in US carrier Verizon Wireless.
A private survey of manufacturing in China, the world's fastest growing economy, conducted by HSBC showed activity surged to a two-year high in January on higher domestic and foreign orders.
US stocks were mixed at the open, with the Dow Jones Industrial Average rising 13.9 points, or 0.1 percent, to 13,793.23 while the tech-heavy Nasdaq opened 24.98 points, or 0.79 percent, lower at 3,128.69. The broader S&P 500 extended a six day rally, rising 0.30 percent and briefly trading past 1,500 for the first time since 2007.
Losses were limited, however, thanks to a much better-than-expected set of figures from the US Department of Labor, which showed the number of Americans filing new jobless benefit claims last week feel by 5,000 to a seasonally-adjusted 330,000 - the lowest in nearly five years.
European shares were broadly positive on the session, although the region-wide FTSE Eurofirst 300 slid 1.6 points, or 0.104 percent, to trade at 1,166.06 points. Gains on major bourses around Europe were limited by the mixed economic data from the Eurozone released today by Markit Economics.
The foundations of a Eurozone recovery improved in January, however, as the Markit Economics series of Purchasing Managers Index data for January, which surveys around 5,000 firms across the 17 member nations that use the single currency, showed an increase in activity for both the manufacturing and services sectors of the economy from the final readings in December. On a composite basis, Markit's key PMI reading was indicated at 48.2, fully one point higher than in the previous month but still well below the threshold of 50 which separates growth and contraction.
The figures contrast sharply with data from Germany, where the services sector in Europe's largest economy grew the most in at least a year. The composite reading, which measures both services and manufacturing, surged to 53.6 from a reading of 50.3 in the previous month.
"The latest PMIs for the euro area painted a picture ofmarkedly divergent fortunes between Germany and France," said Societe Generale economist James Nixon in a research note. "We continue to think this probably reflects France's greater exposure to Spain and Italy while German performance is more closely geared to global activity."
In Italy, retail sales fell for the fifth consecutive month in November, according to data from ISTAT, the official statistics office, and declined by at least 3.1 perncet from the same period last year. ISTAT also revised its reading of October sales lower, indicating a 1.3 percent fall from a previous estimate of a 1 percent decline.
There was equally grim data from the so-called periphery of the Eurozone, where Spanish unemployment hit an all-time high of 26.02 percent according to data from the National Statistics Institute. Just under 6 million people were out of work at the end of last year, the statistics office said, with youth unemployment surging to a breath-taking 60 percent.
Retail sales growth in the moribund UK economy slowed in January.
Data compiled by the Confederation of British Industry (CBI), Britain's largest business lobbyist, reported a balance of +17 percent for sales in a survey of retailers, a drop of 2 percent on December. The figure represents the percentage difference between UK retailers reporting higher sales this year than during the same period last year than those reporting a decline.
Retailers were pessimistic about February's sales prospects with a balance of -7 percent as most predict a drop below seasonal norms in the month, according to the survey of 127 retail firms that took place in the fortnight to 16 January.
Sterling tested a five month low of $1.5780 against the US dollar in afternoon trading and fell to an 11-month low of 84.42 pence against the European single currency.