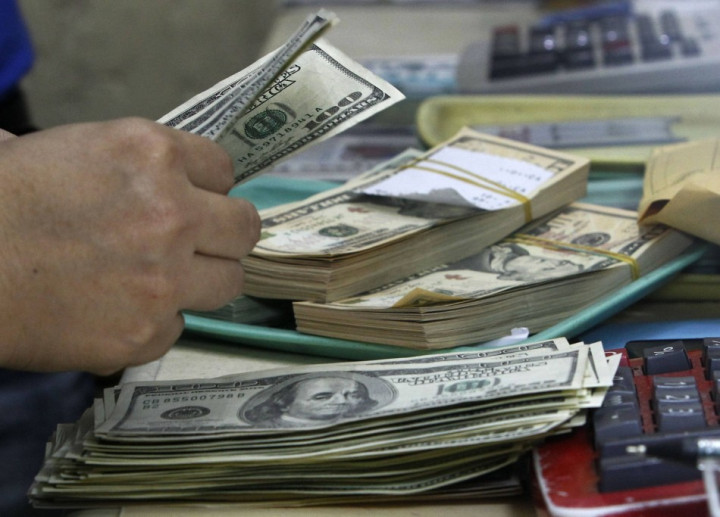 Monday started with risky assets trading higher in Asia, pushing the dollar lower across the board.
Overall better show in the US jobs report on Friday, stronger Japanese GDP and Chinese trade data over the weekend bolstered the global economic outlook, in turn reducing the safe haven appeal of the greenback.
Japan's GDP growth for Q1 came in at 1.6% q/q from 0.2% in the previous quarter and topping analysts' forecast of 1.4%, data released over the weekend showed. China's May trade balance widened to $35.92bn from $18.45bn in April and beating consensus of$22.60bn.
With banks closed in Germany, France and Switzerland on account of Whit Monday, volumes are likely to be lower. Also, with no major data points scheduled for the day, the FX market is likely to track risk cues generally.
Minor data like Eco Watchers' survey and consumer confidence from Japan were mixed and there were no major swings in the yen at the releases.
EUR/USD: If the uptrend since Wednesday continues, then it has resistances at 1.3685 and 1.3725. Immediate supports are at 1.3615 and 1.3585. MACD on an hourly chart above zero suggests that upward momentum remains.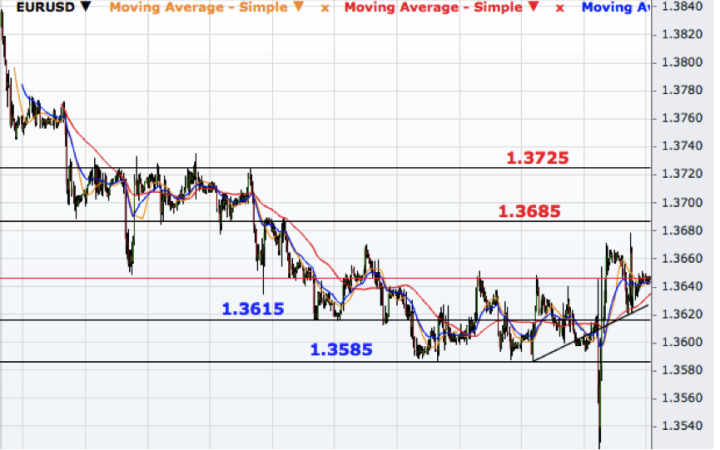 GBP/USD: MACD above zero on an hourly shows continuing upward momentum and the next higher targets are 1.6840 and 1.6875. On the downside, the pair has important levels at 1.6770, which is also endorsed by the 100-hour moving average and then 1.6730.
USD/JPY has been moving sideways in a broad range of 100.75-104.10 since January and of late, the range has been confined to 101.40-103.00. A break on either side of the inside range can lead the pair to the outer bands.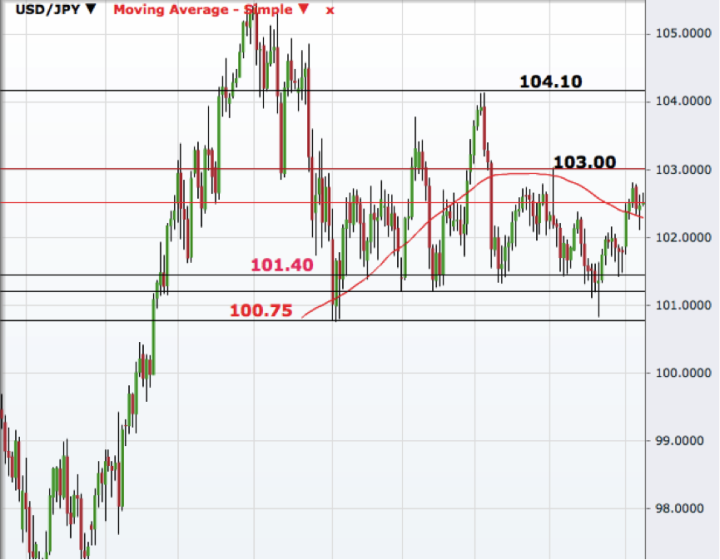 USD/CHF: The trend is downward on an hourly chart and the first support line is 0.8890 and then comes 0.8880 and 0.8860. Levels to watch on the higher side are 0.8950, which also coincides the 100-hour moving average and then 0.8990.