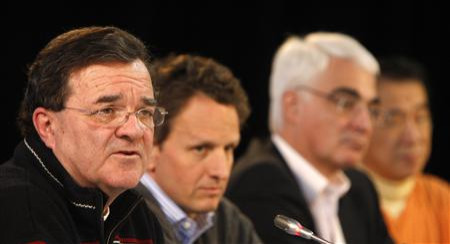 Risks from Spain's banking troubles along with eurozone crisis would be dominating the agenda of an emergency conference call to be held on Tuesday by the financial heads of the Group of Seven industrial nations.
Ministers and central bankers from the seven industrialised nations such as the United States, Canada, Britain, Japan, Germany, France and Italy would be discussing issues such as the eurozone crisis and the state of the Spanish economy at a special conference call.
"We have reached a point where we need to have a common understanding about the problems we are facing," Japanese Finance Minister Jun Azumi told reporters.
The fate of Spain, in view of its banking crisis, is being closely watched by global markets as there are serious concerns about it following the path of Greece, Ireland and Portugal which are already into bailout territory.
"Markets remain skeptical that the measures taken thus far are sufficient to secure the recovery in Europe and remove the risk that the crisis will deepen," Jay Carney, the White House secretary told reporters.
Meanwhile, the G7's decision to discuss the eurozone crisis and the hopes of intervention by the economic power house raised the mood in Asian markets on Tuesday morning.
The euro rallied against the dollar and the yen in morning Asian trade. The euro traded at $1.2530 in the Tokyo morning trade up from $1.2494 in New York late Monday whereas it traded at 98.11 against the yen which was at 97.89.
The positive market mood is not seen as long-standing by industry watchers.
"Markets want to give Europe the benefit of the doubt, so we may see this relief rally last until the next set of bad news," said the National Australia Bank in a note.
The late June meeting of the Europe's leaders and the outcome of the fresh elections are being closely watched by global markets with huge expectations.
Greece is going to the polls on 17 June and the next meeting of the EU leaders is scheduled for 28-29 June.