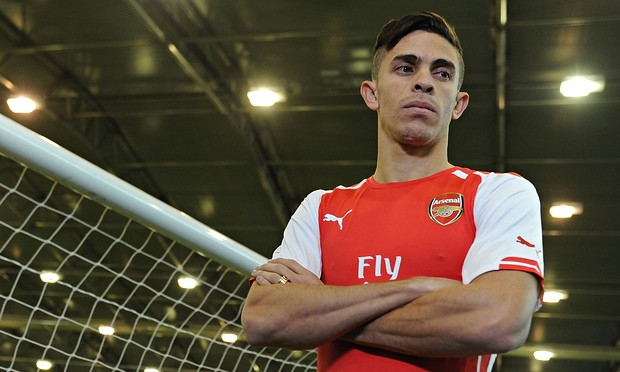 Arsenal defender Gabriel Paulista is optimistic of forging a defensive partnership with Laurent Koscielny and insists his limited English isn't a problem.
Paulista joined the Gunners during the January transfer window and make his debut for the club in Saturday's FA Cup fifth round victory over Middlesbrough.
Ahead of the defender's first appearance for the club, Arsene Wenger admitted that the language barrier between the Brazilian defender was a problem.
But the former Villarreal centre half has made progress following his arrival in the Premier League and now feels he has a basic command of the language.
"In relation to my teammates, I always wanted to be tuned into what [Laurent Koscielny] was doing so I could try doing the same. I tried to listen to him as well, to listen to a few words," Gabriel told Arsenal's official website.
"In my [English] lessons I always ask the teacher to teach me the main worlds we use on the pitch, like 'defend, leave, go back'. So I had no difficulty with my defensive partner.
"We understood each other really well, and the most important thing is that we managed to win the game."
Recalling his debut, Gabriel said: "When I was told I would play I felt really calm, then on match day I was still calm.
"As soon as we got to the stadium I felt butterflies in my stomach because I think it is normal for every player to feel that way. The day you stop feeling nervous is the day you stop playing football.
"I had that feeling but as soon as I stepped on the pitch it was all gone. The feeling in my stomach went away. I saw that wonderful crowd, that great show, that beautiful stadium and the game became quite relaxed."
Wenger was left with little choice but to sign a centre half during the January transfer window with Mathieu Debuchy, who had acted as Arsenal's third choice centre half, ruled out with a shoulder problem in December.