Arsenal manager Arsene Wenger has urged British media to not overhype Tottenham winger Gareth Bale's recent performances. The 23-year-old Welshman has been in phenomenal form in recent weeks, with six goals in the last four matches in all competitions. The run includes a brilliant brace of free kicks in the midweek Europa League fixture against Olympique Lyon.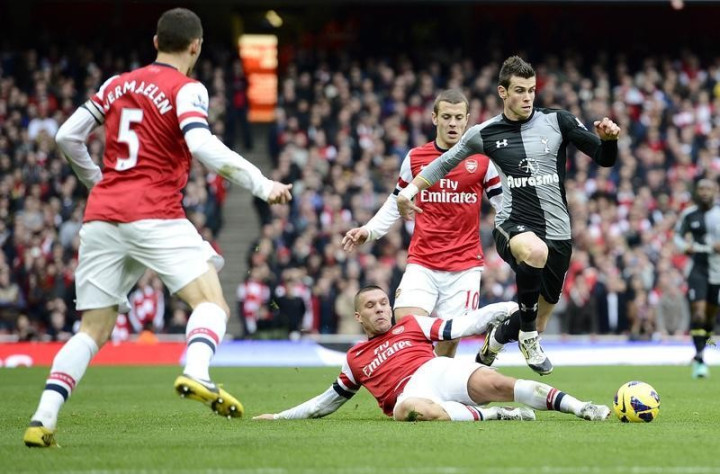 "Bale has the potential to develop and become the players that you compare him to. However, Messi has won two or three Champions League, a few championships, scored 95 goals in a year, so let's not go too quick. You are always very quick here, but let's slow down a little bit," Wenger explained.
The veteran Frenchman's comments come after Bale was compared to Real Madrid forward Cristiano Ronaldo by Spurs' boss Andre Villas-Boas.
Bale's form has kept Tottenham in fourth spot, four points ahead of Arsenal in the race for a place in the Champions League next season. His form has not gone unnoticed though, with rumours linking him with a move to the Santiago Bernabeu in the summer. More recently, there have also been reports of interest from German club Bayern Munich, who will be managed by ex-Barcelona boss Pep Guardiola next season.
Meanwhile, Spurs' Belgian defender, Jan Vertonghen, has joined a host of voices asking Bale to remain at White Hart Lane.
Wenger on FA Cup Tie
Wenger's more immediate concern is Saturday's FA Cup tie against Championship side Blackburn. The Gunners' boss insists that he will treat Michael Appleton's side very seriously and play the game like a cup final.
The FA Cup was the last time the Gunners won a trophy (back in 2005) and with the Premier League already impossible and the tough task of eliminating Bayern in the Champions League at hand, Wenger knows this is his best chance to end a horrendous trophy drought.
"In 16 years I don't think we have had [many] upsets against lower-division teams. That shows that we take the competition seriously. We prepare for the game like a final every time, and that's why we have done reasonably well until now. We had one upset against Bradford, on penalties, but we did take that game seriously. We will take [Saturday's] game seriously again, and with a huge desire to win it," he said.