Spanish newspaper Marca believes Real Madrid president Florentino Perez has made the summer signing of Gareth Bale a top priority. The Tottenham forward has been in sensational form this season, leading his club's scoring charts and single-handedly keeping them in contention for Champions League football next season and in the hunt for the UEFA Europa League trophy this campaign.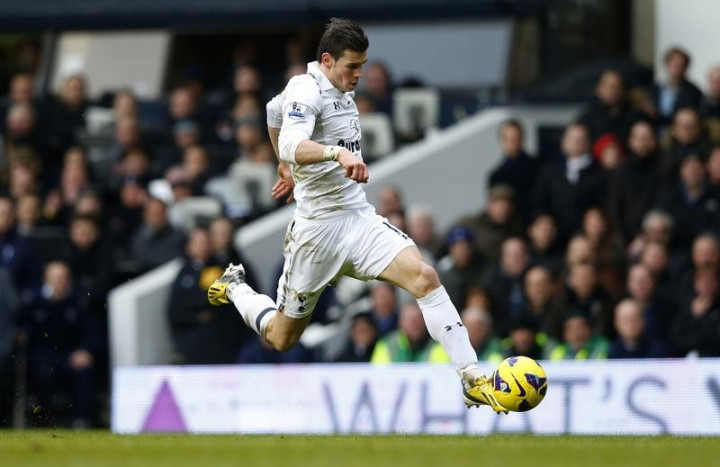 Bale's performances have attracted the attention of the Spanish giants, with Marca announcing Jose Mourinho's team had begun formal negotiations over a £33m bid, back in December. Since then, talkSPORT reported on a £38m offer and another Spanish newspaper, El Confidencial, confirmed formal negotiations with the 23-year-old Welsh international's agents were underway.
The powerful forward has been in breathtaking form this season, particularly in recent weeks. His form has earned him comparisons with Barcelona star Lionel Messi and Madrid's Portuguese icon, Cristiano Ronaldo. And it is with Ronaldo in mind that Perez has settled on Bale.
Marca reports Madrid had scouts at White Hart Lane to watch Bale's brace of brilliant Ronaldo-esque free kicks and that the Spanish club's chief viewed the Welshman as a "left-footed Ronaldo". The comparison with the former Manchester United star has found favour with Bale, who has made no secret of the fact he believes the 28-year-old Portuguese international is better than Messi.
The report from Spain also mentions an agreement between Madrid and Tottenham over the transfer of Bale. The reference is to a clause in the deal that brought Croatian playmaker Luka Modric to the Santiago Bernabeu in the summer. If such a clause exists then it is likely to make the transfer a less dramatic affair than the one involving Modric. However, Spurs' chairman, Daniel Levy, denied reports of such a clause and, in December, said he valued Bale at £60m.
Where Would Bale Fit?
Meanwhile, if Bale does arrive in Madrid for next season... where would he play? Ronaldo, like Messi at the Camp Nou, is untouchable. And provided he remains with Madrid for next year, will remain king of the Bernabeu. The Portuguese is given licence to roam the forward line and a similar tactical arrangement will be necessary for Bale to flourish.
Attacking options are rarely a problem with the Spanish champions. As of now, Mourinho has Argentine internationals Gonzalo Higuain and Angel Di Maria, Brazilian Kaka, Frenchman Karim Benzema, German Mesut Ozil and youth product Jose Callejon.
Even if Kaka were to leave, which is likely, it still leaves Di Maria and Callejon to compete with Bale for a spot on the wing. The central attacking role is usually occupied by Ozil and based on his performance against Barcelona in the first leg of the Copa Del Rey, he is unlikely to move. Benzema and Higuain normally compete for the lone striker's role but neither has been in particularly effective form this season, leading to speculation one of them could leave.
In that case, could we see Ronaldo being shifted to a central position? That would leave the flanks clear for Bale and Di Maria, with Ozil providing central support. However, such a move would endanger the excellent partnership Ronaldo and Brazil left-back Marcelo have built up. The Brazilian is at present injured but when fit his link-up with Ronaldo is usually to devastating effect.
All of this leaves Callejon's future in doubt. The 26-year-old has so far been content with a squad role but he surely deserves a more regular place, based on last season's return of 15 goals from 35 appearances in all competitions.