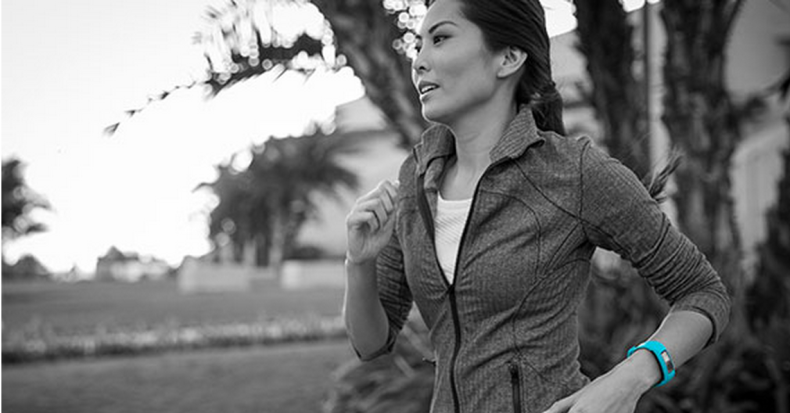 Key Features:
Waterproof
Always-on LCD display
One year battery life
Different colour bands available
Price as reviewed: £99
Garmin vivofit Review
The fitness tracker market exploded in 2013 and 2014 has seen virtually everyone else get in on the market.
Nike, Jawbone and Fitbit led the way but in the last couple of months we've seen Samsung, Sony and LG all jump on the (fitness) bandwagon.
Another is Garmin, the company best known for producing sat navs, but which has also produced the Forerunner range of GPS sports watches designed with runners in mind.
So Garmin has a pedigree in this area, but can it use that expertise to create a good consumer device with the Garmin vivofit?
---
Garmin vivofit: Hardware, Design & Battery
---
The vivofit consists of two parts, the plastic wristband and the tracker itself, which contains the screen along with the sensors which monitor your activity and sleep - similar to the Fitbit Flex.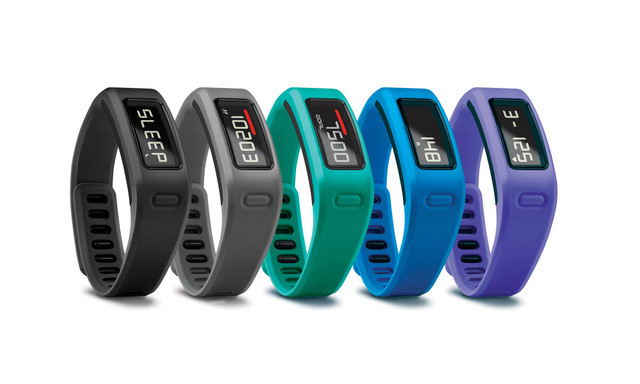 In the box you'll get a large and small wristband. These come in black, blue, purple, slate or teal and as the tracker isn't connected, you can change colours at a later date if you get sick of the one you start with (extra bands cost £20 each).
The tracker clips into the band to give the band a weight of 25.5g, meaning it shouldn't weigh you down no matter how weak-wristed you are.
The design of the band is nothing special. I reviewed the blue unit and while the strap itself felt cheap, it didn't irritate my arm or feel uncomfortable at any point during testing.
The small and large bands are both adjustable, meaning the vivofit will fit everyone's wrist. The clasp method isn't the most secure feeling, but even wearing the vivofit playing football it never came off.
One of the biggest bugbears with any tracker or watch is it if impinges on your everyday life, with typing being a special problem for me. The vivofit however rarely let itself be known during my working day, which is a big plus.

The rectangular LCD display is always one and uses a gold and red colour screen which is attractive. It is not however back-lit meaning you won't be able to see it in the dark, which can be a pain.
The vivofit is also water-resistant (note not water-proof) up to 50 metres according to Garmin and I wore mine in the shower, during heavy rain and while sweating on the football pitch without any problems.
One of the huge benefits of the Garmin vivofit is that you don't have to charge it. It uses two CR1632 coin cell batteries which are sealed in the tracker unit.
These are good for a year's use (according to Garmin) and can be replaced with an appropriately small screwdriver. While it's obviously impossible for me to tell you the vivofit is good for a year's use, the fact you don't have to charge it on a daily/weekly/monthly basis is a huge advantage.
---
Garmin Vivofit: Set-up
---
Setting up the vivofit wasn't the most straight forward process for me, as I had difficulty getting it to sync with my phone (HTC One) and my laptop.
The vivofit comes with a small USB dongle which you plug into your laptop or desktop to sync with your phone. You will have to install some software on your PC, sign up for a Garmin Connect account, stick the vivofit in pairing mode by holding the button on the side (it is in this mode when you turn it on first) and you're good to go.
Every time you want to sync the vivofit's data with your Garmin account just be within a few feet of the USB dongle and press-and-hold the button until the SYNC word appears.

You can of course also connect to your smartphone via Bluetooth through the Garmin Connect Mobile app, and setting that up is just as easy.
Make sure your smartphone has Bluetooth turned on (it will also need to support Bluetooth 4.0), enter PAIR mode, and once your phone discovers your vivofit, you are good to go.
To sync, again just press the button until SYNC appears and once Bluetooth is turned on, the devices will sync automatically.
---
Garmin Vivofit: Garmin Connect & App
---
The vivofit comes with the obligatory smartphone app and desktop software, as well as an online portal which allows you to display all your steps in beautiful graphical form.
The app is decent,though nothing particularly groundbreaking. It gives you a visual breakdown of how many steps you've taken, how many hours you've slept, any goals you've met, as well as giving you access to any friends you might have on social networks.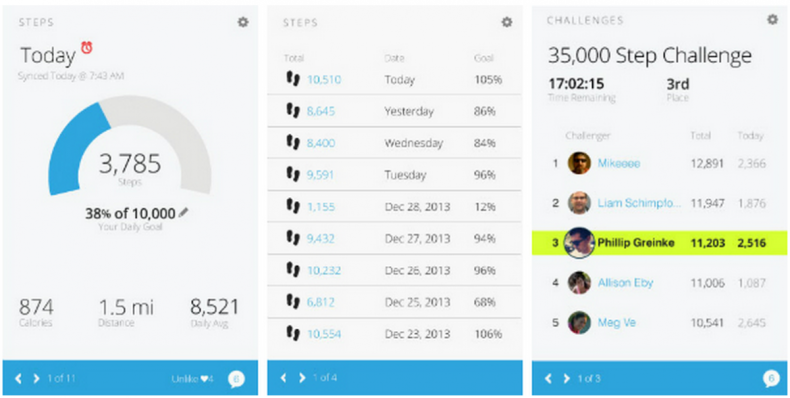 As the vivofit is not GPS-enabled it is not possible to map your runs just using the tracker unfortunately, though it can be used in conjunction with other devices/apps to augment the amount of information collected, which is handy.
The Garmin Connect website gives you much the same information online, meaning you can access it anywhere. It gives a better overview of how active you've been as well as letting you update your profile, weight or social connections.
Unlike some trackers Garmin doesn't give you the option to log your food intake, and while some may find this a negative, I've always found this option to be much more hassle than it's worth.
---
Garmin Vivofit: Performance
---
The Garmin vivofit did a commendable job of counting my steps each day, and considering that's its primary goal, it has to be classified as a success. As well as telling me the number of steps I'd taken it also told me how far I had walked.

It also managed to monitor my sleep, telling me what kind of night's sleep I had which did give me a good idea of when I needed to get more or less sleep.
The vivofit also estimates how many calories I've burnt but considering this is just a guess and the wristband doesn't know if I've been stuffing my face with doughnuts while I've been out walking, I didn't find this much help.
The vivofit's always-on display features a red line along the top which increases the longer you remain stationary. While it may not be the most obvious indicator (some bands vibrate to alert you to your laziness) it is still a reminder to get up and take a walk.
As with all fitness trackers like this, the idea of monitoring your activity is to motivate you to be more active. Knowing you have just 1000 more steps to go to meet your daily goal for the 10th day in a row is likely to get you off the couch for an after-dinner walk - and that's the whole point of these fitness trackers.
---
Garmin Vivofit: Value & Competition
---
The vivofit costs £99, which makes it cheaper than both the Jawbone Up24 and the Nike Fuelband SE, both of which are around £30 more expensive and seen as market leaders.
There are cheaper bands out there, such as Sony's new Smartband, but for what the vivofit offers, £99 represents decent value.
---
Garmin Vivofit: Conclusion
---
The lack of GPS will put some off while others may be put off by the Garmin name, which is still better known as a sat nav manufacturer rather than a fitness brand.
But the vivofit is a perfectly acceptable fitness tracker. It offers long-battery life, waterproof credentials, durability as well as an always-on display which can double for a watch.
The design may not be as cool as the Jawbone Up, but for most people looking to get more active, the Garmin vivofit will be a perfect companion.
Score: 8/10