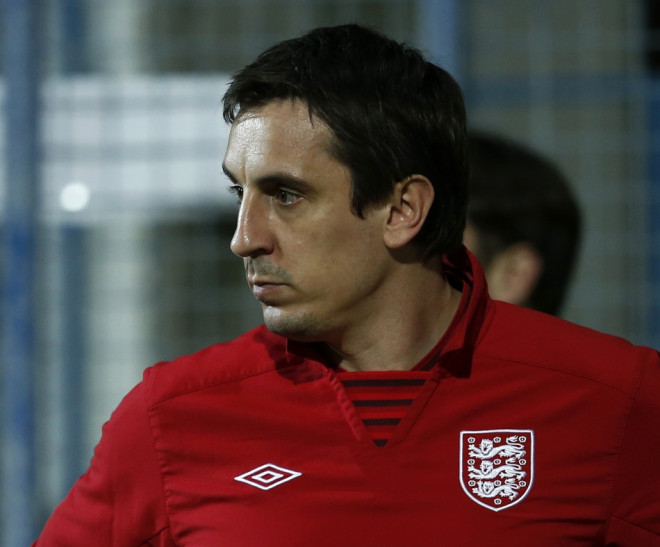 Gary Neville has slammed Manchester United for their transfer business last summer as the former England defender believes the Red Devils' poor run this season is down to panic buys.
The former United defender says the Old Trafford club made acquisitions who were not their first choice targets. United made only one big signing last summer - that of Marouane Fellaini for £27.5m from Everton, who failed to impress for the Red Devils in his debut season.
United's targets of last summer were made public as the club failed to land any of their first or second choice targets. Neville believes the Old Trafford outfit should have given opportunities to the academy players and promoted them to the first team when they failed to land their top priority players.
"United have panicked into signing players who were not their top choices. It was quite public last summer who United's targets were – it was either (Gareth) Bale or (Cristiano) Ronaldo, it was (Cesc) Fabregas, it was (Leighton) Baines and it was (Marouane) Fellaini," Neville explained.
"They were the targets, it was publicised – and I don't know why because Manchester United have always kept their transfer dealings really quiet. I'm not quite sure how all of a sudden everyone knows who they are signing."
"But if they can't get No 1, No 2, three, four. I'm not in a rush. As a Manchester United fan, I'd rather seen James Wilson come through than some fourth choice striker who isn't at the top of the list."
"I don't want signing number eight, nine, 10 because they can't get number one, two, three, four, five, six, seven. I have no interest in that," the Old Trafford favourite stressed.
The poor run this season has seen United finish seventh in the league table, which has left them without Champions League or Europa League football for the next campaign. During the last one year, the Red Devils appointed and sacked David Moyes just 10 months after the Scot took the manager's role at Old Trafford.
Netherlands manager Louis van Gaal is reportedly tipped for the managerial role at United. Neville remains hopeful that the former Bayern Munich and Barcelona boss can help the Red Devils get back into the Champions League.
"Louis van Gaal is potentially going to get the job and he will have to assess it. It won't happen overnight, but they have a great chance to get back into the Champions League, especially as they have no European football next season," Neville concluded.