Gary Neville has hit out at the avalanche of criticism aimed at referee Mike Dean following Manchester United's 2-0 Premier League victory over West Ham United on Monday (2 January). The experienced top-flight referee has been widely condemned by supporters and pundits alike following an error-prone performance at London Stadium that included the hugely contentious decision to dismiss Sofiane Feghouli following a first-half collision with Phil Jones.
Neville himself did not pull any punches with regards to Dean's performance in his role as a commentator for Sky Sports, claiming that the official's "head was a mess" after that early call and that he "went to pieces a little bit". The former Old Trafford stalwart, a proponent of video technology in football, believes that Cheikhou Kouyate should have been dismissed for a studs-up challenge on Henrikh Mkhitaryan that he described as a "definite leg-breaker".
Despite that fairly withering assessment, however, Neville evidently vehemently disagrees with any unfair suggestion that Dean somehow consistently craves the limelight or should no longer be permitted to officiate matches at the highest level.
"I was critical of Mike deans [sic] performance in the game," he said on Twitter. "He was poor. But I think the reaction since towards him is disgraceful. Yes he should be criticised but to suggest he wanted to be centre of attention and he should be sacked or not referee again is wrong [sic]".
Responding to inevitable rebukes regarding his own criticism, Neville pointed out that he did not question Dean's integrity or his future position as a Premier League referee. He also reaffirmed his stance that he let that controversial 15th-minute red card get to him, but was quick to reiterate that players can also be impacted by such a snowball effect.
Television pundits Alan Smith, Martin Keown, Gary Lineker and Niall Quinn all criticised Dean following the full-time whistle, while Times columnist and former Chelsea striker Tony Cascarino claimed that the 48-year-old is now too old to referee adequately in the top division of English football.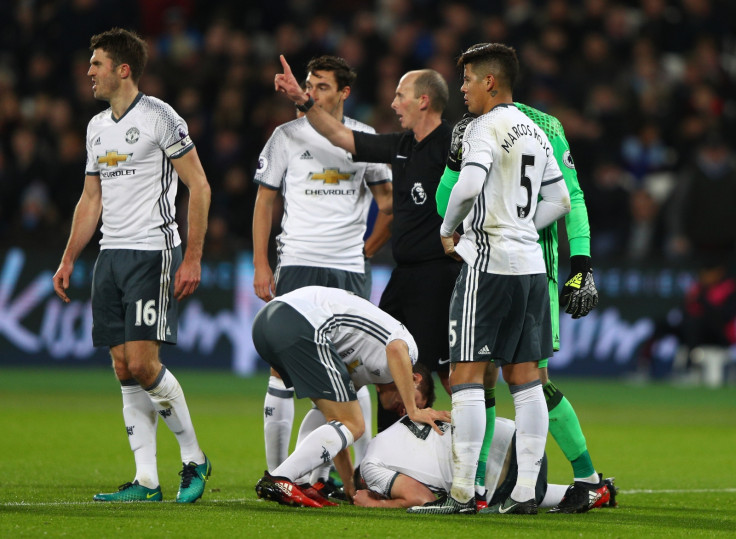 "Mike Dean is 48 and for me that's too old to be a Premier League referee," he wrote. "Not only do they have to be physically fit to keep up with the modern-day game, they have to be alert and make split-second decisions, and as we get older we are not as sharp mentally or physically. Dean made a poor decision to send off West Ham's Sofiane Feghouli and from that point he seemed to lose all control of the game.
"There was no consistency in his decision making. We demand so much from our players at this level, we have to expect the same from referees. Few players are regularly featuring in the Premier League beyond the age of 35 or 36 and for me referees should step away from the top flight at 45."