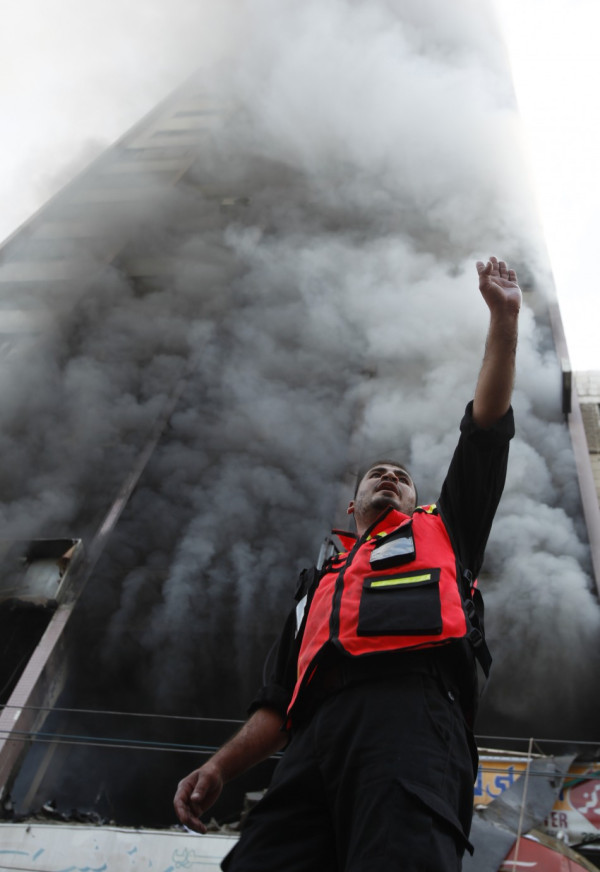 The Israeli Defence Force claims it has killed four militants from the Palestinian group Islamic Jihad in Gaza, during a strike on the Shurooq media building.
Israeli government spokesman Mark Regev told broadcaster Al Jazeera that Hamas was using journalists as human shields, and hiding in their offices.
Staff at broadcasters such as al-Arabiya, al-Quds TV, Sky News, France 24 and Russia TV evacuated the building after it was first hit on Sunday.
Islamic Jihad has confirmed that one of its top leaders, Ramez Hareb, head of media for Jihad's armed wing Saraya El Quds, was one of the militants killed in the Shurooq attack.
IDF spokeswoman Avital Leibovich said that the other militants killed were Baha Abu el Ata, senior member of the military council "involved in firing rockets"; Tyseer Abu Al Ata, senior Islamic Jihad member in charge of the operations; and Halil Bahathini, responsible for internal security.
Paul Danahar, BBC Middle East correspondent in Gaza, said he saw one man coming out of the media tower "completely burned from head to foot".
Meanwhile, Hamas leader Khaled Meshaal said that Israel must stop its airstrike against Gaza and lift the blockade of the Palestinian territory in exchange for a truce.
"We are not against calm (a truce) ... but there must specific demands ... in summary that the Israeli thuggery and aggression stop ... and the siege on Gaza be lifted," he said in a news conference in Cairo.
Meshaal claimed Israel prime minister Benjamin Netanyahu requested a ceasefire.
"Egypt was asked by the Americans, European parties and from Israel directly to work to realise calm. They (Israel) attacked and they requested the calm because their calculations failed," he said.
Israel has denied that prime minister Benjamin Netanyahu requested a truce.