George Osborne defends growth record
Blames unforeseen headwinds such as eurozone
Tax cuts making UK business more competitive
Refuses to rule out second-homes on Help to Buy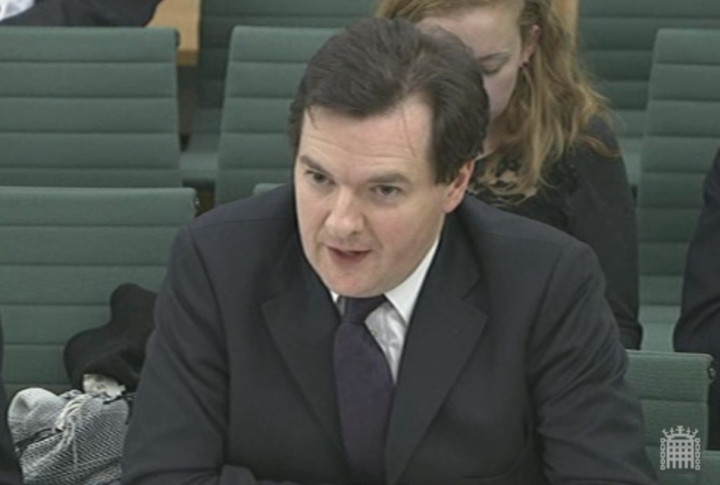 16:30 As a brief re-cap, the top line is that the chancellor did not explicitly rule out that people buying second homes would have access to the Help to Buy scheme, designed to bring down the deposit costs and make mortgages more affordable for first-time buyers and those looking to move to a new property.
He insisted that he hasmade clear that this is the intention of the scheme, but would not give a guarantee that second home buyers would be excluded from the scheme. Osborne cited complexities such as divorcees having, even if only for a brief period, two mortgages and that he did not want the scheme to exclude such people.
Osborne also defended his growth record after George Mudie, a Labour MP on the Treasury committee, accused him of overpromising and underdelivering on the economy. The chancellor said that a number of unforeseen headwinds had battered the economy, such as the eurozone crisis, and this had meant GDP performed well below initial expectations.
Tax cuts for business, such as bringing corporation tax down to 20 percent and giving £2,000 relief on employer national insurance contributions, were making the UK and its businesses more competitive, he said, which would help underpin a strong labour market and aid an eventual recovery.
That's it for IBTimes UK'slive coverage, thanks for joining us.
16:29 Tyries ends the session.
16:24 Tyrie says it seems Treasury "leaked the budget" to the Evening Standard. Osborne said Standard and other media outlets were briefed, as is normal. Says he is angry "more angry, possibly, than others" and has ordered officials to investigate.
Osborne: It is completely unacceptable what has happened. Have to make sure it doesn't happen again. Looking at briefing arrangements with press.
Osborne: There is a question over whether we can brief a couple of media organisations and then lock them in the Treasury to make absolutely sure that nothing gets out. There are processes that can be deployed to make sure that a leak doesn't happen, but so the public can stay informed because the broadcaster can keep pace with what's going on.
16:20 Osborne will not say how long it is until Treasury thinks shale gas will be running through the taps. Says there are planning considerations and other practical hurdles. Providing incentives - such as tax breaks in Budget for shale research - to help industry move forward.
16:12 David Ruffley cites the head of Tata Steel complaining about the high cost of energy in the UK.
16:10 Osborne: I consulted Mervyn King (chair of FPC) about FPC taking control of Help to Buy scheme, which will end in three years.
16:08 Osborne: I don't detect that we are in the middle of a housing boom.
16:00 Osborne: It is a good thing that those people who can afford to, buy their own home. That is the change we are trying to make.
15:57 Osborne: We want to increase the higher loan-to-value mortgages (80 to 90 percent) and bring down deposit requirements.
15:50 Osborne says intention of scheme is to help people buy their first home, or move to a new home. Mortgage market is a complex thing and they have to design a scheme that doesn't penalise people who have divorces, for example, who may have two mortgages for a while.
Chancellor being pressed on ambiguity of if this will allow people to buy second homes with the scheme's help.
Osborne does not rule it out, just repeats that it is the "clear intention" of the scheme to help first time buyers and people who want to move.
Asked if it is appropriate to use taxpayer funds to guarantee mortgages for people buying second homes.
Osborne says working with the industry and the intention of the scheme is clear. He is still not giving a definitive answer. Insists it is important that it does not affect people who may because of broken homes end up with two mortgages.
Again pressed on it is right for taxpayers to help support people buying a second home.
Osborne evades and talks about fee that lenders will be charged to take part in the scheme.
15:48 Osborne says this is not about using property to make people wealthier. Says Council of Mortgage Lenders does not think there is a bubble.
15:46 On Help to Buy, Andy Love presses on lifting supply side constraints to help stimulate housebuilding. Osborne points to ongoing planning reforms and simplification/removal of laws.
Also says helping supply with Help to Buy by easing mortgage credit flow into economy.
15:39 Mann bashing Osborne for a "stealth tax" brought in, used by local councils, to put a levy on people building new homes.
It is the Community Infrastructure Levy and Mann is citing examples of families building homes and slapped with enormous tax bills. Ten councils have introduced it, and 127 more will introduce it this year.
Says there is an average of £13,000 in new taxes on properties being built.
He asks how are people going to be aspirant in building new homes when such taxes are being put on them?
Osborne says we have got to get the level right. Says the tax changes made the system "less opaque". Also points to Help to Buy to help people buying a newly built home.
Mann says he looks forward to a u-turn on the policy.
15:35 John Mann asks on "how far the target has slipped" in getting 90 percent of households equipped with access to superfast broadband. Osborne says he does not have the specific figures, but progress is good.
Mann has a letter from BT saying this target will not be met until 2017, rather than 2015.
Osborne said constraints are around planning not a lack of money.
15:31 Mark Garnier presses Osborne on if there is a "crisis in the making" should interest rates rise and people are clobbered with enormous mortgage repayments.
Osborne: It is not ideal to have households that are over-extended. I would agree with you in your overall analysis that this is another of the big challenges facing the UK.
15:28 Osborne asked if he regrets pinning so much on fate of UK's credit rating, given agencies are discredited anyway and that the country has now lost AAA status at one.
Osborne: I don't dismiss rating agencies and they are an important benchmark. But they are only one benchmark. We are tested every day in the market with our bond yields.
15:19 Osborne: We want to see FLS delivering better results with the SME sector and I said in the Budget we are speaking with the BoE on how best to do this. I am open to suggestions on what more we can do.
15:12 Mudie: The business secretary said when the facts change, I change. You haven't, but you have accepted things have changed. You have not responded with a Budget of vigour.
Osborne: I don't accept that. In this Budget we pushed further on making business tax more competitive.
Mudie: Surely you changed corporation tax to get businesses investing. It doesn't take effect for a year. You are digging a bigger hole for yourself. All of these beautiful measures results in 0.6 percent growth and a £120bn deficit.
Osborne: The CBI agrees that I have done as much as I could given the circumstances. Points to falling structural deficit, tax cuts, positive employment numbers.
Mudie: After three years of these promises, if you were a football manager you'd have been sacked. The sooner you get a plan b in there the better, for your own survival I'd have said.
15:08 Mudie: You have underdelivered on growth. You said it would 2.9 percent this year in your 2010 Budget.
Osborne is handed a sheet of paper which points out declining and missed growth forecasts of other Western economies. Says shouldn't look so insularly. Affected by eurozone and other unforseen factors.
Mudie said Osborne ridiculed Labour's Alistair Darling for modest growth forecasts. Also said he is borrowing more than he said he would.
Osborne: I am borrowing less than the last government. The idea that a plan from a previous government would have been entirely unaffected over the last two years is somewhat fanciful.
15:06 George Mudie: If you're so disappointed with growth, why such a modest budget?
Osborne rejects that it is modest. Points to tax cuts to make business more competitive, says fuel duty rise scrapping helps living costs, says Help to Buy is a significant intitiative.
15:01 Newmark: Given there are long lags in monetary policy, is there anything Carney can do that will take effect before the 2015 election?
Osborne laughs and says the only timeframe Dr Carney is working to is the one to help the economy to grow.
14:57 Osborne: If there was some magic solution to the problem that this economy and the others face then I'm sure it would have been found.
We are borrowing for investment. We are borrowing more than anyone would have done in a normal situation because of the high deficit. What I have done is increased the amount that we are meant to spend on capital. We are spending more than the previous government's plans for this parliament.
14:52 Osborne citing labour market as positive in the UK economy. Saying employment numbers show private sector recovery. Points to Budget tax cuts - corporation tax, national insurance contributions - will help that.
Newmark agrees, but says business investment is low, consumption is low - if growth doesn't look like it's going to achieve what people are saying out there? Do you have a plan b or plan c?
Osborne: I'm clear the eocnomic plan we are following is the right one. Look at what is happenign in our economy with employment growth. Look at our economy excluding energy and financial services, actually our performance is considerably stronger than other countries.
14:50 Brooks Newmark: Are you surprised by the low growth in recent years?
Osborne: I did not expect it. Things happened that nobody could see coming. Still dealing with impairment to our own economy given the damage to the financial sector.
14:49 Osborne: It is a lesson to us all that our economic situation could be a lot worse if we lost the confidence of the markets [cites rising debt and deficits of Greece, Cyprus, Ireland, Portugal etc].
14:47 McFadden suggesting that because chancellor is doing nothing fiscally, loosening remit for BoE is saying to new governor Mark Carney 'over to you' on the economy.
Osborne saying he is doing as much as he could reasonably do as chancellor to stimulate a private sector recovery.
14:45 Pat McFadden: What will the new flexibility mean for inflation given it has already been above target for three years?
Osborne: The OBR and BoE publish their inflation forecasts. We have been partly adjusting the remit to adjust to how the BoE has been operating. Also sought to make the remit clearer.
This is not a license for higher inflation. We have an inflation target and that is clear, front and centre in the remit for the MPC.
14:44 Osborne: We considered whether to launch a consultation. We felt that would create too much uncertainty. We were clear in the direction we wanted to head in. The MPC contributed. If you can reduce uncertainty, you should. So we did.
The MPC is going to look at how useful an inflation threshold is.
14:35 Pat McFadden asks why the need to review the monetary policy framework for the Bank of England?
Osborne loosened the inflation target, effectively giving the BoE explicit license to take its time in reaching the 2 percent. This gives the BoE a direct mandate for loose monetary policy, which it is relying on to help lift the UK economy to a recovery.
14:32 Osborne: Frustrating that Cyprus problems know about for some time, about a year, but not enough was done to resolve them.
14:31 Jesse Norman: Does this deposit raid set a template for other eurozone countries?
Osborne: There have been different reactions to different bailout situations across Europe.
14:23 Tyrie: What reassurance can you give London-based holders of accounts in Cypriot banks here?
Osborne: Bank of Cyprus has subsidiary here and is covered by the deposit protections.
Up to £85,000 of deposits are protected in the UK by the government and regulators.
On branches of Cyprus Popular Bank here, covered by foreign deposit protections, though working with Cyprus for a British solution in this area.
14:18 Tyrie opens with Cyprus - was Osborne asked any questions over the discussions on a deal to help the country's ailing banks?
Osborne: Not at any discussions because not in the eurozone. We were aware of the discussions. Made our views clear. Foreign secretary spoke to Cypriot prime ministers. I spoke to IMF.
Tyrie presses on if he had any prior notice on announcement to tax depositors. Osborne says no.
Osborne: When we knew, we made strong representations to say we did not think this was a good idea. It has been badly handled.
14:17 Osborne's up...
14:00 A YouGov poll after the Budget found that more than half of the British electorate do not think it will have any impact on the economy. Only 14 percent thought it would help lift the UK out of its slump.
Despite this, and a general lack of faith in Osborne, there was worse news for the Labour rival and shadow chancellor Ed Balls - who is even less favoured than the unpopular incumbent.
13:45 When Osborne delivered his 2013 Budget speech, the consensus among economists was - and still is - that the UK would narrowly avoid a triple-dip recession. The key word there being narrowly.
There has been a lot of cold snow poured on the lukewarm response to the Budget since it was announced. Literally. Britain's weather has been terrible, and now the insurer RSA is saying it could be costing the economy as much as £629m a day.
That is their most extreme estimate, made in comparison with the cost of 2010's big freeze, which seemed worse than what the country is currently feeling.
However, the conservative estimate, RSA says, is £473m a day. The question is, if this is accurate, is that the narrow difference between a positive and a negative reading for the UK's first quarter GDP?
To be fair, whether it is -0.1 percent or +0.1 percent, the difference amounts to little more than an accounting error. The big picture is the same - a stagnant, low/no growth economy. On a political level, however, an unprecedented triple-dip recession would be a significant blow to an already bruised chancellor, and one that could knock him off the Treasury throne.
13:30 Chancellor George Osborne will face MPs on the Treasury select committee for a grilling over his latest Budget, which IBTimes UK will cover live on this blog.
Among Osborne's announcements to be scrutinised by lawmakers are the Help to Buy scheme, which should help the flow of mortgage credit and is hoped to spur homebuilding; tax relief for employers paying national insurance contributions; the scrapping of the beer duty escalator and 1p off tax on a pint; and a further 1 percent shaved off Whitehall budgets to fund infrastructure investment.
Osborne also revealed the glum news that the UK economy is forecast to grow by just 0.6 percent in 2013, half that forecasted by the Office for Budget Responsibility (OBR) in his Autumn Statement delivered in December.
Because of the worsening economic outlook Osborne was forced to announce he would miss his fiscal target of bringing debt down as a portion of GDP by yet another year. It will not now start falling until 2017/18, when he had originally aimed for 2015/16.
The chancellor will appear at 14:15.
---
Follow @shanecroucher