Geothermal Gold: Why Bitcoin Mines are Moving to Iceland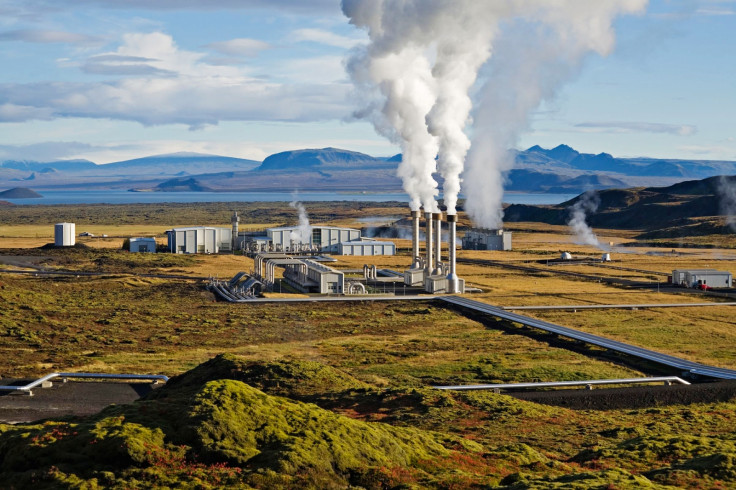 In a small industrial park on a south-westerly lava plain peninsula of Iceland, a steadily expanding server farm is pumping out plumes of steam - and millions of dollars worth of bitcoin.
Within the warehouse structure are clinically clean, bright white corridors containing rack after rack of servers storing data and providing processing power for everything from car manufacturers to Hollywood special effects firms.
Iceland, with its 100% renewable energy, perma-cool temperatures and data cable connections to both sides of the Atlantic, is a "sweet-spot" location for companies to base their massive power-consuming, heat-producing machines. Among them are bitcoin miners.
Bitcoin mining - the process of solving complex mathematical equations with a computer in order to generate the cryptocurrency - is designed so that the cryptographic algorithms become ever-more complicated as more computers join the network.
With the vast amounts of computing power now required to generate bitcoin, mining companies are moving their operations en masse to Iceland in an attempt to cut costs and make their endevours profitable within this new technological arms race.
Cheap, stable and abundant energy
Last month the cryptocurrency firm DigitalBTC - the first virtual currency company to be listed on a major stock exchange - partnered with data centre provider Verne Global to set up its mining rigs within the company's Icelandic operations.
"Iceland offers two key advantages for us – low cost and capacity for growth," Alex Karis, CEO of Digital BTC, told IBTimes UK. "Iceland has cheap, stable renewable energy, and an abundance of it.
"We can reduce our energy costs and maintain a low cost advantage as we grow our mining operations. We have just launched a new product platform and mining is an area we expect to see continued growth."
Verne Global has experienced exponential growth since setting itself up in Iceland, according to CEO Jeff Monroe, doubling in size each year that it has been operational.
"It just so happens that Iceland has an abundance of dual source energy in the form of geothermal and hydroelectric energy," Monroe told IBTimes UK on a recent visit to the firm's Iceland data centre.
Cost savings
Monroe is very secretive about his clients and can not be drawn into conversation about specific mining rigs, though he is able to detail the cost-savings such companies are making.
"[One client] saved over 83% on their energy cost alone. But more importantly than just the energy savings - they substantially reduced their carbon footprint which for most companies is becoming more and more important."
DigitalBTC is not the only mining company to move in to the industrial park. Last month, Switzerland-based mining firm Bitmine switched from their base in the Alps to set up shop in Iceland.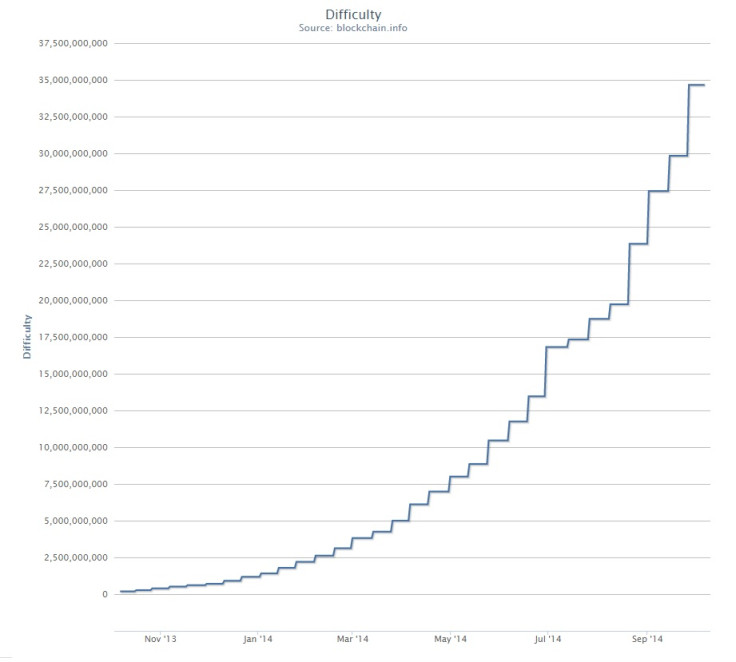 The increasing difficulty of bitcoin mining over time - click to enlarge.
Blockchain.info
The company's "cloud hashing" model allows customers to benefit from the hugely expensive industrial mining rigs by offering contracts that return a slice of the cryptocurrency produced.
"Soon there will be no market for private miners," a spokesperson for Bitmine told IBTimes UK. "It will be companies like ours that will provide the only profitable way to actually mine.
"We also predict that cloud hashing mining firms will increasingly move to Iceland due to the significantly lower electricity costs."
$8m-a-month
Currently Bitmine have around one petahash per second (Ph/s) of mining capabilities generating around 4,000 bitcoins per month - the equivalent of around $1.2 million (£750,000, €950,000) worth of bitcoin at today's prices.
It aims to triple this by the end of the year, which, together with other Iceland-based mining firms DigitalBTC and Cloudhashing, will push the country's total bitcoin output up to around $8m per month.
BitMine may be the latest but it is unlikely to be the last mining company to capitalise on Iceland's unique offerings and cash in on this 21st century gold rush.
"Private miners may soon be extinct, but the cloud mining companies are on the rise," the spokesperson said. "And they're moving to Iceland."
© Copyright IBTimes 2023. All rights reserved.