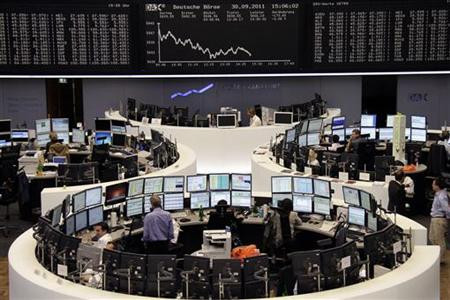 German economic growth rose well above expectations in the first quarter this year, proving that the contraction in country's gross domestic product (GDP) in the fourth quarter last year was not the start of recession.
The GDP in the Europe's largest economy rebounded strongly by 0.5 percent in the first three months of 2012 compared with a 0.2 percent fall in the last quarter of 2011, the Federal Statistics Office said on Tuesday.
"The latest data confirm that the contraction in Q4 of last year was not the beginning of a recession but rather a one-off slip," said a note from Societe Generale Cross Asset Research.
Analysts had expected the German GDP to increase slightly by 0.1 percent as the country's exports remained a drag on the GDP in the previous quarter. However, exports surged in the first quarter this year as the increased demand from the emerging markets resulted in offsetting the weakened demand in euroarea.
Moreover, rebound in German growth eases concerns over the recession in the core countries in the eurozone, while also raising hopes that it can make significant difference to the region's GDP.
"This is a large overshoot that is likely to trigger upward revisions to 2012 growth forecasts for Germany. And the overshoot is large enough to make a material difference to predictions for euro area Q1 GDP," said the note.
According to European Commission forecasts, German economy is expected to grow by 0.7 percent in 2012 and 1.7 percent in 2013, while the growth in the 17-nation eurozone is projected to contract this year.
The euro (EUR) rose against the U.S. dollar (USD) to trade at 1.2870 from 1.2823 on Tuesday, following the release of better-than-expected German GDP data.