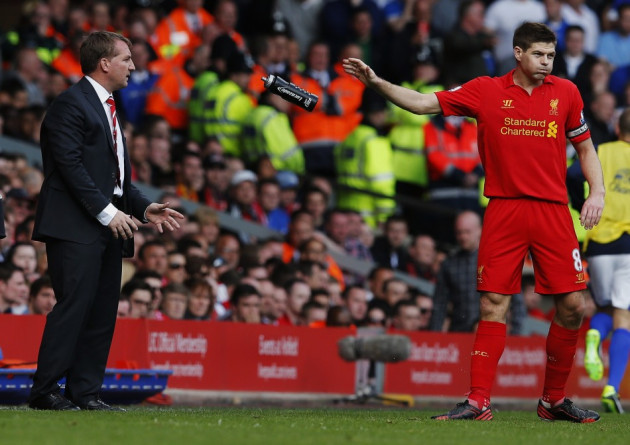 Liverpool captain Steven Gerrard admits the club experienced early problems working under new manager Brendan Rodgers.
The Reds won one of their opening seven league games, falling to defeat on the opening day against West Bromwich Albion, prior to losses to Arsenal and Manchester United.
Rodgers was appointed the new Liverpool manager just two months before the season began, and Gerrard admits his footballing philosophy took time to translate into results.
"When you get a new manager and new staff it takes a while for the message to come across and for all the players to take it on board," he said.
"But we've also got to be men about it and take responsibility that, at times, we didn't turn up and perform. There were certain games where we weren't happy with ourselves individually and as a team - Southampton away, Aston Villa at home, West Brom away.
"We have to make sure those mistakes and performances don't happen next year and, if they don't, hopefully we can have a good season.
"I think the manager has done well - he's taken a huge job on at a young age. He did fantastically well at Swansea and some of his other previous jobs, so he certainly deserves a crack at a big club.
"I think he's moving the team and the club forward and making good progress. If he gets the backing from the owners, and the current squad that we've already got improved, I'm sure we can make the fans happy."
After finishing just seventh in the Premier League, Liverpool will not play European football in the coming season, with their absence from the Champions League now extended to three years.
Their inability to qualify for Europe's top tier competition coupled with their failure to compete for the league title in recent years were understood to be the reason behind them missing out on signing Shakhtar Donetsk midfielder Henrikh Mkhitaryan who is likely to join Borussia Dortmund.
An unbeaten run stretching back to March helped Liverpool secure a comfortable top half finish in the second half of the season, with just three league defeats coming after the New Year.
And Gerrard believes that sort of form, if repeated, can propel Liverpool into the top four once again.
"The final five or six months of the season were fantastic, we showed fantastic form - I think it was top-four form," Gerrard added.
"We certainly finished the season really strong, but we were very inconsistent from August to Christmas - that's the reason why we never managed to achieve what we set out to do, which was a top-four finish.
"But I felt at times in the season we played some brilliant football. If we can find that level on a consistent basis, I've got confidence we can break into the top four.
"The realistic message is to say to the fans that the last four or five months of the season were really positive, we played well. If these signings are positive and successes, they can add to those performances.
"If the fans get behind us and show the support that we know they can, I believe we can push into the top four. That would be a fantastic achievement if you look at the standard of the teams in this league."