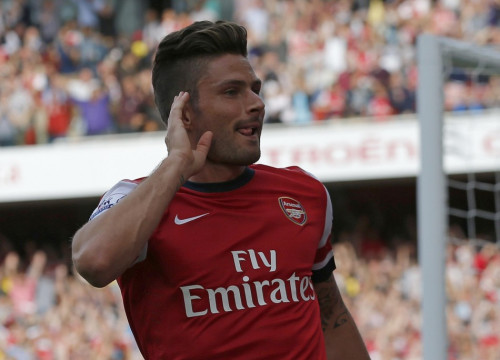 Arsenal striker Olivier Giroud insists his side must remain switched on during set pieces to avoid another to defeat to Manchester United.
The two clubs meet at the Emirates on Wednesday evening after a Robin van Persie header at Old Trafford in November confined the Gunners to what was just their second defeat of the season.
The former Arsenal captain leapt above his marker to steer a header over Wojciech Szczęsny to secure a 1-0 win and his third goal against his former club since making his move to Old Trafford in the summer of 2012.
After the Gunners looked particularly fraught during set pieces during their 5-1 hammering at the hands of Liverpool on Saturday, Giroud warns his side must guard against repeating those lapses for the visit of David Moyes' side.
"I think we need to understand how we lost at Old Trafford," Giroud told Arsenal.com. "We didn't deserve to lose that game but it's always like that on set-pieces – you have to be completely focused.
"I think Manchester (United) will come to Emirates Stadium and look for the win because they are a bit far away from us in the table. We will be ready for them.
"We really need to win the big games against Man City, Man United and Chelsea as well, teams we play in the next month or so. They are our straight opponents.
"I will be a big game on Wednesday but I'm very confident about our chances. We want to start the game on the front foot and be determined."
Giroud has racked up 14 goals for the Gunners' side this season but has found the back of the net just twice since the turn of the year. Arsene Wenger's reluctance to add a striker to his squad during January will have added pressure onto the French international's shoulders, but Giroud remains confident he can handle the work load.
"I try to keep focused on my work on the pitch and then try to have a good recovery when I am home," he said. "It's about eating well, sleeping well and taking care of your body.
"I was a bit tired in December after we played a lot of games but in January we had time for a rest. I enjoy playing every three days and we're used to doing that so it's not going to be a problem for us."